Mobile homes have shown to be an economical housing solution amid economic downturns over the years. According to the U.S. Census, the number of individuals living in mobile homes has more than doubled since 1990, when the figure was 7.3 million.
With the recent economic slump in 2020, expect an increase in the number of people who choose to live in mobile and manufactured homes as their primary residence. If you have never lived in a mobile home, you may be curious about what it is like to live in one.
Mobile homes are manufactured in a factory while resembling typical site-built homes on the inside (learn about how mobile homes are built here). In fact, they have undergone a transformation that has elevated them from the stigma of trailers, and are in fact growing in popularity year after year. Learn more about why mobile homes are becoming more popular here.
One of the reasons why more and more people are gravitating to manufactured homes is the perks that come with living in a mobile home park.
Life in a Mobile Home Park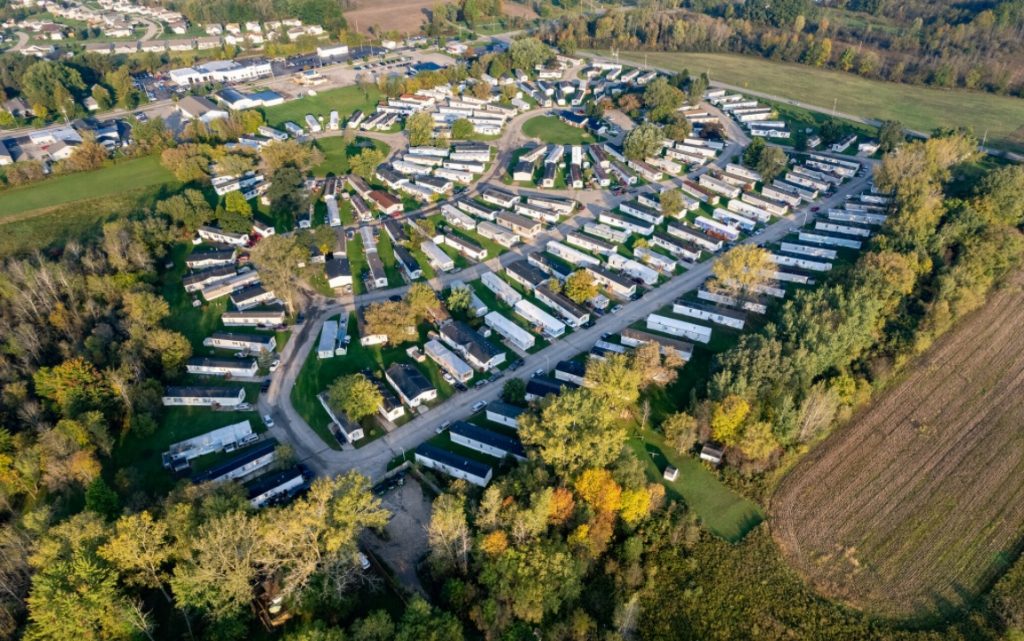 Generally, manufactured home communities offer perks that you may not get from apartment communities or private homes. For starters, many parks promote community living by hosting events to bring residents together. Mobile home communities also provide more solitude because manufactured homes are separated by a good distance, making them less susceptible to noise from your nextdoor neighbor.
Not everyone who lives in a mobile home park/trailer park owns the home; some prefer mobile homes for rent, while others prefer mobile homes for sale. The bottom line, though, is that the land is leased (learn what is a land-lease community here). That said, an individual who owns a home will pay a monthly lot rent, just like a normal apartment renter, with the exception that they will have equity in the future (learn what is lot rent for a mobile home here).
Mobile homes appeal to a wide range of individuals; and while they may not be your first option, it is crucial to know what it's like to live in a mobile home park.
Many Senior Citizens Choose Mobile Home Parks for Retirement
Due to their affordability, the majority of older individuals prefer mobile home parks for their retirement homes. This is partly the reason senior citizens are willing to downsize from their real estate homes to mobile home parks. Checkout our guide on the pros and cons of downsizing to a mobile home.
Typically, mobile homes are enticing since a real estate/traditional home is often out of reach for most senior adults, and the hefty expense of repair and maintenance is another factor.
Furthermore, traditional housing is lonely, which is why retirees choose mobile home parks, where they can live in a community and socialize with people who share their interests.
During Natural Disasters, Mobile Homes are Perfect for Temporary Solutions
Mobile houses are generally the go-to choice for temporary accommodations in the event of floods, hurricanes, or earthquakes. This is due to the fact that they may be manufactured and deployed in a matter of days.
A real estate home or a traditional home is not appropriate for this case because they take longer to build and cannot be moved once completed, making it a waste of money to spend hundreds of thousands of dollars on this form of temporary accommodations. In contrast, a mobile home can be installed and moved later if need be. Learn how much it costs to move a mobile home here.
People often wonder "are manufactured homes safe?" Well, another element that makes mobile houses viable for a temporary dwelling is the building materials used in their construction, which can survive extreme weather conditions.
Having said that, if you plan to live in a trailer park, establish whether the location is prone to natural disasters in order to avoid the chances of losing your belongings (check the wind zone ratings for mobile homes). Also, make sure you have a homeowner's insurance policy in place to protect your home.
There is a Strong Sense of Community
Mobile home living provides you a sense of belonging and allows you to connect with your neighbors more frequently. The park is meant to encourage community living, which is why you will find more shared amenities, such as a playground and a fitness center.
Prioritize Mobile Home Parks with HOA Rules
It may seem counterintuitive to advocate choosing a park with HOA regulations, but there is a good reason for it.
Consider this, you live in a park where your neighbors are blasting loud music, throwing endless parties, and allowing their pets to roam freely; how chaotic would that be?
That said, if you want to join a mobile home park/trailer park, choose one that has reasonable restrictions rather than one that does not have any.
Not All Mobile Home Parks have the Same Living Experience
Do not expect to have the same experience in a mobile home park/trailer park as a friend or relative who lives somewhere else. Just like anything else, some parks provide greater services than others.
For example, one park may include additional features, such as a larger playground for children or frequent community events that bring residents together; while others, not so much. Just be sure to do your research before settling on a community.
Rent–to–Own Option
Not everyone can afford to buy a mobile home outright; and with the recent economic downturn, finding a suitable payment plan for acquiring a mobile home has never been more important. That said, many mobile home parks provide residents with rent-to-own mobile homes as an option, in which residents pay a lump amount up front and make monthly rent payments to cover the remaining balance.
If you have a bad credit history and a low credit score, a rent-to-own mobile home in a park may be a possibility for you. However, depending on the risk associated with the resident, the upfront amount could be high, so be sure to read the fine print. Find out what credit score is needed to buy a mobile home here.
Some Mobile Home Parks are Age Restricted
Mobile homes in a community have their own set of park rules that must be adhered to. As a result, some mobile home parks are age restricted (retirement communities), implying that they only accept residents within a specific age range. For example, there are many parks that will only allow residents of 55 years of age and older.
Age-restricted mobile home parks provide a pleasant and quiet environment for older citizens, as well as amenities tailored to the needs of those aged 55 and up. These are features that may not be found in a normal mobile home park/trailer park.
According to AARP, at least 3.3 million senior citizens over the age of 55 live in mobile homes, with 85% of them more likely to be mobile homeowners than renters.
What Makes Mobile Home Living an Attractive Option?
Why do more than 17 million people in the United States prefer to live in a mobile home? What qualities lend legitimacy to mobile dwellings as a permanent residence option? If you are still undecided, consider the following community perks to persuade you that they are the best option for you.
Affordability
When compared to renting or buying a home, living in a mobile home, whether it is rented or purchased, is less expensive. Buying a manufactured home will cost you up to 30% less. For example, a site-built home/traditional home or a single-family home may cost you $300,000, but a new mobile home may cost you less than $100,000. Learn how to buy a new manufactured home here.
More Space
A mobile home offers a considerably bigger living space, just like a real estate home. There are double-wide and triple-wide homes to pick from. Since mobile homes have been improved (complying with HUD Code) to provide a luxurious living style, it's conceivable you won't notice the difference.
Building Equity
Renting an apartment does not provide you with any future returns, but purchasing a mobile home does. Equity is the difference between the loan balance and the price you can sell the house for at the current market rate.
Despite the fact that mobile homes do not rise in value over time (learn how to increase the value of a manufactured home here), you have a better chance of making a return than a person who has rented an apartment for years.
More Privacy Compared to Apartments
Renters in apartment buildings are frequently separated by walls, making them vulnerable to noise from their next-door neighbors (see how to deal with noisy apartment neighbors). Mobile homes, on the other hand, have a good space between them, limiting the likelihood of noise disruption.
Access to Amenities
Mobile homes in communities have access to amenities that you would not find in a traditional home, so you might have to build a stick-built one to get the same benefit. The downside to that option is that it is costly to build some of these amenities, such as a swimming pool and fitness center. Learn if it is worth buying a mobile home in a park here.
According to HomeAdvisor, the cost of building a swimming pool ranges from $16,441 to $44,198, with the national average standing at $29,638. In mobile home parks/trailer parks, you can have access to such amenities without the worry of such enormous cost or upkeep.
Less Worry About Repair and Maintenance Bills
Site-built homes are known for their high repair and maintenance costs, which, when combined with mortgage and energy bills, can add up to a large monthly expenditure on the entire home. In mobile home parks or trailer parks, the vast majority of residents benefit from lesser repair and maintenance costs because parks frequently have a dedicated maintenance team to assist you with lawn services and plumbing at a reduced rate. Learn about these mobile home maintenance tips.
Less Worry About Property Taxes
Another reason why less people are choosing site-built homes is the high cost of property taxes. For instance, mobile home owners in Michigan pay a $36 annual "specific tax," as well as sales tax, when they buy their house. When it comes to property taxes, if you rent a mobile home, you have nothing to worry about. Checkout our mobile homes for sale in Cedar Springs, MI and mobile homes for rent in Cedar Springs, MI.
What to Consider when Choosing a Mobile Home Park
If you are thinking of living in a mobile home park, there are a few things you should know to make the most out of your stay. Since not all parks provide the same experience, you should do your homework and choose the one that best meets your needs.
That said, here are things you should know about choosing a mobile home park:
Understand the Total Cost of Buying a Manufactured Home
Despite the fact that mobile homes are inexpensive, knowing the exact cost of a home will help you better manage your finances. If you have been living in apartment complexes for a while, you may overlook the cost of lawn services, lot rent, and general repair and maintenance.
Having said that, make monthly estimates to understand the true cost of living in a mobile home park in order to avoid surprises. Ask for help from family and friends who understand the life of mobile home parks, or even ask professional mobile home dealers/real estate agents. Here are the top 10 manufactured home dealers in Michigan.
Figure Out if a Mobile Home Park is Right for You
Living in a mobile home park may not be an ideal choice for everyone, so make sure it is what you want and meets your requirements. For starters, establish whether you have a stable source of income. This will help you avoid the chances of defaulting on the mortgage in the future. Also, learn about what the different loans for mobile homes in parks are.
Do you relocate often? Buying a mobile home may not be worth it if you move around frequently due to job obligations or any other reason. If this is the case, you may be better off renting a manufactured home/apartment than buying a mobile home. You may also want to consider tiny homes because they are easier to transport. Tiny homes are more mobile in nature so their relocation (home transportation) won't be as hard as manufactured homes.
Inspect the Park Before Joining
Park rules can make or break your living experience, so make sure you talk to the park owners (responsible for managing communities and park licensing) and learn more about the community before joining.
In addition to chatting with the park manager, talk to other park residents to obtain their opinions on customer service and how life is at the park. If there are a lot of complaints, it may be a sign that the park is not what you are looking for. Also, if the neighborhood's vibe matches yours, you might wish to build a presence there.
Another important factor is the crime rate of the neighborhood. Obviously you want to feel safe for yourself and your family, right? Look into the local crime rate and burglaries, as well as other types of crime.
How Far Do You Want to be from Your Workplace?
When it comes to picking a mobile home community, location is key. Look for parks that are closer to significant amenities, like retail malls, food establishments, health care facilities, and public transportation. If you live close by, it will be less expensive to seek these services than if you reside further away.
The good news is that most mobile home parks are closer to downtown and public parks, making it easier for residents to go for walks in their spare time.
Final Thought
Generally, mobile home living is rapidly becoming the designated choice for many people for various reasons. For starters, mobile home parks are designed to accommodate family living settings. Also, some parks are designed to host the aging population as their retirement home.
Residents at mobile home parks can get away from the daily maintenance and repair chores that many site-built homeowners face. If there is a repair bill, it will be a small percentage of what homeowners spend on a regular basis.
If you are thinking about moving to a manufactured home community, do your research and chat to your family about it to get their opinion. It is possible that your family knows what is best for you and why.
Lastly, some stereotypes about mobile homes are true; so, before rushing to buy a home in a park, make sure you understand what you are getting yourself into. We here at Cedar Springs Mobile Estates hope you find exactly what you want for you and your family.