With the growing cost of conventional homes, a mobile home may be the best alternative for housing. This is because mobile homes can be up to 30% less expensive than site–built homes.
Even though mobile homes are less expensive than traditional homes, they can still cost thousands of dollars, which you may not have on hand. That said, once you have decided on a mobile home for sale that you want to purchase, the next step is to secure financing. This part can be a headache if you don't know what type of financing to pursue mobile homes.
Whether you are buying a mobile home or any other type of home, choosing the right financing option is always a crucial decision. Read up on if mobile homes are worth buying here.
Loans for Mobile Homes in Parks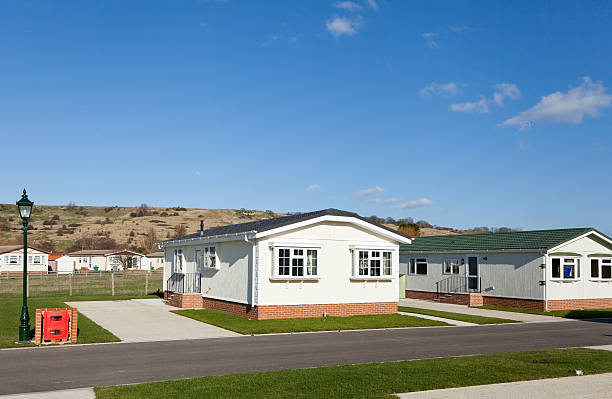 Conventional lenders do not consider mobile homes real assets unless they are permanently tied to the property. So, if you are looking to purchase a mobile home in a community, what kind of financing should you pursue?
If this interests you, then read on to find out all you need to know about mortgages for mobile homes in a park.
What is a Mobile Home Park?
A mobile home park, also known as a trailer park or a manufactured home community, is a temporary or permanent location where mobile and manufactured homes can be parked.
The best thing about mobile home parks is that you will have access to community amenities, such as pools, laundry facilities, fitness centers, recreation areas, and more. Some communities are age-restricted, meaning they only allow residents of a certain age group. For example, a mobile home park could be exclusively for senior citizens looking for a retirement community to reside in. On the other hand, some communities welcome anyone who wishes to live in a mobile or manufactured home.
Types of Loans for Mobile Homes in Parks
Now let's take a look at the various options one has to finance mobile homes for sale in a community:
FHA Loans
You can secure manufactured home financing with a Federal Housing Administration loan (FHA loan). FHA is a government mortgage program that is backed by the U.S. Department of Housing and Urban Development (HUD), which means that if the borrower defaults on the loan, they are not responsible for making up any of the difference that is left owing. It provides mortgages that require as little as a 3.5% down payment, which is lower than the traditional 20% down payment requirement for a real estate home.
There are two types of FHA Loans: Title I and Title II. Title I can be used to buy the mobile home, but not the land on which the house will sit. Title II can be used to purchase both the mobile home and the land.
Like any other loan, FHA has loan terms and rates for its mortgage. The maximum you could borrow is $69,678 for a manufactured home, as of the end of 2021; and the FHA has a maximum loan duration of 20 years for a manufactured home.
You should be aware that the FHA does not provide loans; rather, it guarantees them, so look for FHA-approved lenders. Before choosing a lender, however, compare the rates. The United States Department of Housing and Urban Development provides search tools to help you quickly find FHA-approved lenders.
Not every manufactured home can qualify for an FHA loan. For instance, your manufactured home must have been built after 1976. So, before buying a manufactured home, check the year of construction.
Chattel Loans
A chattel loan is a type of loan used to purchase various properties. It is a personal property loan that you can use to buy your manufactured home. Chattel loans are typically used to fund high-value personal property, such as yachts, planes, and farm machinery.
If you do not own land and want to live in a mobile home community, a chattel mobile home financing option may be ideal because it is not tied to land ownership like a VA loan is. VA loans are strictly for military members. So, if you are a veteran, check out your eligibility for this type of loan, but it is required that your home be your primary residence in order to qualify. Learn more about can you buy a mobile home with a VA loan here.
Chattel loans are similar to traditional mortgages in that the collateral is the property itself. This implies that if you default on your loan, your home may be confiscated to pay off the debt. With that said, a chattel loan has a lower closing cost and fewer limitations than a regular mortgage.
The disadvantage of this type of loan is that it has a higher interest rate than any other type of manufactured home loan, which usually ranges 0.5 to 5 percentage points higher. Furthermore, it has shorter term lengths. This means that even though you will be able to pay your home off quicker, your monthly payments will be higher.
Personal Loans
Manufactured homes are typically less expensive than site-built homes, allowing you to finance your purchase with a personal loan. Personal loans are the type of mortgage you can utilize to purchase a variety of things.
Due to their flexibility, it is easy to use them to finance a manufactured home purchase. The good thing about a personal loan is that they do not require any collateral to secure the mortgage. This implies that if you default, you will not lose your home. However, the trade-off is that personal loans tend to have higher interest rates compared to traditional mortgage rates, making them more similar to auto loans.
Gregory Allen, the CEO of ASAP Finance says, "most lenders don't consider mobile homes to be real property. They're just not sure how much they're worth and how secure the loan is. But when you have an approved loan, you can buy all kinds of things for your home: appliances, furniture, even repairs."
Many personal loans allow you to borrow up to $50,000, with some lenders allowing you to borrow up to $100,000, which is certainly enough to land you used mobile homes for sale.
Pros & Cons of Manufactured Home Financing
With advances in manufactured home technology and decreased manufactured home prices, mobile homes are becoming increasingly popular. With that said, manufactured home financing can be tricky, especially if you are a first-time buyer.
There are many different types of loans to choose from, and the prices vary greatly, so it is important to do your due diligence before deciding which one is right for you. Here are some tips for finding a mobile home.
So, let's weigh the pros and cons of manufactured home financing:
Pros
Fewer Fees and Closing Costs
If you are looking to purchase a new or used mobile home, you must understand the costs involved with the financing. One of the best things about manufactured home financing is lower closing costs than conventional loans.
Easier Qualification Process
The process of finding a loan for a mobile home is pretty much the same as that of any other type of home. However, there are some differences in the way they are financed. Mobile homes, being classified as "manufactured housing" or "manufactured homes," typically qualify for personal loan financing types, such as a VA or FHA loan.
These loans have significantly fewer restrictions than conventional loans and are often obtained at lower interest rates. Also, the lack of restrictions makes them easier to apply and qualify for, which makes them attractive to people with poor credit.
Low Down Payment Requirements
The biggest win for people that obtain manufactured home financing over traditional lending is lower down payments. With traditional lending, it is not uncommon for a 20% or even 30% down payment to be required. These hefty deposit requirements can make it difficult for many people to become homeowners, especially those with low incomes and high debt.
For manufactured homes, however, you can pay as low as a 3% down payment, which is significantly less than that of site-built homes.
Smaller Loan Amount (and potentially smaller payments)
A smaller mobile home loan amount will likely result in a lower monthly payment, making it easier to manage your finances and stay afloat.
Cons
Higher Interest Rates
Since most mobile home loans have fewer restrictions, they have higher interest rates to compensate.
Only Available for Financing the Home, Not the Land
The majority of mobile home loans are only available to finance the home, not the land, which could be a major setback for ambitious homeowners who wish to buy both.
Steps for Getting Manufactured Home Financing
Buying a manufactured or mobile home in a park differs from buying a traditional home in that most lenders do not consider these homes to be real estate assets, and so they do not qualify for traditional mortgages.
So, before you go out and buy a mobile home, take a look at the steps outlined below to learn how to secure financing:
Check Your Credit Score
Your credit record is an important factor in determining your eligibility for manufactured home financing. Consumers with a higher credit score are more likely to qualify for a mobile home loan. Repairing your credit can help you increase your score and improve your chances of obtaining financing for a new or used mobile home.
If you want to find out what yours is and what it means, the first step is to order a free credit score report. A minimum credit score of 720 or better, combined with a good credit history, will usually earn you a cheaper interest rate.
You should be aware that different lenders have different credit score criteria, but aiming for a higher credit score is the safest way to get better mobile home loan terms.
Save for a Down Payment
Saving for a down payment on a manufactured or mobile home can be challenging if you don't have any savings. Manufactured homes are more affordable than their site-built counterparts, and your down payment will be less as well. However, just because it is cheaper does not mean it is a small down payment; it is still a significant sum to save for.
Typically, the down payment for many lenders is 3% of the total loan amount. The more money you can put down for a down payment upfront, the lower your monthly payment will be.
Find the Right Lender
Begin your search for a mobile home lender once you have decided on the type of mobile home you want to buy. The Federal Housing Administration (FHA) and the Veterans Administration (VA) guarantee loans for manufactured homes. You can also find specific lenders who specialize in lending on manufactured homes.
Compare Rates from Multiple Lenders
Varying lenders have different rates, so you should shop around before deciding. You may have a good grasp of what you want, but it is always best to know your options. Many lenders offer the same types of mobile or manufactured home loans, but they differ in terms of interest rates and eligibility requirements.
Submit Your Loan Application
Check the eligibility requirements after you have decided on a lender to borrow from; then fill out the application if you meet their requirements. The best part about mobile home loans is that they have a faster approval process than regular loans.
What Credit Score Do I Need to Get Mobile Home Financing?
In order to get mobile home financing, you usually need a minimum credit score of around 600. This is because most lenders require that borrowers have a credit score of 600 or higher in order to receive approval for financing. However, there are some exceptions depending on the lender and the type of loan they offer.
A lower credit score may also make it more difficult for you to qualify for financing because lending companies may be less likely to approve your application if your credit score is below 600. If your score falls below 600, you will need to improve it before applying for mobile home financing. One way to do this is by paying off any outstanding debts and making on-time payments for some time. Learn more on what credit score is needed to buy a mobile home here.
Final Thought
When you are buying a manufactured, mobile, or modular home, it is worth knowing that there are many financing options available to help you pay for it. The key is understanding how to find the right one for your situation.
Most mobile home loans offer flexible terms, low monthly payments, and manageable interest rates. Before you look for a lender, do your homework on mobile home finance. This will give you a major competitive advantage when making your purchase. For example, establish the minimum credit score requirements, among other things.