When buying a manufactured home, most people are concerned with the home's aesthetics, how their items will fit in the living spaces, or where to add new features.
That's not all that's important when you're in the process of buying a mobile home. There is more to consider than just the aesthetics aspect of a mobile home. Before buying a manufactured home, you need to think about the wind zone rating.
For example, a mobile home in a lower-rated area might not withstand certain types of weather, so it's crucial to understand where you live before making this type of purchase.
Wind Zone Ratings for Mobile Homes
Manufactured homes often suffer image problems with the media depicting them as easily demolished, but that's not entirely true!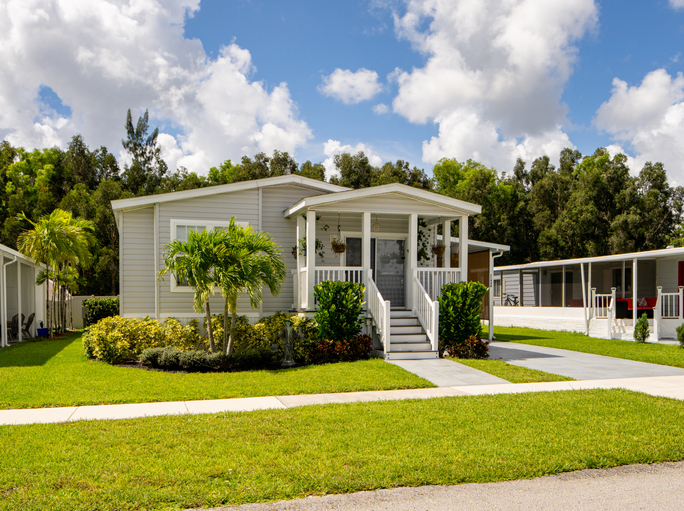 Most homes that face destruction are normally in wind zones where they are not supposed to be. So how do you know whether or not your mobile home is in the right wind zone?
Let's discuss what you need to know about mobile home wind zone ratings in detail.
What is a Wind Zone?
Wind zone was created in 1976 by the Department of Housing and Urban Development (HUD) to ensure that manufactured homes are safe. One such regulation was the three wind load zones requirement, which homes must withstand.
You may wonder, what is a wind load? A wind load is the amount of force that a house must withstand to be considered appropriate for a specific zone.
In the 1990s, HUD updated the Federal Manufactured Home Construction Safety and Durability requirements to reflect new data on hazards, like snow, seismic activity, and wind safety, to ensure that the life expectancy of a mobile home was for the long haul.
According to the Manufactured Housing Institute, 22 million Americans live in manufactured homes, therefore wind zones are significant if you're one of them.
The Manufactured Housing Institute (MHI) is the only national trade association representing the factory-built housing industry. With that said, the members of the Manufactured Housing Institute include home builders, retailers, community operators, lenders, suppliers, and affiliated state organizations.
Different Types of Zones
Most manufacturers will offer mobile homes based on their target market, and, as a result, the standard of their homes will vary.
Some manufacturers, for example, will build homes that can withstand wind zone III ratings, while others may not. As a result, you must ensure that your home complies with the standard requirements (three wind load zones), or your mobile home's installation and clearance will be delayed.
So, what are these zones, you ask?
Wind Zone
Thermal Zone
Roof Load Zone
Wind Zone
The United States is a diverse place, so it's no surprise that different regions within the country experience different strengths and wind types.
In the Midwest, for example, the prevailing winds are from the southwest. These winds often bring in storms from Texas, as well as moisture from the Gulf of Mexico.
Depending on what time of year it is, you might experience different levels of wind. To make things easier, experts divide the U.S. into three wind zones.
Thermal Zone
Like a wind zone, a thermal zone is divided into three categories. So how are thermal zones determined, you ask?
Since the United States is a large and diverse country, the temperatures experienced in different areas of the U.S. will be diverse. The climate zones differ, determining what needs to be planted and grown where.
Roof Load Zones
The roof load zone determines how steep the roof of your home can be. The roof's slope affects how much snow accrues on it during a storm.
The primary purpose of the roof load zone, also known as the snow load zone, is to guarantee that mobile homes are built to bear the weight of snow.
What You Need to Know About Wind Zones
Earlier, we established that there is a HUD Code for mobile homes, which includes wind zones. Therefore, any installation must be done in accordance with wind zone ratings.
Hopefully, by now, you understand the wind zone better. Let's look at the different wind zones that are commonly talked about:
Wind Zone I
Wind Zone II
Wind Zone III
Wind Zone I
Wind zone I is the most lenient area for building homes. It's an area with winds up to 70 miles per hour.
In order to avoid destruction, the manufacturer must design homes that can withstand wind speeds up to 70 miles per hour.
The majority of the United States is in wind zone 1. This area includes most of the U.S.A, except for a few southern states. The northeast, the midwest, and the pacific northwest are all in wind zone 1.
Wind Zone II
Homes in wind zone II are built to hold out against wind speeds up to 100 miles per hour.
As a result, the United States government has designated wind zone II as an area where people are deemed to be at high risk of damage due to hurricanes.
A wind zone map shows the location of this wind zone II and the probability of your home being in this zone, depending on your proximity to either the Gulf or Atlantic coast. Although wind zone II is significantly smaller than wind zone I, it covers most parts of Florida.
Wind Zone III
As the wind zone number goes up, so does the wind speed. With that said, wind zone III homes must be built to withstand wind speeds of up to 110 miles per hour because hurricane-force winds are more frequent in these areas.
Wind zone III covers many of the coasts in the United States, which includes most of southern Florida, as well as all of Hawaii. In comparison to the other two wind zones, manufactured dwellings in wind zone III are more vulnerable to destruction.
When a home planned for zone I is built in an area with a higher wind zone, let's say wind zone III, the most likely outcome is utter destruction when Mother Nature calls.
Finding Your Manufactured Home Wind Zone
Wind zones are an important aspect of construction, which is why you need to know about them.
Now that you understand the necessity of wind zone compliance (Federal Manufactured Home Construction), you may be wondering, "how do I find out what wind zone my home is in?"
The wind zone of your home can be found on the surface of the HUD data plate, which is typically hidden away in a kitchen drawer, behind an electrical box, or in a bedroom closet.
Is it proving difficult to locate your data plate? Simply search for the serial number on a HUD Certification Label, a metal plate that is fastened to the outside of your home. You can find out more about its wind zone safety and classification based on the serial number from your home data plate.
Frequently Asked Questions
Can you survive a tornado in a mobile home?
When you live in a mobile home, it is important to know the risks and what to do in the event of a disaster.
First, know that they are not designed to withstand most types of natural disasters. Second, if you see the storm coming and it's likely to be severe (tornado or straight-line winds), make sure to leave your manufactured home for safety.
Not all manufactured home parks provide storm shelters, so if yours doesn't it's important to get out before the storm hits.
Can a mobile home be made hurricane proof?
It's untrue to say mobile homes are hurricane-proof! No manufactured home is hurricane-proof, unless it's built like a military bunker.
If you live in an area susceptible to hurricanes, you should have a hurricane plan for your family. One of the most important considerations is where to go after the storm hits because it's unlikely that your home will survive.
Can you put hurricane windows in a manufactured home?
Yes! The best way to protect your mobile or stick-built home is with permanent storm shutters.
Storms occur year-round, but the most common time for them to hit is during hurricane season. These protective shutters are lined with vinyl on the outside of your windows and can be locked in place to protect against high winds, flying debris, falling objects, and shattered glass.
How much does it cost to hire someone to put up hurricane shutters?
Hurricane shutters (which can cost between $1,900 and $5,800, with installation) generally cost about $5-$60 per square foot for materials, and about $45-$100 per hour for professional labor.
Based on the size of your house, it should take roughly one hour for a professional to put up seven square feet of shutters (making fair estimates of the work to be done).
Can I install hurricane shutters myself?
Yes! You can install the shutters yourself. With do-it-yourself hurricane shutters, you can create a safe haven for your home.
Most shutters' installation is straightforward and, thus, shouldn't take you long to do. Shutter installation is a fairly simple process that you can do in a day with basic tools, though it might take longer depending on the setup.
Final Thought
When buying a manufactured home, it is important to understand the wind zone (wind zone I, wind zone II, & wind zone III). If you know what type of wind zone your manufactured home is in, you can save yourself some serious disappointment down the line.
A home in a higher wind zone (like wind zone II or III) will need additional reinforcement because this type of home is built to withstand hurricanes and tornadoes.
So, when looking for a mobile home, it is extremely important to make sure you examine information about the wind zone.