Come Home to
Cedar Springs Mobile Estates
Cedar Springs Mobile Estates, located at 400 Susan Cedar Springs, MI 49319, is a family-owned and operated community, which allows us to provide a much more comfortable and safe living experience than the bigger corporation owned communities.
Our on-site management team takes great pride in providing the best customer service in the industry, which is why we have such long-lasting residents.

The History of Cedar Springs Mobile Estates
With many years in the business, Cedar Springs Mobile Home Estates has grown to become one of the top recognized manufactured home communities in all of Kent County.
Our company was built on honesty and integrity, and our residents know that they can put their trust in our management team, leasing office associates, sales team and maintenance staff.
We currently offer both mobile homes for sale in Cedar Springs, MI, as well as mobile homes for rent in Cedar Springs, MI.
As a community here at Cedar Springs, MI, we have made it our mission to provide high quality mobile homes, maintain a welcoming neighborhood with wonderful resident amenities, and to assist our residents in any way that they may need, day or night.
Cedar Springs Mobile Home Estates has remained a noteworthy Kent County multi-family community because of our ongoing commitment to our residents, along with our desire to provide affordable luxury housing.
What's more, though we are a tight-knit mobile home neighborhood in the city of Cedar Springs MI, we strive to be so much more than that — by giving back and making a difference in the surrounding community as well.

What You Can Expect to Find at Cedar Springs Mobile Estates
On the surface, we offer a wide variety of manufactured homes to choose from. In fact, our amazing pre-existing mobile homes for sale and lease range from 2 beds/1 bath single-wide manufactured homes to 4 beds/2 bath double-wide manufactured homes.
We also have brand new manufactured homes for sale or lease, and we are by far the most reasonably priced mobile home park in the area.
Affordable
That is right! Cedar Springs Mobile Estates has a long history of providing affordable alternatives to site-built homes and other housing types.
Since we work with some of the most trusted mobile home builders and manufacturers in the country, we are able to negotiate low prices on building materials, including interior features, resulting in lower costs for our homebuyers.
Represents Quality
Our energy-efficient, quality-built manufactured homes are constructed with you and the industry standards in mind.
As a result, each home that we offer for rent or sale is custom-crafted in a controlled factory environment, which means the utmost care is taken to ensure that you have a safe, structurally sound and energy-efficient home.
Multitude of Other Advantages
Not only do all of our mobile homes have open contemporary layouts and the expected modern home comforts, but they are also customizable.
This means, regardless of whether you are leasing, purchasing, or renting-to-own, you can enjoy modern kitchens, spacious bedrooms, fireplaces and more.
Much like site-built or traditional stick-built homes, our mobile homes offer plenty of floor plans and amenities. You can also find stylish features such as stone fireplaces, granite countertops, recessed lighting, custom cabinetry, large family rooms with entertainment centers, and so much more.

Cedar Springs Mobile Estates Living
Furthermore, when you purchase or lease a Cedar Springs, Michigan home, you are getting so much more than just a spacious home to call your own; you now have access to the Cedar Springs Mobile Estates Lifestyle!
The Cedar Springs, Michigan lifestyle is all about enjoying the finer things that life has to offer, without breaking the bank.
We take pride in our manufactured homes, and our community, and we know you will share that same pride in your Cedar Springs, MI manufactured home, no matter if you are leasing, renting a lot, or starting your journey of homeownership.
We know you want only the best for you and your family, and that is why in our Cedar Springs, Michigan manufactured home community, your safety and convenience come first.
Cedar Springs Mobile Estates features on-site management, so small problems never become big ones.
Come Check Out our Beautiful Community with the Best Amenities
Cedar Springs Mobile Estates, Cedar Springs, MI 49319, has many amenities to offer you and your family.
These include:
Quiet Country Living – At Cedar Springs Mobile Home Estates, you can have the quiet country living you have always dreamed of, but still be close enough to major cities, like Grand Rapids, MI, to partake in all they have to offer.
Lowest Rent & Best Value – Cedar Springs Mobile Home Estates is proud to offer a community with the lowest site rent around.
Pets are Welcome – We recognize your "family" may include a precious pet, and we welcome your four-legged family member! For the protection of all our residents, pets cannot be left outside unattended, and some restrictions to breed and size may apply.
Outdoor Recreation Area – Our open spaces add peace and tranquility to the community. You can sit and relax, taking in the surroundings and nature, or engage in more active outdoor activities such as basketball, family picnics and more.
Youth Playground – Our on-site youth playground is a great place for your kids to burn up that extra energy. Note, parental supervision is required.
Own a Home for Less than Apartment Rent – With the lowest site rent around, you can own your own home for less than you would pay for renting an apartment. Enjoy all of the advantages of a stick-built home – paint your walls, decorate to your liking, plus enjoy more living space and privacy. You will even have your very own yard, which means you can spend time relaxing outside of your home or destress by sprucing up your curb appeal and gardening. The decision is yours to make!
Wide Array of Financing Options Available – Here at Cedar Springs Mobile Estates, you can take advantage of in-house lending, if you opt to purchase one of our affordable luxury manufactured homes.
All-Age Manufactured Home Community – We are family-friendly!
Plethora of Nearby Recreational Entertainment – Camping, fishing, lakes, parks galore, and so much more.
In addition to all these amazing amenities and communal perks, the residents of our Cedar Springs, Michigan homes also have easy access to major roadways and freeways, like US-131.
Moreover, our community is centrally located in Cedar Springs, Michigan, which gives our residents convenient access to local shops, restaurants, medical offices and churches.
Another bonus is that our community is just 20 minutes away from the second-largest city in the state, Grand Rapids, MI, where you will find a wide range of additional entertainment options to choose from.
What's more, our community is in the Cedar Springs Public School District, which has recently completed a $27 million renovation and building project.
We also hold Community Appreciation Events throughout the year, emphasizing our commitment to building long-term relationships with our residents.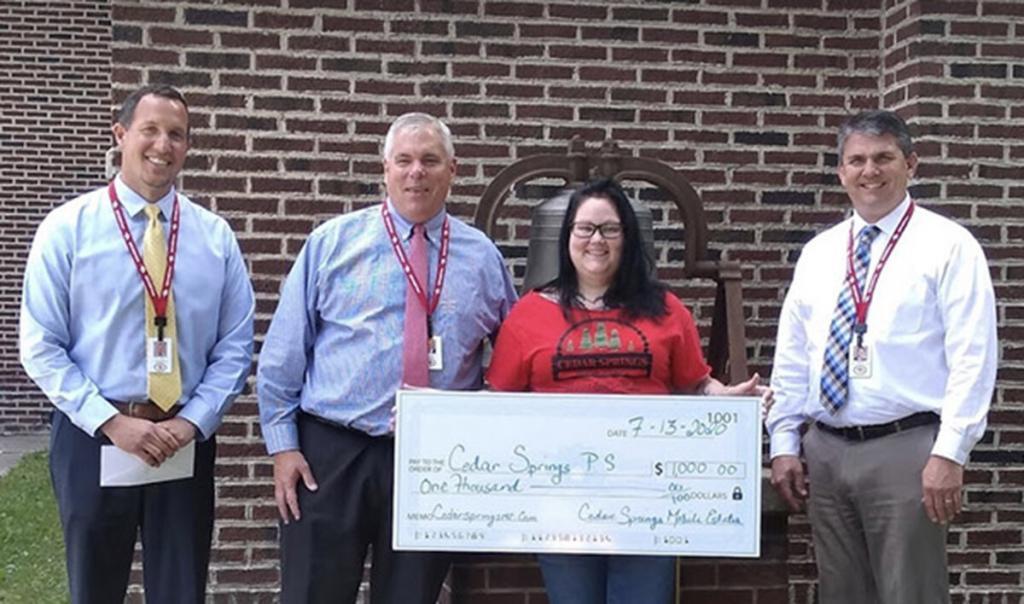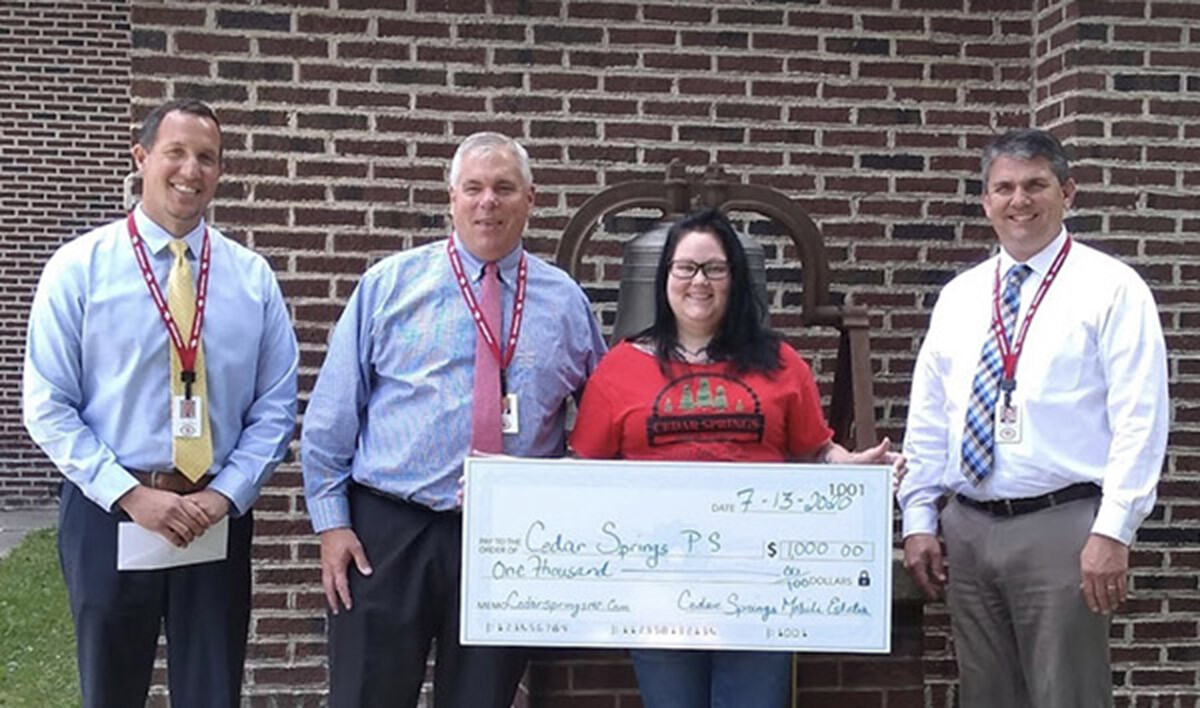 So, if you are interested in making our real estate homes at Cedar Springs Mobile Estates, located at 400 Susan, Cedar Springs, MI, 49319, your next move for you and your family, then what are you waiting for?
Contact us today to explore our Cedar Springs Mobile Estates manufactured homes for sale and lease.
Come Home To
Cedar Springs Mobile Estates!