Modern manufactured homes are factory built,according to the U.S. Department of Housing and Urban Development (HUD) building standards, and are then transported onto a vehicle and sent to a site, where the home is assembled.
Manufactured housing has grown in popularity over the years in the USA, and today around 20 million Americans live in mobile homes. Living in a manufactured home is a flexible lifestyle choice that allows you to move the home and your location more freely.
We have carried out research to find out what a manufactured home exactly is:
What is a Manufactured Home?
Manufactured homes are placed on permanent steel chassis. Concrete foundations can sometimes be added to ensure their structure remains secure and stable. During their transportation, manufactured homes come with wheels attached to the bottom, which are then subsequently removed as soon as the home is assembled on-site. Despite being transportable, people often choose to keep their manufactured homes in one place and reside on the same site and in the same location.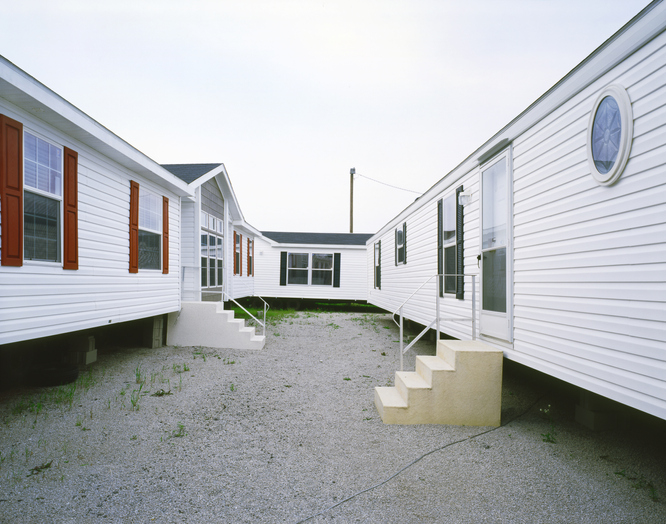 In What Ways Do Manufactured Homes Differ from Modular and Mobile Homes?
There is often a great deal of confusion between manufactured, modular and mobile homes, and the differences between them. Here we clear up what distinguishes manufactured homes.
Modular homes are also homes manufactured in a factory. However, modular homes ARE NOT required to meet the HUD building standards. Yet they still have to comply with the same local, state and federal building codes, just as traditional site built homes do.
Modular homes are also transported to the site, where they are then assembled. Modular homes are set on a permanent foundation, therefore they do not tend to be moved repeatedly onto other sites, like manufactured homes do.
Mobile homes are also factory built and best suited for families and individuals who wish to move their home frequently to different sites, as they are easy to transport and can be towed on roads. Mobile homes are usually not built with an affixed foundation, and they are not required to meet the HUD Code.
The History of Mobile Home Communities in the USA
Mobile home community living, as a property and lifestyle choice, can be traced back to the popular trailers that began to appear across the USA back in the 1950s. These trailers were single sections and could be towed by vehicles on roads. They were not as big as the manufactured homes on the market today.
In the 1960 and 70s, Americans began to desire wider, larger mobile homes with permanent structures. Therefore manufactured and modular homes started to become more and more in demand.
Mobile homes have always been popular with individuals who work in remote rural areas. The moveability aspect of living in a mobile home is beneficial and useful for workers who have to move sites often for their job. They also offer an alternative to urban city housing.
Some people prefer the quieter country way of life compared to the relentless hustle and bustle of the big American industrial cities. For example, there are many manufactured home communities, throughout the state of Michigan, where people choose mobile home living in smaller rural towns over living in sprawling cities, such as Detroit.
The factory built mobile homes today can be very large, with homes spanning up to 4,000 square feet in size. Today they are also built sophisticatedly with modern day appliances, air conditioning, en suite master bedrooms, top-quality fitted floors and furniture, and so on!
Large modern manufactured homes can sometimes take quite a long time to make in the factory, especially if a lot of material is required and if they have been built in multiple sections. Today, a brand-new top-of-the-line large sized per square foot modular home or manufactured home can cost anywhere from $130,000 – $200,000.
So How Are Manufactured Homes Different from Traditional Homes?
Traditional stick built homes are constructed on-site, unlike manufactured homes that are prefabricated and built in a factory before being transported in sections to their permanent location. Stick built homes are made piece by piece and rest upon wooden frame structures.
How are Manufactured Homes Safely Transported to a Site?
Manufactured homes are transported using specialist removal vehicles capable of safely carrying and transporting heavy sections of manufactured homes to the desired site. Drivers should carry out checks to ensure the sections are belted in safely and that no damage will occur to the home during transit. Some smaller mobile homes are single section, so they can be transported in one trip.
Make sure you pick a reliable removal driver with a good reputation. You may want to look through customer reviews and find a reliable removal company to minimize the chance of any damage occurring to your beloved manufactured home!
Can You Move Your Manufactured Home to Another Location at Any Point?
One beauty of owning a manufactured home is that you can move to a new site, in a different location, whenever you feel like it. Firstly, you must contact the site-owner to lease or buy the land you want to put your manufactured home on.
Do you or one of your family members need to move around the country regularly to different locations for work and are looking for an affordable housing option? Look no further than investing in a manufactured home as soon as possible!
What is the HUD CODE for Building Manufactured Housing?
The U.S. Department of Housing and Urban Development first introduced the Manufactured Home Construction and Safety Standards on June 15, 1976. Manufactured homes built prior to June 15, 1976, do not comply with the HUD Code and are at risk of encountering major electrical problems, which can result in dangerous household fires.
The HUD Code requires manufactured homes to be built on permanent chassis. If your manufactured home is damaged during transportation or installation, you must contact the contractor who transported or installed your home and not the HUD.
Important aspects that the government's Department of Housing and Urban Development take into consideration when assessing how to regulate the building of manufactured housing include:
Design and construction specifications
Fire safety
Energy efficiency
Transportability
Heating, ventilation and air conditioning standards
Electrical safety
Meeting local building codes
Data Plates
A data plate is a detailed paper certificate that contains a mobile home's full manufacturing information. A data plate is a confirmation that a manufactured home has been built according to HUD standards.
All manufactured homes built after 1976 are required to have a data plate. If you lose the data plate for your manufactured home, contact the Institute of Building Technology and Safety to order a replacement. Manufactured homes come with a red HUD label on the outside as further verification that the home has been built according to HUD standards.
Are Manufactured Homes Affordably Priced?
Fortunately, today's manufactured homes are far cheaper compared to the traditional houses in the USA built on-site. Renting or buying manufactured homes is by far a more affordable housing option than traditional site built homes.
The average cost of a traditional home in the USA in 2020 was $389,400, whereas the average cost of a standard single-wide manufactured home in the same year was $57,200. A new double wide manufactured home cost on average $109,300. So, save yourself a large chunk of money and invest in a manufactured home!
What are the Main Benefits of Choosing to Live in a Manufactured Home?
There are various benefits in opting for manufactured home living over traditional homes built on-site. The main benefits are:
They are made to impressively high building standards! –The homes are inspected and regulated during the building process in the factory. The workmen carry out checks to ensure all sections of the home are safe, secure, and manage to meet the HUD Code building code.
Household amenities and luxury features – Many homes come with top-quality interior household features such as custom flooring, cabinetry, walk-in closets, modern kitchen appliances, and much more luxury home features, such as private balconies and patios!
Energy-efficiency – The homes come with reliable ventilation and heating, and are generally far more energy-efficient compared to traditional site built homes. So, your energy bills should go down by a great amount when living in a manufactured home!
Conclusion
The main difference between manufactured homes and traditional homes is that manufactured homes are built off-site in a factory, as opposed to on-site and on top of a permanent wooden frame foundation. Manufactured homes are also transportable, meaning homeowners have the opportunity to move locations more easily, while also being able to keep the same home they are accustomed to living in.
A lot of today's manufactured homes are similar, or better, in quality than traditional homes, and they come well-equipped with luxury features and top-quality household fittings. They can be up to 30% cheaper to buy than traditional homes too!