Many first-time manufactured home purchasers make costly mistakes when purchasing their dream home. They frequently overspend on a home because they lack the necessary information about the purchasing process.
We understand the excitement of purchasing a manufactured home, but that does not mean you have to waste your hard-earned money in the process. Taking the time to research and understand what it takes to acquire a new manufactured home can help you avoid any financial distress.
That said, we have put together a step–by–step guide to help you avoid some of the most common mistakes made by manufactured home buyers.
How to Buy a New Manufactured Home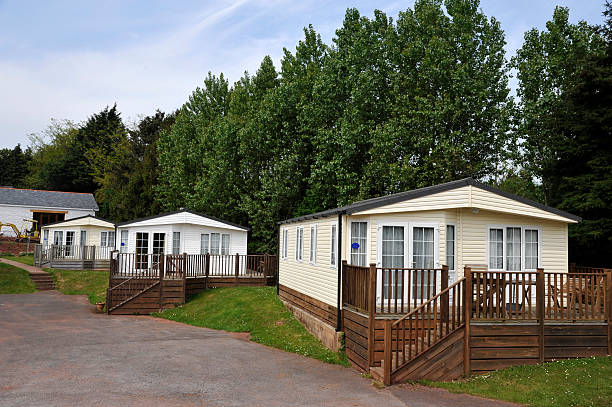 Generally, manufactured homes are affordable compared to traditional homes, and typically up to 30% cheaper. In addition, the process of buying a mobile home could be more worthwhile than renting an apartment. Sometimes the average rent is more than the mortgage a mobile homeowner pays every month, which is why you should consider purchasing a manufactured home.
Having said that, this comprehensive guide covers everything from deciding on the sort of manufactured home you want to buy and obtaining manufactured home financing, to selecting the land on which your home will be placed and thoroughly preparing the home for move-in.
Let's dive in!
Decide on the Type of House
Single-wide mobile homes and double-wide manufactured homes are the most common forms of manufactured homes. For larger families, triple-wide manufactured homes are another alternative. Before evaluating other factors, like pricing and manufactured home dealers in Michigan, decide on the type of dwelling you desire.
That said, with your spouse or family, establish which sort of home best suits your needs by looking at the floorspace or floor plan. The floor plan varies from about 400 sq. ft. to over 2,500 sq. ft., with the option to customize your home.
If you expect to live alone, a single-wide home may be the best option, but a double-wide or triple-wide home is the best option if you plan to start a family. Checkout our list of double-wide mobile home dealers in Michigan here.
Secure Financing
Financing a manufactured home is one of the most critical parts of the buying process. It is critical to learn how to finance a mobile home by knowing where to seek a loan and whether you meet the lender's requirements. In addition, establish which lender offers the best mortgage terms for your manufactured home.
Manufactured home financing is not the same as conventional lending (traditional mortgage) for site-built homes. Since manufactured homes/mobile homes are classified as personal property (meaning they don't typically have a permanent foundation/are permanently fixed) rather than real property, financing options are limited.
That said, do not expect to get mobile home financing from traditional financing institutions (which are usually for a site-built home). So, where should you look for a manufactured home loan?
● FHA Loans (Federal Housing Administration)
● VA Loans (Veterans Affairs)
● Chattel Loans
● Fannie Mae MH Advantage Program
● Personal Loans
The majority of these manufactured home loans, such as an FHA loan or VA loan, are government-backed and do not provide loans to individuals. Rather, they guarantee bank loans and, therefore, look for financial institutions that offer these kinds of loans.
A VA mortgage is reserved for the members of the military to secure land purchase and their manufactured homes. Chattel loans or chattel mobile home financing is used to finance personal properties like vehicles (auto loans) and boats, among other items. With that said, a chattel loan usually has a higher interest rate than any other manufactured home loan.
You may qualify for traditional mortgages if you are willing to set up your modular home or mobile home on a permanent foundation, meaning your home cannot be moved once installed and, therefore, can be classified as real property.
Manufactured home loans often have high interest rates because of the high risk associated; however, you can be safe if you have a good credit history and credit score. So, what credit score is needed to buy a mobile home? Most lenders require a minimum credit score of between 580 to 620 to buy a manufactured home.
If you have a lower credit score, don't worry; you can still secure financing, but you may have to offer a bigger down payment to lower the risk (mobile homes often have a minimum of 3% for a down payment). The good news is that you can repair your credit history and build up a solid score that will earn you better loan terms. However, it is important to note that raising your credit score takes time.
Typically, a good credit history will help you get a good manufactured home loan term, such as a lower interest rate and, therefore, lower monthly mortgage payments.
Private Land or Manufactured Home Community
What location do you intend to put your manufactured home? Determine this prior to purchasing a manufactured home. If you own your own land, you will not have anything to worry about; all that is left is to prepare the area for installation. However, if you want to live in a mobile home park, you should visit many mobile or manufactured home communities near your ideal area and weigh the advantages and disadvantages of each. Read about the benefits of living in mobile home parks here.
Where you place your home can affect the choice of financing. For example, an FHA loan can help you finance the home and the lot, while a chattel loan may only finance the home and not the lot.
It is also crucial to examine your state's zoning restrictions; purchasing a manufactured home that does not conform with zoning standards might be costly. That said, if you don't know much about zoning restrictions, ask your manufactured home dealer or real estate agent for help.
Find a Reliable Manufactured Home Retailer
Once you have decided on a home, you will need to find a reputable manufactured home dealer. The easiest place to start is online, where you may look for dealers in your area and read reviews. Pay attention to what prior customers have to say about the dealer and ensure they have positive feedback or ratings. Find out what is the best website to find a mobile home here.
Another option is taking referrals from friends and family members who are knowledgeable in the mobile housing industry.
Two Types of Dealerships
In the United States, there are over 4,000 manufactured home dealers, but they are divided into two groups:
Factory owned dealers
Independently owned dealers
So, before you start shopping, figure out what kind of dealer you want to work with.
Factory Owned Dealers
It is tempting to believe that factory-owned dealers are the best option because they have a single command line, but this is not the case. In fact, independently operated dealers receive considerably fewer complaints than factory owned ones, on average.
Furthermore, compared to independently owned dealers, factory owned dealers normally charge more for manufactured homes/mobile homes.
Independently Owned Dealers
Independently owned dealers are often a fraction of the size of factory-owned dealers. They are often run by families and have fewer manufactured homes and builders on hand at any given moment. However, compared to their factory-owned counterparts, they often have superior reviews because of affordable prices and their level of customer service.
Delivery
Manufactured homes typically are factory-built homes and have an average delivery time of four months after the order is placed. How mobile homes are built gives them a timeframe of being completed anywhere between a few days to a couple of months. The manufactured home construction process is seamless because it is conducted in a controlled environment and built by professionals.
The dealer will arrange for delivery to your specified area once you have decided on the type of home you want. Learn about Cedar Springs Mobile Estates here and how we will move your mobile home for free. The good news is that the dealer will walk you through the delivery procedure and ensure that your home arrives in good condition.
Setup and Connection
The installation process starts once the manufactured home has been delivered to your site. Check to see if your site or land is close to city services; if it isn't, make arrangements for it ahead of time.
After installation, ensure an inspection is conducted to certify the home was placed correctly and leveled. If your home is not leveled, you are likely to have trouble soon as you move-in. It could be your plumbing, doors, among other things, which will require additional funds to repair.
Generally, a home inspection also allows you to be confident the home complies with the United States Department of Housing and Urban Development, otherwise known as the HUD Code.
Things to Know When Buying a Manufactured Home
Before acquiring a new manufactured home, make sure you know everything about it and understand what you are getting yourself into.
Here are some tips to keep in mind before purchasing your dream manufactured home:
Interior Features
At this point, you should pick all the features you want the home to include. You can design the mobile home to include various features, such as walk-in closets, wood-burning fireplaces, and custom closets, among other things.
The good news is that you do not have to do everything manually nowadays. Online design software may help you arrange your home's interior, from colors to the floor plan to the kitchen style. You have complete control over your house planning with these internet tools.
Most manufactured home dealers have the courtesy of offering clients a walk-through of possible features that they offer in their modular homes, mobile homes, or manufactured homes. If you have no idea what features your home will have, dealers will often have a model home for you to see and get a sense of what amenities your home will come with.
Nonetheless, make sure you understand the most important features you want to have before buying a manufactured home.
Exterior Design
The outside aesthetics of a dream home is a huge consideration for many homebuyers. That said, you can choose your exterior design from various colors and material options. You should note that the features chosen for the exterior design may increase the final costs of buying the home. For example, patios or decks will require additional materials and labor.
State Laws for Future Planning
Understanding the state laws is important if you plan to buy a manufactured home. You should establish whether it is possible to relocate your manufactured home to a different state or location. Learn how much it costs to move a mobile home here.
For example, if you later discover that state regulations prevent you from shifting your cherished home to another location, it could be costly.
Appliance Package
Despite the fact that new mobile or manufactured homes come with appliances, make sure you choose what you want based on what is offered.
Final Thought
If you do not know how to navigate the market, buying a manufactured home can be a lengthy and difficult process. Doing your homework and researching the market ahead of time might help you reduce the stress of finding your next dream manufactured home. Always consider securing financing from institutions that offer loans for manufactured homes.