For homeowners looking for a smart choice, when it comes to a newly built modern home, manufactured homes will offer flexibility with an affordable loan payment.
While the term "mobile home" is still used by many, these single-wides and doubles-wides of today are better in every aspect, as opposed to the homes built before 1976. They are now referred to as manufactured homes.
Whether you are buying manufactured homes or modular homes, deciding how you want to finance it should be your top priority.
Making a comparison of different types of loans can help you make the best decision.
How to Finance a Mobile Home
Is it hard to get a loan for a mobile home? Financing a mobile home can be as easy as a site-built home, but it is different and has its own requirements.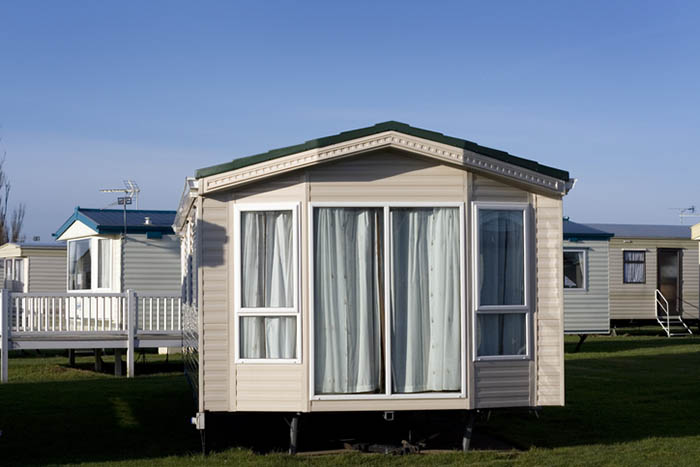 What's available to you will depend on your eligibility as a borrower. For instance, the age of the structure will play a role, along with whether it is categorized as real or personal property.
Who Can Get Manufactured Home Loans?
Not all manufactured homes are considered real estate property. If your mobile home is at least 400 square feet, on an approved permanent foundation, and taxed as real property, you can apply for conventional or government-backed mortgages.
Mobile homes depreciate over time, unlike traditional homes, which typically appreciate. This is why the manufactured home mortgage program is always strict.
Ways to Obtain Mobile Home Financing
Unless your home is categorized as real estate, you won't be able to finance the home purchase with a conventional or government-backed loan program.
Even though that's the case, you can still finance your manufactured home, just not with traditional home mortgages.
According to the Manufactured Housing Institute (MHI), the average price for manufactured homes is often closer to $50,000 or $100,000, depending on the type.
As per the figures above, it's fair to say financing that upfront can be overwhelming. Let's dive into some financing options you have as a manufactured homeowner.
Chattel Loans
According to Investopedia, a chattel loan is a mortgage arrangement in which an item of the movable personal property acts as security for a loan.
In other words, these types of loans can be used to finance a mobile home, where a property guarantees the loan.
It is a popular form of loan for many homeowners, mainly because you don't need to own the land on which the home sits.
The only catch is that chattel loans have higher interest rates. They are typically anywhere from 0.5 to 5 percentage points higher, on average, than standard loan rates.
Also, they have shorter terms than traditional mortgages, which can translate to higher monthly payments, but it does help you pay your debt off sooner.
The best thing about chattel loans is that the closing process is pretty fast, and with less restrictions, compared to traditional mortgages.
Personal Loans
A personal loan is a common type of loan. It is flexible and can be used for almost any purpose.
The downside of this type of loan is it usually has higher interest rates than other loans, such as mortgages or auto loans.
The upside is that you don't need to provide any collateral, thus there is no chance of losing your home, in case of default. The closing process is also faster, with less paperwork involved.
Often, personal loan lenders offer maximum mortgages of $25,000 to $50,000, though some lenders will let you borrow $100,000 or more.
If you find a lender offering more than $50,000, it might be a good way to go for what you need.
VA Loans
If you belong to the military community, you may qualify for a loan insured by the Department of Veterans Affairs.
VA loans can get you a loan for purchasing both the home and the land on which the home will sit.
The only catch is that you will need to prove the property is attached to the land you own and tht it meets certain local and VA requirements.
Here is an outlook of the loan terms:
| | | |
| --- | --- | --- |
| Type of Manufactured Home | With a Lot | Period |
| Single-Wide | NO | 20 Years Plus 32 Days |
| Double-Wide | NO | 23 Years Plus 32 Days |
| Single-Wide | YES | 20 Years Plus 32 Days |
| Double-Wide | YES | 25 Years Plus 32 Days |
The Lot for a manufactured home you already own: 15 years plus 32 days
What You Need To Know When Looking For Financing
●      Check Your Credit Report
●      Decide Whether You're Buying Land in Addition to the Mobile Home
●      Figure Out the Specifics of the Home that You Want to Purchase
●      Start Looking for Financing Options
●      Submit Your Loan Application
Check Your Credit Report
Your credit score report will determine your eligibility for mobile or manufactured home financing.
A high credit score makes it easier to secure mobile home loans, receive better rates and better terms from lenders.
If you spot some errors within your report, you can file a dispute with relevant authorities, such as Experian, TransUnion, or Equifax.
A lower rate will save you the agony of paying back a lot of money. So always check out your reports to be on the safer side.
Decide Whether You're Buying Land in Addition to the Mobile Home
As discussed earlier, mobile homes are not considered a real estate asset. However, if you attach the home to land that you own, and you have the wheels and axle removed, it's less likely you will move.
This stability of the home will increase your chances of getting mortgages from other financial institutions.
So decide on whether to buy the land or not before searching for a lender.
Most people will purchase the home and put it in a mobile home park. It's a viable option, especially if you don't have a budget.
Figure Out the Specifics of the Home that You Want to Purchase
It is crucial to figure out the type of mobile home you want to buy, because it will affect the eligibility of mortgages to receive.
For example, if you plan to buy a double-wide manufactured home that costs $100,000 or more, you won't be eligible for an FHA loan.
Lenders have specific requirements as their terms of service, and it's essential to know them.
Start Looking for Financing Options
Once you are done with the above, it's time to start looking for prospective lenders. Compare the offers by different lenders and settle for one with favorable terms.
Doing research will make the choice of the right lender much easier.
Submit Your Loan Application
After filling in all of the details and double-checking everything, it's now time to apply. If all of the details are correct, sit back and wait to get your mobile home loan.
Final Thought
Mobile homes can be a more affordable option than traditional site-built homes, but financing isn't as easy as you might think if you can't afford cash upfront. Be sure to research all financing options available and check their requirements.
The minimum credit scores for the options we have discussed above range from 580-650. Scores higher than 650 may get even slightly better terms.
Please note, scores lower than 580 may not qualify for a loan at all.
If you have a score less than 580, then you might want to consider working on repairing your credit history immediately in order for a better term in the future.