How much will it cost to move a mobile home?
When people talk about moving, more often than not, they are talking about moving their belongings, right? But what if moving means relocating your whole mobile home.
There are several questions you need to ask before you begin to move. For instance, how much does it cost to move the mobile home? How big is your mobile home? What kind of permits do you need? What is the condition of your mobile home?
In other words, there are many things that will play a role in determining how much you will spend on moving the mobile home.
How Much Does it Cost to Move a Mobile Home?
The process of relocating a mobile home is a lot more than you might think. Despite their name, mobile homes aren't that mobile. In other words, there is still a lot that goes into moving a mobile home.
Moving your household items can be expensive, right? So you know moving a whole manufactured home will cost you.
Even though they are called mobile, they are pretty tough to move. They will also not only drain your time and energy, but your wallet too.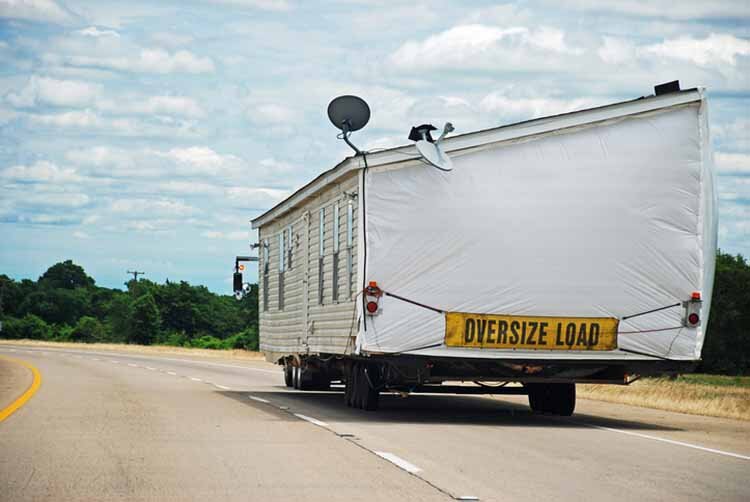 If you're thinking of moving a mobile home, expect to pay between $5 to $10 per mile, on average, depending on the size and condition of the trailer itself.
For a short-distance move, expect to pay between $1,000 to $5,000 dollars, without any extra fees. They usually end up costing around $6,000 to $20,000 when it's all said and done, while the cost to move during long-distance trips can be more than $30,000.
Factors that Determine How Much Moving a Mobile Home will Cost
When moving a mobile home, considering how much it will cost will depend on several things. To understand the scope of moving cost, here is a breakdown of factors that will influence it:
How Quickly Do You Need it to be Done?
Sometimes speed is an essential factor when figuring out how much it will cost to move and get everything worked out.
Let's say you're in a hurry and need to try and get everything done within a week or less; you may expect to pay some additional fees to do so. The best option here is to try and be flexible.
Suppose you are looking to lower the moving cost of your mobile home. In that case, it's recommended to be flexible and willing to work with the company, instead of forcing them into a very constrained time situation.
How Far is it Moving?
Distance will be one of the most significant factors when determining the total moving cost of a mobile home. If you are only moving across town, it will take less preparation to accomplish your goals, and it will end up costing less.
Typically, long-distance requires more logistics, and that costs more money. Your house movers will need to work with an agency to ensure that "wide load" vehicles can come with your trailer as it is being moved.
Also, it will take a couple of days to get everything ready to physically move a mobile home, so that needs to be taken into account.
The cost per mile will play a big role in the final cost. Usually, as stated before, it will cost you $5 to $10 per mile, on average. In other words, the longer the distance, the more you will pay, according to the cost per mile rate.
How Large is it?
Often, moving companies have all sorts of tools ready when it comes to hauling your mobile home. Since they are industry professionals in moving services, they often have several trailers to choose from.
Typically, many mobile homes are standard size. As such, those companies will only need a particular size of trailer to deal with things in that situation.
The larger the home, the more work it will take to complete the job correctly.
Is it a Double-Wide Mobile Home or Single-Wide?
Mobile homes come in different forms: single-wide, double-wide, and triple wide.
This question addresses the structure rather than the size; it is different from the question: "How Large is it?"
Single-wide is primarily one section, meaning it'll be easier for movers to put it on the back of the trailer, hook it in securely, and make sure that it's ready to go to its new location.
For a double-wide mobile home, the moving company may need to split it up, where the connecting seam was in the first place, which allows them to separate it into two parts and haul it that way.
Moving a single-wide and a double-wide home is different. A double-wide will require more logistic solutions.
What About the Stuff Inside?
You can deal with home items in many ways. For example, since these professional movers are careful about moving the home, you can simply box up fragile items off the walls and let things move with the mobile home.
In other situations, you may want to hire a professional mover to deal with the home items; however, this will cost you more money.
Usually, if you're moving long-distance, then hiring a professional mover to deal with house stuff will be ideal for the situation.
If you want to save money, get quotes from different movers and compare the pricing, and their reviews, before settling with an affordable one.
What Time of Year is it?
You need to put a lot into consideration when looking at exactly what time of year it is when you're moving your mobile home.
For example, if you live in an area that gets especially rainy during the spring or fall, then you may need to figure out how you're going to protect the exposed parts of the home during your trip.
If you're traveling in the winter months, things will get even more complex for you. You need to be sure that you have everything in place just in case it snows during your travels.
If you're going to need to split the mobile home into two sections, then your company will need to take some protective steps so that snow and such don't get inside the house.
Do I Need Mobile Home Movers, or Can I Do it Myself?
Most people ask themself, do I really need mobile home movers for this? Well, it's not that easy.
While it may seem like it would cost less to move a mobile home yourself, that is not always the case. There's a lot to consider:
To move your mobile home, it has to be up to code; you have to have the proper permits and certificates for the place you're going, and you will probably want to have insurance on the home while it's in transit.
Most moving companies deal with all of this paperwork often, and they can do it faster than you, thus cutting down the time spent on it. As such, if you want to move your mobile home, it will be more reasonable to let moving companies deal with moving your mobile home.
A mover can ensure the house is up to code, gather the permits, and they have their insurance, which will cover any issues if your mobile home is damaged while it's being transported.
Working with a moving company also ensures safety for both your home and the drivers. Often, the state requires movers to acquire all of the licenses and permits necessary to do their job, so they are regulated and tested to ensure they're doing it correctly.
If you move your mobile home, you may pay a hefty price for full-service moving services, but it's well worth it in the end.
How Can I Avoid Paying Too Much When Moving a Mobile Home?
Mobile home movers will cost you a fortune for their full-service. With that said, to counter this, you may need to do adequate research to pay less when you want to physically move a mobile home.
Compare as many movers as you can before agreeing to work with one. Get referrals, if need be, to widen your search.
The more movers you look into, the better idea you'll have of your average cost. From there, you can decide which mover is giving you the best deal.
It is also essential to check out what the mover includes in their price. Will they clean your plot after you move, or is that all left on you to do?
Will they move the deck you added to your home? Such details are essential to figuring out as early as possible to avoid confusion and unnecessary confrontation after signing an agreement.
How about the insurance? You must inquire about the insurance; it might be factored into the price, but not always.
Thoroughly Prepare Your Mobile Home for Transit
There's a lot of preparation that goes on before moving the mobile home.
The mobile home movers will take care of moving the house, but since you'll be moving an entire home, a lot of work goes into making sure that all of its contents are ready to be relocated.
Moving your mobile home means you will have to disconnect the utilities and power lines. The ideal situation is hiring a professional to do it, which will cost money as well.
Preparing to move a mobile home can cost up to $1,000, on average, and that's before the actual move itself.
Thoroughly Prepare Your Destination for Your Mobile Home Before it Arrives
Moving the mobile home from where it is currently is not the final process. Still, there's a lot that needs to be done at the other end.
For example, setting up the home and making sure that it is placed correctly on the new lot.
You may need to take down trees to prepare the new lot where the house will be placed, put blocks underneath the home, and attach both to the ground.
What are the Advantages of Hiring Professional Movers to Handle the Mobile Home Move?
Moving a mobile home yourself is never a good idea. As discussed earlier, a lot goes into the whole process than just moving the mobile home itself.
This kind of move is not your typical household relocation where you pack up your stuff, lay in a truck, and call it moving. You need the help of professionals who are trained to handle the whole process.
Although hiring a moving company to take care of your mobile home move is expensive, it has many benefits.
Below are some of the reasons to hire a mover to take care of this big move:
Moving Companies will Acquire All Required Moving Permits for You
Imagine going through the whole permit process and still having to make the mobile home ready for the move. Sounds challenging, right?
In other words, permits are hard to obtain. The good news is that professional movers will take care of all the required permits before your move.
Whether they are local installation permits or state transportation permits, the mobile home movers you hire should get everything ready for you.
Moving Companies Will Drive Your Mobile Home for You
It's never easy to drive a giant moving truck around, especially if you have no experience driving such trucks. This is just another reason why you should consider hiring a professional to handle all that, especially if you're moving long-distance.
Otherwise, you could put yourself, and other people, at greater risk of danger.
You Will Have Enough Time and Energy for Other Important Things
Hiring a professional moving company will save you energy and time. Acquiring permits and gathering all of the paperwork is a daunting and tedious process that will give you headaches.
If you hire a mover, they take care of all that, since they have experience. They will ensure everything runs smoothly without putting anyone at risk.
How to Choose a Moving Company
Choosing the right professional moving company for your mobile home is never a walk in the park. Moving a mobile home requires professionals who can handle the process, without inflicting damage to the home.
As such, you need to know who the right mover is for the task.
Here is a breakdown of tips to use when choosing a mobile home mover:
Do Background Checks
It's crucial to work with licensed professionals to carry out the job of moving your mobile home.
Choose a company that provides you with their license number and proof of insurance to cover any damage caused. They should also have moving permits and quality references upon request.
Online mobile homes moving reviews will help you understand the customer service quality of each mobile home moving company.
Review websites like Yelp, which only accepts honest reviews. Sometimes customers will even share how much they paid to have the company move their mobile home. How much you may end up spending can be found out by this method, at times.
Search Online
Today, everything is in the palm of your hand. As such, a quick keyword search of "mobile home moving company near me" will give you a ton of search results.
From the pool that shows up, note down the prospective mobile home moving companies and do your follow-up research on each.
Industry Experience
Mobile homes require a lot of attention when moving.
To move a mobile home safely, there are things you don't want to happen.
Sometimes cost isn't the most important thing. For example, you don't want your mobile home to be handled by newbies. Find well-established professionals with industry experience to do the job.
Professional mobile home movers have experience in obtaining all of the necessary permits for the move. As such, you will not have to worry about such.
Besides, experience comes in handy when you are worried about safety. Not only will your mobile home be safe, but you and the driver will be as well.
Also, the cost to move your mobile home can be less if you hire a professional compared to doing it yourself. Especially considering that any mistakes that are made will have to be covered by the moving company and/or their insurance.
Get Referrals
If you want to move a mobile home, referrals will help you locate the most reputable mobile home moving companies. It's one of the easiest ways to find experienced moving services.
Referrals can come from friends and family members, or even workmates. All of them can play a role in finding the best mobile home movers.
Customer Service
If you want to physically move a mobile home, customer service is key to your moving.
You want everything to be smooth from the beginning to the end, right? That will depend on the quality of customer service of the company.
A professional company will ensure you are serviced to your satisfaction, including ensuring everything goes as expected.
Online ratings are one of those things that will give you insights into where the company stands, as far as their customer service is concerned.
Recap
Mobile home moving is not an easy process and does require professionals, who are up to the task, if you want everything to go to plan.
As discussed earlier, the average cost of moving a mobile home will be between $1,000 to $5,000 dollars. Generally, the average cost is $5 to $10 per mile.
While hiring professional mobile home movers may cost more upfront, the reward is worth the cost. You will have your home relocated safely, with no reported cases of injury or damages.
Lastly, if you want to move a mobile home, then there's a lot that needs to be considered. Be sure to do your research and prep your home for the move.
We hope your experience is a smooth and enjoyable one.