Buying a home is a lifetime goal for many people in the U.S. and all over the world. This aim is not just for the sake of having your own roof over your head, but also for solid investment purposes. If you have one or more properties, chances are high that their value will increase in the coming years. Eventually, you can sell off these properties and cash in on your initial investment. The real estate market is seeing rapidly increasing prices now, so a lot of homeowners with stick-built homes are seeing a high return.
Losing money is always a risk with any form of investment, but real estate is usually considered a relatively safe option. It is considered real property. Urban development will likely increase its value and one can always live in it to save on rent. Plus, the permanent foundation means that the investment stays there short of natural disasters or some other major events.
With that said, there are obstacles to this type of investment, including a high down payment and shooting property taxes. A traditional mortgage can also be a lifetime burden.
What About Buying a Mobile Home?
The traditional aim of an average person might be to buy a site-built home or at least an apartment. However, with the changes in the housing market these days, many folks are now looking towards buying a mobile home or manufactured home. With modern manufactured homes giving almost the same experience as a stick-built home, it is no surprise that many investors are checking out this affordable housing option (see: manufactured homes vs. stick-built).
Is Buying a Mobile Home Worth It?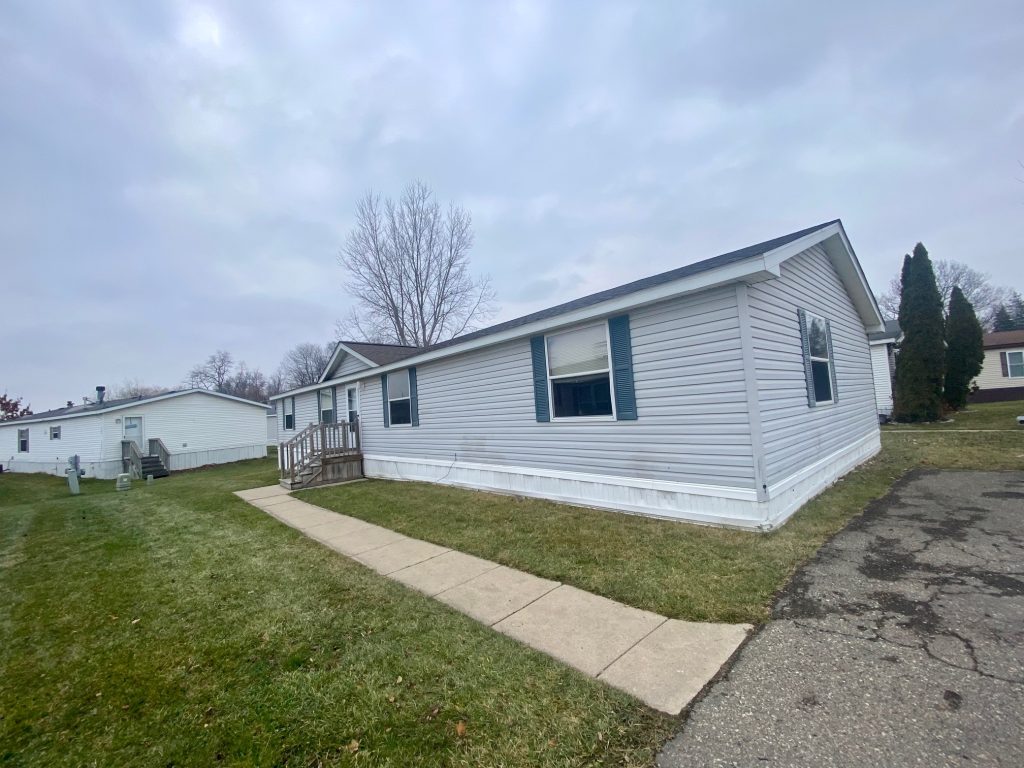 The average prices of traditional homes are now out of reach for most of the population, but there is a strong favorable alternative in the form of manufactured homes.
Whether you call them manufactured homes, modular homes, mobile homes, or something else, there is still some bias against these structures. Even some investment experts still think that buying a mobile home is little better than buying a car. After all, a manufactured home is usually considered personal property. There are also park rules to consider if you buy a mobile home in a park; so you are fairly limited if the manufactured home is in a mobile home park.
Taking all of this into account, should we wait until a stick-built home is within reach or go for mobile home ownership in the near future? To answer this question and many more, let's explore why one may or may not buy a mobile home:
1. It May Be a Better Decision than Renting
The first reason why anyone may want to find out where to buy mobile homes is that it makes more sense than blowing money on monthly rental payments. With a mobile home, you can eliminate several costs and actually own personal property for less than the cost of renting an apartment. Of course, renting or buying stick-built homes will be much more expensive in almost any region. Plus, you get lower prices per square foot when buying a mobile home.
Overall, the average sale price of a traditional home at the end of 2020 was around $394,000. On the other hand, the average price of a brand-new mobile home was $88,200 in August of the same year. Learn how to buy a new manufactured home here.
What if You Buy a Mobile Home in a Park?
If you read our ultimate guide for the first-time mobile home buyer, you will get some insight into life in a mobile home park.
If you buy a manufactured home off-site, the benefits are pretty clear. Since this type of mobile home investment also requires you owning the land, the latter will hopefully give you a decent payout. However, what about manufactured homes in mobile home parks or units in manufactured home communities?
Some might say that renting land and simply owning the mobile home on it does not make much sense. However, we also have to consider the alternative in such cases.
Overall, if your alternative to living in a manufactured home community is buying a decent stick-built home, the latter will probably be better. On the other hand, you would have to make serious calculations if the alternative is renting a place.
Overall, renting an apartment and owning a manufactured home can turn out to cost the same on a monthly basis. However, at the end of your payments or your lease term, you would be much better off owning something. It may not be real property and might even have depreciated in value. Still, you can sell it off and have something in hand. With the rental, you would simply have to give the unit back and have nothing to show for that time.
2. Many Options to Choose from
You might be thinking: what if you want to move and sell the mobile home before paying it off? In such cases, mobile homes or manufactured homes might cause their owner to suffer a loss. However, you can protect yourself against such issues by buying a used mobile home.
Used manufactured homes are even more inexpensive. So, they are a great option for someone who wants flexibility and safety. Since they have already depreciated in value, there should not be much to lose there. Today's manufactured homes are quite well-equipped, too, so you may expect them to last for some time. Here is a bit more about buying used mobile homes for sale.
Pay Cash
Another option is to pay for your mobile home with cash. This could help you save hundreds of dollars per month as opposed to renting site-built homes or apartments.
3. Mobile Homes on Land will Appreciate in Value
Not all real estate goes up in value over time, but the chances are better when you own some land outright. However, if the real estate market is seeing an increase in house prices, they can be rest assured that mobile homes with lots of their own are also going up in value. Previous records show a lot of evidence that many mobile homes do have appreciating values. If their owners also own the land that the mobile homes stand on, the chances of this appreciation go up.
4. Appreciation is Just One Aspect of Mobile Home Ownership
If you are considering a mobile home purchase, there is no need to compare it to buying a large house with a concrete foundation. It might be a safer bet to buy just the kind of home and property that you can afford at the time.
Lower Everyday Costs
We also have to consider that the living and handling costs are higher with a larger floor plan.
Eventually, the bigger traditional home might yield more profit when you sell, but you would have spent a lot in maintaining it, too. Heating costs and cooling costs all add up. When you live in a mobile home, these costs go down significantly. It is pretty simple with mobile home expenses; the smaller the space, the smaller the costs, especially if it also has energy saving appliances.
Other costs that you also save on in a mobile home include:
Bigger mortgages with high interest rates
Higher property taxes
Higher Insurance rates
Instead of thinking about the end profit, it might be better to think about how much money you can save when living in a mobile home. If you play your cards right, that money can go towards another investment over the years.
5. Mobile Homes Can Be Insurance Against a Housing Market Crash
Yes, the housing and real estate market is booming right now. Prices are going up as we speak, with many traditional homes now going for much more than they are actually valued at.
However, what if the market crashes? Most markets see major changes without much warning beforehand. The more you invest in a site-built home, the more you will lose if the prices come swiftly down. A traditional home that costs $250,000 now might go down to $200,000, which is a big loss.
On the other hand, the losses on a relatively inexpensive mobile home will also be lower in such cases. A mobile home may only cost around $60,000 now, with a loss of 20% giving its owner a loss of $15,000. That is still a loss, but a relatively lower one. Plus, records show that homes with lower prices have values that fall less even when you consider the percentage loss in a market crash.
6. There are Nice Mobile Home Neighborhoods
There are rough and unsafe neighborhoods everywhere, whether they have mobile homes or not. However, mobile homes are usually stereotyped as having all sorts of people living in them. The truth is that there might be unsavory individuals living anywhere and in any sort of structure.
The best way to go is to check the neighborhood before committing to a home. With modern mobile home communities, many mobile home dwellers feel quite safe and happy. They raise families, live alone, and enjoy the quiet neighborhood.
7. It is an Increasingly Acceptable Way of Life
One of the major expected downsides of mobile homes is the attached stigma. Despite people being aware of rising prices and other factors, living in a mobile home is still looked down upon in many areas.
Many potential homeowners might be embarrassed to reveal that they live in a mobile home, or are worried that their children will feel ashamed of this fact, too. Some adults might not feel like they are living in a real home if it doesn't have a concrete foundation.
However, the concept of mobile home living is much more acceptable than it once was. Modern manufactured homes can be quite impressive both on the inside and outside. They can look like little houses from the exterior, and be very spacious inside. Even if they are a little smaller and different than traditional homes, current mobile home owners feel content and blessed in their current situation (see: tiny house vs. mobile home: which is right for you?).
8. A Possibly Safer Option
Another factor to consider about the worth of mobile homes is the safety they offer. A brick house will obviously be safer in the case of natural disasters, such as tornadoes, floods, and so on. If your area is prone to such issues, you may need to have an emergency underground shelter just in case. Learn more about wind zone ratings for mobile homes here.
However, manufactured homes can also be just as safe, especially if you buy the ones built after 1976. This was the point when new mobile homes officially became manufactured homes due to the new HUD Code for mobile homes. These mobile homes are also less prone to fires than stick-built homes.
9. Mobile Homes Make Great Starter Homes
Couples and new graduates can have a tough time getting an affordable place to live. Fortunately, a mobile home can be the best starter home for several reasons. These include:
A lower price
If you buy, there is no monthly rent to pay
Monthly costs are lower
There is less financial risk
Maintenance issues are fewer and cheaper to solve
Smaller loans are required, if any
When you have saved enough money to buy a traditional home or apartment, you can move out and put up the mobile home for rent. This will be yet another income source.
A Roomy Experience
We have mentioned above that mobile homes are quite roomy now. In fact, several models today might offer amenities and features that you may not have been able to afford in a traditional space. These may include:
Hardwood flooring
Attached garages
More than one bathroom
Large closets
Patios
Starting in a High-End Place
If you need to or want to live in an upscale neighborhood, a mobile home can be a great place to start. It will be more affordable than the houses there and be a way in without going completely bankrupt.
The Takeaway
Every potential homeowner has their own specific housing goals. For some, only a traditional home will do. For others, the cheaper mobile home or modular home option can save them from a mortgage loan while providing many benefits.
At the end of the day, there are several steps to keep in mind before you buy a mobile home. Here are some tips to search mobile homes for sale. Make sure to read up properly and think carefully before deciding on a home site!