According to a 2018 National Home Builders Association survey, tiny houses have become very popular. At least half of Americans nowadays consider living in tiny homes, which in most cases are less than 600 square feet.
There has also been a rise in the development of manufactured or mobile homes, with at least 20 million Americans being housed in these units today. While both tiny homes and mobile homes present some common benefits, such as affordability, there are also certain differences between them.
Here, we look at the pros and cons of manufactured homes and tiny homes so you can select the best option with ease.
Tiny House vs. Mobile Home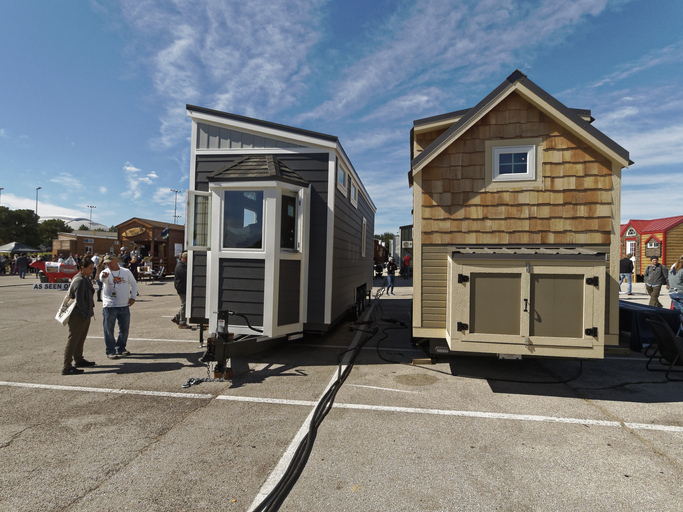 Are you undecided whether to go for a mobile home or a tiny house? Let's consider their pros and cons below:
Mobile Home
Mobile homes, otherwise known as manufactured homes, are prefabricated homes developed in a factory and then moved to a specified location. The development of these homes is guided by the HUD Code for mobile homes, which came into existence in 1976.
So, what are the pros and cons of mobile home living? Keep reading to find out.
Pros of Mobile Home Living
There are various reasons why selecting a mobile home would be a good idea:
Manufactured Homes are Affordable
The dream of every homeowner is to get a high-quality home affordably. If this is your wish, mobile home living is your best bet.
For your information, you can easily land a quality mobile home for as low as $25,000. If you want a luxurious home with energy-efficient features, set aside around $60,000. These prices are still cheaper than tiny houses, which at the very least cost about $75,000.
The maintenance costs for manufactured homes are also cheaper, thus offering financial freedom. In fact, you can do pretty much everything by yourself using these mobile home maintenance tips.
They Have More Space
One of the main challenges that tiny house owners face is the limited space. This is why tiny houses are not ideal for large families. As we mentioned, they only measure about 100–400 square feet.
If you are after a spacious home, look no further than a mobile home. Here, you can go for a single-wide manufactured home (see what is a single-wide mobile home) for smaller families, or a double-wide or triple-wide home for larger families.
Better Amenities and Modern Appliances
To start with, mobile homes are typically located in mobile home parks. In most cases, the parks are developed with some of the best amenities.
For instance, it is a common thing to find a swimming pool, playground, or even gym within the park. Most communities also come with spacious parking areas. You will even be lucky enough to get a pet park for your furry friends within the neighborhood. Checkout our list of top 10 mobile homes parks in Michigan here.
Additionally, mobile homes are developed under the strict HUD Code. As per these building codes, the homes must be designed for safety and energy-efficiency. Therefore, most appliances and fixtures employed in mobile homes are modern and energy-efficient. Learn how to make a mobile home more energy-efficient here.
Location Freedom
One reason why people love mobile homes is that they can be moved from one place to another. The homes are developed in a factory, and you have the freedom of situating them anywhere you want. Learn more about how mobile homes are built here.
With mobile homes, it becomes easier to relocate to a new location, especially when installed on a temporary foundation. For instance, if you land a job in a distant city, you can move with your home. With a site-built home, however, you will be forced to either rent it out or sell it. Learn how much it costs to move a mobile home here.
Cons
They are Not Self-Sufficient
For a mobile home to function well, there are different things you need to provide. This might include hook-up solutions and a dump station. For this reason, mobile homes tend towards not being self-sufficient.
Additional Fees and Permits
Apart from the cost of purchasing and utility bills, there are extra fees that you might be forced to pay depending on your state. There are also permits to be acquired, especially if you want to add to your existing structure or remodel it.
On the other hand, a tiny home is not bound by government regulations, thus no permits are required for renovations and extensions.
Mobile Homes Depreciate with Time
Forget about selling your mobile home at a profit in the future. Mobile homes pretty much always depreciate unless you attach them permanently to your lot. This is because they are considered personal property.
Tiny House
This dwelling has a much smaller square footage compared to the average house. For instance, while the average house in the U.S. is about 2,600 square feet, a tiny house comes with about 100-400 square feet.
Pros of Tiny Home Living
There are various reasons to consider a tiny house. Let's discuss them below:
A Tiny Home is Mobile
Most people prefer tiny houses thanks to their mobility. You can simply hitch it at the back of your truck and drive it to the location of choice. In fact, some people have been taking these houses for vacations.
Various tiny houses are designed and built differently. For instance, it is a common thing to get solar panels in some of these units. Others are equipped with rainwater collection mechanisms, allowing you to park anywhere you want.
Other units are designed traditionally, however, thus the need to link them to water or electricity. You can only park these at dedicated spots. Regardless of your house's design, the tiny house movement is an added benefit that you can not wish away.
Eco-Friendly and Sustainable
With environmental conservation being a global concern, there is a need to reduce the carbon footprint. Tiny houses have proven to reduce the carbon footprint in the atmosphere.
The houses are designed to offer you just the living space you need. This is different from a traditional house that offers unnecessary space. Having exactly what you need promotes a sustainable lifestyle and saves the environment from energy waste and inessential clutter.
According to a recent study, most tiny house owners saw their energy consumption reduce by 45% immediately after downsizing. You can reduce the carbon footprint further by using solar energy.
Additionally, tiny homes consume fewer construction materials compared to traditional homes. This will automatically reduce the amount of natural resources employed in their construction. Furthermore, you can reuse several second-hand materials to develop a tiny house.
Finally, tiny homes have a shorter construction time. This limits the pollution emitted and energy consumed, thus making the construction process environmentally friendly.
Tiny Homes Save a lot of Money
One reason people love tiny homes is their low cost of construction. You can reduce the cost even further by building everything yourself.
However, be warned that tiny homes with unique features and sophisticated finishes will cost you more. Tiny homes also provide the opportunity for accessing higher-end materials.
Apart from the low-construction costs, you are also likely to save money, especially on property taxes and air conditioning. This can be attributed to the house being smaller than normal homes. Since the internal space is smaller, you will also spend less on decorations.
Additionally, repairs are always cheaper thanks to their small area. This means that you will not require a lot of materials. The repairing process is also straightforward, and you should be able to manage it yourself.
It is Easy to Keep Clean
To start with, you will have a few things in a tiny home, and everything will fit somewhere within the unit. It is rare to let things pile up on your floor.
The house's small size makes cleaning easier than in typical homes. We guarantee you that cleaning the tiny home will take only a few minutes.
Wide Design Options
For your information, tiny homes are custom designed and built. Therefore, the sky's the limit to the design you choose. For instance, you can either go for a rustic or modern design.
We recommend choosing a tiny home design that either you or your family can relate to.
Cons
Despite the above advantages, tiny homes also present some disadvantages. Let's consider them below:
Limited Space
One challenge you will experience with tiny homes is the limited spaces they come with. Most tiny houses measure between 100 and 400 square feet, which is much smaller than even a traditional RV. Therefore, they are not ideal for big families.
If you own a lot of things, a tiny house is not the best option for you. In fact, we recommend them only for smaller families or vacations.
Higher Cost than Mobile Homes
Even though tiny homes sometimes have a low construction cost, they are generally more expensive than mobile homes. The average home cost is about $75,000, and this could increase with any unique features and/or sophisticated finishes you implement.
You can easily reduce the cost by building the house yourself. However, you would be wise not to compromise house quality for cost.
Limited Storage Space
Generally, tiny homes are designed with less space, thus limiting the storage space. For this reason, you may be forced to leave some important things behind.
The Final Verdict
There are several considerations when selecting between a tiny house and a manufactured home. You must do thorough research to determine an option that meets your needs.
For instance, a tiny house would be perfect if you want a minimalist, sustainable, and nomadic lifestyle/family life.
However, we highly recommend mobile homes for their affordability and quality amenities. Additionally, these homes are more spacious than tiny houses. Just ensure you purchase your mobile home from a reliable dealer in the manufactured home industry, like Cedar Springs Mobile Estates.