Mobile homes are often less expensive than traditional site–built homes, but this does not imply they are cheap. As a result, you may require a mortgage, which you will need to know how to finance a mobile home.
Are you, however, eligible for a loan from a bank or other financial institution? Many would-be buyers have this question on their minds because the cost of financing a manufactured home can vary widely, depending on factors such as location, age, and condition.
Although you may not be eligible for traditional mortgages, there are many lending options to help you finance your housing needs, with one of these options being FHA loans.
Can You Buy a Mobile Home with a FHA Loan?
If you're thinking about buying a mobile home, it's crucial to first understand how FHA loans work. A Federal Housing Administration loan is designed to help borrowers of all types to buy a manufactured home.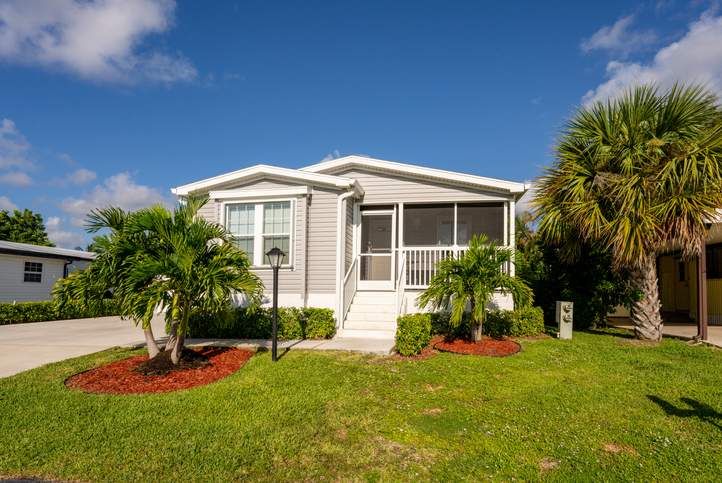 Buying a manufactured home with FHA financing is an exciting possibility; however, there are a few things to consider before taking the next step of establishing your eligibility.
Ideally, those who wish to buy a manufactured home with a FHA mortgage must fulfill specific conditions, so knowing what they are can help you decide whether or not you should look for another choice.
With that said, this article will focus on the details of a FHA mortgage and if you can qualify to finance your manufactured home with one.
What is a FHA Manufactured Home Loan?
It's a type of mobile home loan that the Federal Housing Administration backs. The FHA, on the other hand, does not lend money; instead, it entices lenders to lend. The FHA gives lenders the confidence that their investment will be repaid in full and on time, making it an attractive option for many borrowers.
With that said, to go this route you will need to look for FHA approved lenders to borrow from. Before approving you, each FHA approved lender will look over your credit history to see if you're a low-risk individual.
Despite the government's support for mobile homes, manufactured homes built before 1976 are not eligible for these loans (HUD Code for mobile homes).
The two types of FHA loans offered are FHA Title I and FHA Title II loans. For eligibility, each group has its own set of requirements or restrictions. FHA Title II, for example, stipulates that your home be permanently tied to your land.
How do FHA Manufactured Home Loans Work?
People who want to buy a mobile home in a park or on private land can apply for a FHA loan. All borrowers, however, must meet FHA loan guidelines, which include property and construction requirements.
The excellent thing is that the Federal Housing Administration (FHA) loan program is always willing to accept individuals with a somewhat higher risk profile. If you're thinking about taking out a FHA loan, there are some of the requirements (consider reading the FHA guidelines) you'll need to meet before you apply.
FHA Mobile Home Loans Requirements
Many people consider a mobile home a good investment, but it's easy to get carried away with the thought of purchasing one. This frequently implies that people who buy manufactured homes without any prior experience or knowledge of the market will be unable to obtain a FHA loan.
With that said, FHA loan standards are very strict, and not every manufactured home will meet them. If you're thinking of buying a manufactured home for investment purposes, it's important to do your research and find out if the unit meets the standards.
For example, the HUD tag must be visible on the mobile home's exterior to indicate that it complies with the regulations. Furthermore, the house must be classified as real estate, not personal property, suggesting that it is built on a permanent foundation.
For you to be considered for a FHA loan, the mobile homes' running gear and towing hitch must also be removed during the manufactured home installation.
What are the FHA Manufactured Home Loan Terms and Rates?
When it comes to FHA manufactured home loans, the amount a borrower can get for manufactured home financing is limited. The maximum loan amount of the home and lot is currently set at $92,904, whereas the most you can get for financing your home alone if you live in a mobile home community is $69,678. Checkout other manufactured home financing options on leased land here.
Furthermore, you'll also require FHA mortgage insurance, which comes in two forms: upfront mortgage insurance premium (UFMIP) and mortgage insurance premium (MIP).
What Credit Score Do You Need?
What credit score is needed to buy a mobile home with a FHA loan?
A credit score of 500 to 579 will qualify you for a 10% down payment, while a credit score of 580 or more will qualify you for 3.5% down payment terms. If the downpayment is too much for you, you can always seek down payment assistance to help you buy a property.
FHA loans are credit-based mortgages available to people who don't have perfect credit. However, if you do not first work to improve your credit score, there is no guarantee that these terms will be as favorable as they could be. This is why, before applying for a FHA loan, you should consider improving or rebuilding your score.
Pros and Cons of a FHA Loan
If you are looking for a home, but don't have enough cash saved for a down payment, the FHA loan program (a government agency) can help you become a homeowner. The program provides low and moderate-income home buyers with access to an affordable mortgage and the funds necessary to buy a home.
Pros
You can get a loan even if your credit score is as low as 500
It has offers a down payment rate of as low as 3.5%
You can still acquire a loan even if your debt is higher
Cons
A FHA loan cannot be used to finance a second home or an investment property; therefore, the home must be your primary residence
Higher mortgage insurance cost
What are the Alternatives to a FHA Mobile Home Loan?
If you're interested in a mortgage, but don't qualify for FHA mortgages, you still have options. Other types of loans can give you what you need to purchase your new homes, such as:
VA Loans
Chattel Loans
Personal Loans
Short term loan services (a payday loan) may not be as helpful as long term loan services because they rarely offer big money to finance a home.
VA Loans
VA loans are available to veterans, so you may be eligible for one if you've served in the military (veterans, surviving spouses, and active-duty military).
One of the prerequisites for VA loans is that your home must be permanently tied to the land. You will also be required to make a 5% down payment.
Chattel Loans
Chattel loans are another option you can use to purchase a manufactured home. To qualify for chattel mobile home financing, the seller must be willing to give up possession of their home as collateral. This means that if you default on the loan, the mortgage lender has the authority to seize and sell the funded property to cover the outstanding loan balance.
In case of this scenario, instead of defaulting, we recommend seeking a loan modification to lower your monthly payments.
FAQs About FHA Loans
What Would Disqualify You from a FHA Mortgage?
You will be denied a FHA loan if you have a bad credit report below 500, have a debt-to-income ratio greater than 43%, or do not have enough money for a down payment.
Always consider seeking advice from your lawyers or credit counselors before taking on any loan. Also, if you're interested in a unique FHA program, talk to your loan officer.
How Often Do FHA Loans Fall Through?
Generally, around 73% of all FHA loans close within 90 days.
Final Thought
The process of buying a mobile home can be financially draining, which is why you should seek financial assistance from mortgage lenders. On the other hand, conventional loans may not always be available for new or used mobile homes for sale.
With that said, for homeowners who may be unable to obtain a traditional loan from a bank, the Federal Housing Administration (FHA) provides an affordable mortgage option. However, some homes are not considered FHA-approved, and some defects in the construction are readily apparent.
Even though not all manufactured homes fit the FHA's requirements, other choices may be able to assist you in financing your next home. Typical mortgage choices for ambitious mobile home owners include chattel loans, VA loans, personal loans.