Buying a mobile or manufactured home is a great investment idea, but many potential owners may experience some hesitation. After all, there is still a lot of misinformation and negative thoughts about manufactured homes and the lifestyle they offer.
Fortunately, though, living in a manufactured home is now getting more acceptance. When you choose the right manufactured home community and conduct detailed research, mobile home living can be the best step for now.
Why Should You Buy a Mobile Home?
Even if you don't intend to live in a manufactured home, buying one now might be the most viable investment plan. Here are just a few reasons why:
Rising Prices for Traditional Home Buying
We are currently seeing the U.S. housing and real estate market improve, which means that site-built home prices are rapidly rising. Average rent for traditional housing and apartment complexes is also increasing. Instead of paying to live in someone else's property each month, it makes sense to buy a mobile home and become a property owner.
Are There Any Financing Options for Manufactured Homes?
Many would-be manufactured home buyers might not make the purchase due to financial constraints. While the average sales price of manufactured housing (including modular homes) is much lower than that of traditional housing, several loan programs exist for manufactured homes. With that said, buying a mobile home may not entitle you to a traditional mortgage for home loans.
For an even easier buying experience, you may want to check out our guide on how to buy used mobile homes for sale.
At present, site–built homes have limited availability as well. All of these trends point towards the manufactured housing industry being the next best option for many home buyers.
When is the Best Time to Buy a Mobile Home?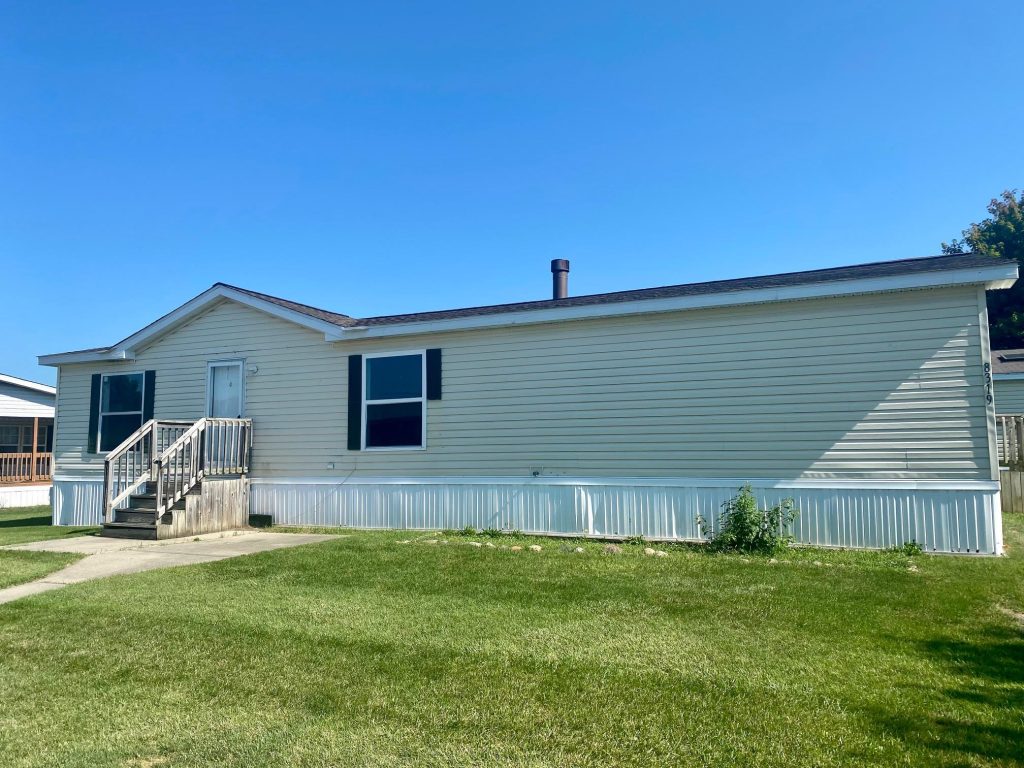 If you are developing interest in buying manufactured homes, keep in mind that these structures are usually made to order for various customers. As a result, they are usually available for buying within a shorter time frame than stick–built homes.
Since their supply is uniquely stable, their prices are also likely to stay within a certain range. However, the pricing and payment plans depend on several factors, including what kind of mobile home park you choose or whether you want to buy directly and place the home on your own land. Therefore, you should know beforehand when exactly you can buy a mobile home.
Wondering what will be the best time to buy mobile homes in the current situation? Let's discuss this matter below.
1. A Seasonal Market for Manufactured Homes
That's right; even the U.S. real estate market is subject to on and off seasons. The main reason for these seasonal changes are humans themselves, who want to maintain certain comforts and habits while buying or selling homes. These same factors also apply to manufactured homes during the whole year.
The Best Time to Buy is Now
We might look at the yearly and seasonal trends before buying any manufactured homes. However, it might be best to start checking the prices at mobile home parks right away. Manufactured homes may have more stable prices, but they can still fluctuate throughout the year.
If this is your first time buying a mobile home, do consult a real estate agent or check out our ultimate guide for the first-time mobile home buyer.  Right now, the U.S. market is going through a low-key housing crisis. 33% of American citizens do not have the income it takes to afford average rent.
Avoiding High Rent Charges By Buying Manufactured Homes
The recommended ratio of income to rent is around 3:1, which means that the rent should be around a third of your disposable income. Needless to say, this isn't true for most people who are considering a rented living space today.
One of the solutions to this crisis is to look for a modular home or mobile home within your reach. Buying manufactured homes outright will eliminate the need to pay rent each month. Of course, it is recommended that you read up on everything you need to know about buying a mobile home before taking the next step.
2. The Season with the Lowest Prices
With the housing market the way it is today, mobile homes and manufactured homes are both brilliant choices. However, you will probably be able to get the best prices for manufactured homes during the winter season. This season is among the least competitive ones for house buying in general.
When buying manufactured homes for sale during this season, though, make sure that the structures are made according to the local building codes. Some communities offering manufactured homes also have their own blogs on their website. This is a great benefit as you can read about the features of their manufactured homes and how they adhere to the HUD Code for mobile homes.
Is Pricing the Biggest Factor?
When you think about the best time to purchase manufactured homes, what immediately comes to mind? If one of your first answers is "the lowest price possible," then winter is usually the best season for buying manufactured homes. However, different buyers may have their own requirements when checking out manufactured homes. These may include:
Manufactured homes that adhere to the HUD Code above all
Pre-owned manufactured homes with various features and add-ons by the previous owners
Manufactured homes in certain neighborhoods, certain communities, or a particular region for the purpose of schooling, security, work, lifestyle, and so on
Manufactured homes with luxurious upgrades or customization
3. Competition Peaks During the Easier Seasons
For manufactured homes and other options, the most competitive season is during the summer and spring months. Depending on where you are and what kind of manufactured homes you want, the competition might peak in June and July.
Why is this so? One of the reasons is that people usually find it easier to go out house hunting during the spring and summer. There is no snow to clear away, no ice on the roads, and several other points of ease.
Depends On the Weather, According to Region
Of course, this is mostly for those regions where the winters are harsh. The state of Michigan is one such area, where the winters can be quite cumbersome. If you are wondering where to buy mobile homes and manufactured homes, take the general climate into account as well.

4. The Best Option with Children
Summer is also the time when school going children or college students have an extended period off. Naturally, families with children or college students who are about to graduate will like to utilize this time for browsing manufactured homes.
This is yet another factor that makes the market very competitive at this time of the year. Affordable options like manufactured homes are likely to get snapped up right away, especially if the price is right. As a result, the prices will also see a sharp hike if people are especially interested in manufactured homes or other alternative housing options.
5. When Sellers Want to Sell Quickly
During the winters, there might be a few manufactured homes left over from the summer. Therefore, the current owners or middlemen will be eager to sell the units at the best price possible. This will make it more of a buyer's market.
Manufactured homes do have a limited lifespan, but they can usually last at least 50 years. If you are in the market for pre-owned manufactured homes, their sellers might be even more desperate to sell.
The usual rule of thumb is to start seeking manufactured homes or any other housing at least seven months before your planned move-out date. This also includes ironing out financial wrinkles.
The Takeaway
Whether you are in search of a traditional single-family home or are scouring the housing market for decent investment opportunities, buying a mobile home should be on the list. As compared to site-built homes, you get many more affordable options with mobile homes and their managing communities. The prices and experience might get you more value out of each square foot when it comes to manufactured homes.
The current time of the year can have a great impact on the final price of mobile homes. The discussion above will hopefully help you decide the best time to look for manufactured homes and make them your personal property. If you are still on the fence about buying mobile homes for sale, it might be helpful to read up on whether buying a mobile home is worth it.