Even before you decide to buy a manufactured home, you have to think about what its life expectancy is. What plans do you have for the home?
Will you be residing inside full time?
Do you intend to make it a vacation home?
Is it an investment that you intend to rent out?
Are you purchasing a newer or older home?
If you answer the above questions, you're likely to buy the best types of manufactured homes with the life expectancy that suits you.
As per the U.S. Department of Housing and Urban Development (HUD), the average life of a manufactured home is 30-55 years. The exact period, however, depends on how well the home is maintained.
This is just the average lifespan and doesn't mean that there are no homes with a life expectancy of more than 55 years or less than 30 years.
In this article, we'll explore in detail the life expectancy of mobile homes.
What is the Life Expectancy of a Mobile Home?
Although the U.S. Department of Housing and Urban Development (HUD) estimate offers a reliable starting point to life expectancy, several other factors determine the lifespan of manufactured homes.
Let's look at essential details involving manufactured homes:
Why Do Manufactured Homes Last for Such a Short Period?
Many manufactured homeowners would disagree with this question. This is because several manufactured homes have a longer lifespan than the HUD estimate.
When the HUD code and building standards came into existence, they established uniform building codes that encompassed every manufactured home. This has improved over the years, including wind resistance improvements, plumbing, fire resistance, among others.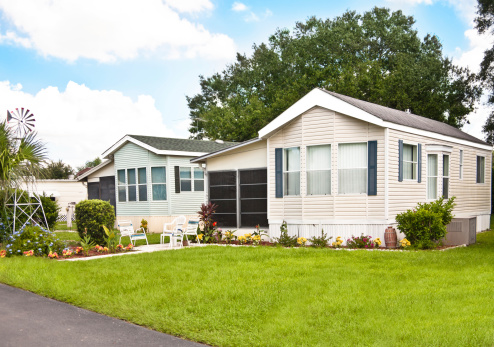 Weather conditions highly impact the longevity of these homes. For instance, in areas with high humidity, you'll find the materials used in the construction, such as pressed boards, fibreboards and particle boards, being destroyed by the humidity over time.
After correcting structural problems, repairing the floors and replacing several roofs, many homeowners decide to replace the old manufactured home with a new one. The reason for this may be that opting for a new home isn't expensive, considering that manufactured homes are cheaper than site-built homes.
There are places with a drier climate where the mobile homes are still in good condition, despite having more than 40-50 years.
Drier climates have lower effects on a manufactured home than a wetter one. This is true for a car and a site-built home as well.
The quality of materials used to develop the house also affects the lifespan of a manufactured home.
The Quality of Materials
Manufactured homes are built using either metal or wood. With that said, site-built homes are also constructed with wood and metal.
So, why would a manufactured home not last longer like a site-built home?
First, manufactured homes are lighter than stick-built homes. This can be attributed to the fact that a manufactured home isn't constructed with mortar, cement or bricks.
If you want your manufactured home to last longer, you must only buy or construct one with more robust and long-lasting materials.
For instance, the roof of a mobile home should be well maintained. The materials should be of high quality and not allow absorption of moisture from the ground.
The Construction Process
The development of manufactured homes isn't designed to be temporary.
The HUD codes and standards were put in place to ensure uniform manufactured home construction quality throughout the country.
One benefit of a manufactured home construction is that it's developed on a heavy steel chassis that will likely last forever.
This is unlike site-built homes, which are constructed using concrete floors, which can crack easily.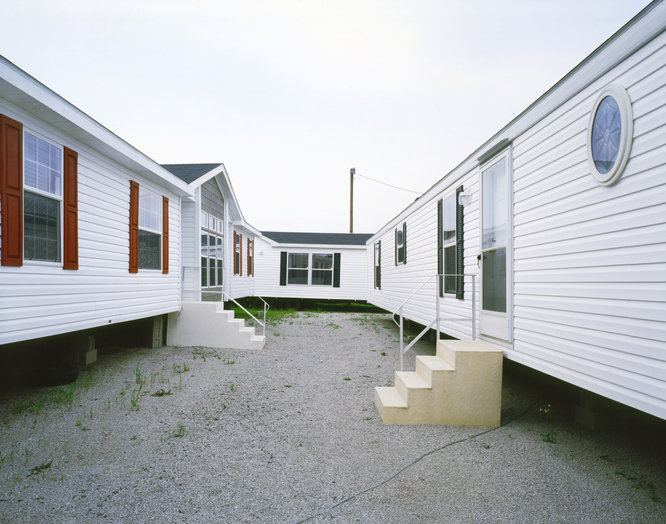 The chassis for mobile homes is supported by a foundation, which attaches it to the ground. The foundation can either be permanent or temporary.
Manufactured homes are designed and created in factories, therefore they can withstand the movement involved during transportation.
The federal standard ensures that all mobile homes are built to uniform durability and strength standards.
What Affects the Longevity and Lifespan of a Manufactured Home?
Several factors influence how long your manufactured home will last:
Initial Installation
Most of the challenges that show up later in a manufactured home originate from the improper initial installation. As we have seen above, the materials and construction process was designed to last for a very long time, and a new mobile home must first be transported to a site for installation.
Since the installation process is very technical, it should never be done by inexperienced labor. Whether you're buying a used manufactured home or a new one, you should have a qualified house inspector in place to ensure that every step of the installation procedure is followed properly. This can ensure that your mobile home last indefinitely.
Foundation
There is always a foundation in place to support the chassis of a mobile home. The quality of the foundation plays a significant role in ensuring the longevity and lifespan of a manufactured housing unit.
This means that the home should be built on a site having the best building conditions. The site may determine the type of material you'll use for construction.
For instance, if you own a personal lot, you'll use a different foundation when you're sharing a mobile home park space.
Damage
It's the nature of humans not to take care of their property and items for the long term, and a lot of people are only interested in caring for something when it's new.
Here, finances play a major role in the damage of a manufactured housing unit. There are times when an HVAC unit breaks downs, a plumbing leak reveals itself, or a roof becomes compromised, but you don't have the finances required to maintain these situations. If these types of problems are ignored for too long, the whole house might have to be replaced.
However, this is something that house flippers like. They like investing in homes that are in a worse state, because they can get them for cheap, then they fix them up and sell them at a profit. With most old manufactured homes, it requires a little financing to bring back their new look.
Water Damage
A water damage problem is one challenge that needs immediate attention. A leaking plumbing fixture, roof or toilet can destroy all materials that they come in contact with. If you don't correct the issue immediately, it can quickly escalate to a severe problem that may not be worth repairing.
If your mobile home is located in an area that gets a lot of rain, then try to have a good paint coating on the outside. Having the exterior of your home sealed and painted, you'll be able to prevent damage from water.
Increasing the Serviceable Life of a Manufactured Home
As we've said above, the maintenance of your mobile home plays a major role in its lifespan, on top of the construction materials or methods. Although the lifespan of mobile homes is approximately 30-55 years, statistically, let's explore ways in which that lifespan can be improved:
Location
Here, we are focusing on selecting the best mobile home community or lot for your manufactured housing unit.
If a property is placed in the right area, it's evident that its value will improve. If you want to enhance the lifespan of your home, choose a good lot that supports a great foundation.
Inspections
Regular inspections are the way to determine things that must be done to your home to improve its appearance and lifespan.
Always do an inspection when there are intense catastrophes due to mother nature, such as strong winds and floods. Doing this will enable you to notice cracking walls and leaking roofs that might be problematic down the road.
Roof Maintenance
The roof stands between the elements of nature and what is inside your mobile home. If you want your manufactured home to have a shorter lifespan, don't bother doing roof maintenance.
Bottom line is, regular roof maintenance should be a top priority if you want your mobile home last longer.
Skirting
Keeping the skirting in top-notch condition is one of the best maintenance practices that you can ever do. Skirting is a sure way of maintaining elements and animals out of your manufactured homes.
Skirting also safeguards the insulation, foundation, and belly wrap, which are all crucial to a mobile home's longevity.
General Maintenance
General maintenance also helps maintain the whole mobile home and keeps it in good shape. Minor problems can quickly escalate into major problems, if left unattended.
Some of the things you should do include:
Contacting a professional to take care of wiring issues
Repair any soft spots on the floor anytime they occur
Repair plumbing leaks immediately once you notice them
Keep windows in their proper conditions
Re-level the home when necessary
Blocking seams where water might enter
Remodelling Your Home
Remodelling your manufactured home is an excellent option if you want to improve its lifespan. Here, you should set aside a specific budget to manage the insulation, windows, floor, siding, and roofing. This makes manufactured homes efficient and tighter.
However, remodelling should mainly depend on the mobile homes in question. When the repairs are too costly to undertake or the damage from rot, insects, water, or mold is too much, you can abstain from remodelling or maintenance altogether and simply buy a new manufactured home.
The Final Verdict
Although the life expectancy of mobile homes is estimated at 30 to 55 years, by HUD, the real-life expectancy can be higher or lower depending on the materials, methods used and maintenance practices.
Your mobile home will last for more time if you do regular maintenance. We hope that you invest in manufactured homes that were developed with high quality and last for a long lifespan.