With housing prices shooting up all over the nation, it is no surprise that many folks are now looking at alternatives, such as manufactured homes and mobile home communities. Along with having a range of floor plans to choose from, there are several perks involved when you live in mobile homes.
Advantages of Living in a Mobile Home
If you are currently on the lookout for a new place to live, you are probably wondering whether a mobile home is a good investment. Here are just a few advantages people enjoy when they go for mobile homes or manufactured homes:
A Decent Square Footage
While a mobile home may not be as spacious as a regular apartment or house, a double-wide home comes very close. In fact, some double-wide homes might even have more or the same square footage as most units in apartment complexes today.
Even double-wides give you a lot of value for your money. So, it is a good investment for the long run too.
Part of a Community
Most people who live in mobile homes are usually situated within a mobile home community somewhere. If the people and management there are decent enough, this could mean a lot of positive vibes. It is nice to have neighbors who are friendly and welcoming. If you have just started looking for a place to live, it might be a good idea to buy a mobile home in a park.
Keep in mind that mobile homes and manufactured homes are the same thing – they are structures that were mostly manufactured in factories and assembled or put on a certain site. You can also check out what a manufactured home is before proceeding.
What is a Double-Wide Mobile Home?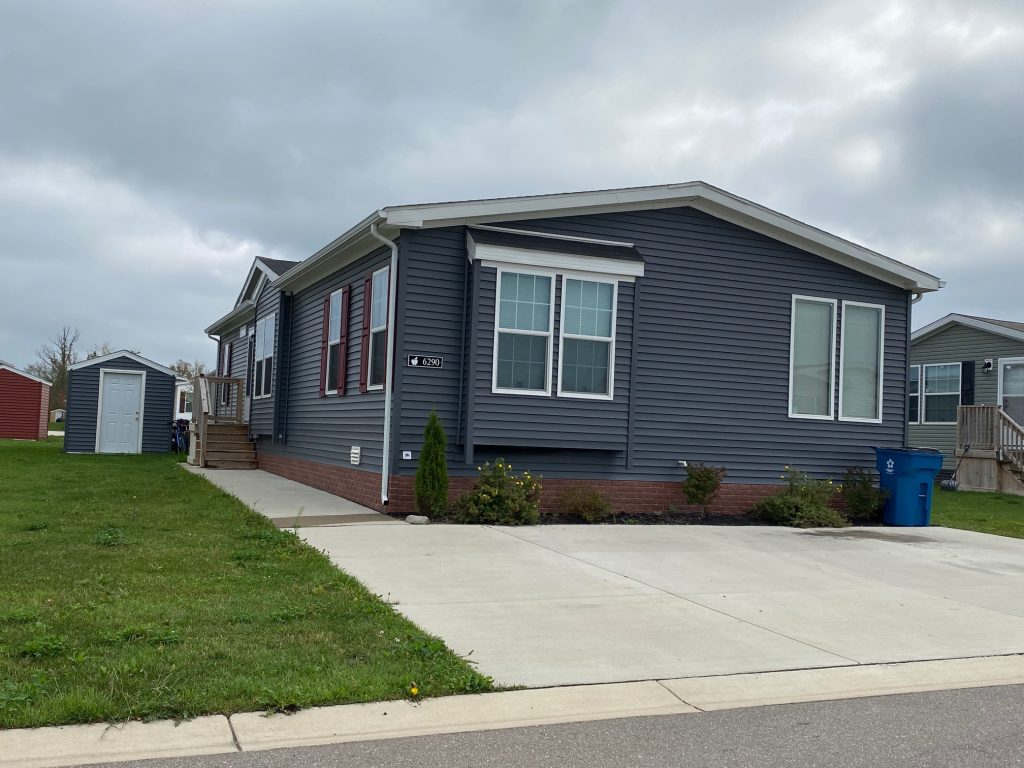 Before you make any final decisions, it might be useful to clear up just what a double–wide manufactured home or double–wide trailer means. Simply put, a double–wide mobile or manufactured home is a sort of pre–fabricated structure with factory–manufactured parts assembled on site.
1. A Larger Size
As the name suggests, a double-wide manufactured home is around twice the width of a single-wide mobile home. For most models in the U.S., a double-wide mobile home is just below 90 feet in length. The width is around 20 feet or more for a double-wide home. If you are looking for a spacious home within budget, a double-wide mobile home can be the right choice.
2. Method of Delivery and Ease of Transport
Another difference between single and double-wides is that single-wide mobile homes usually get to their intended site in one unit. This unit is pre-fabricated in a factory. On the other hand, double-wide mobile homes usually get to the site in two pieces. These pieces are then assembled on the site.
The term 'mobile homes' is actually a bit misleading. Whether we are talking about single-wides or double-wides, both kinds of homes are pretty much fixed once they get to the site.
The smaller size of single-wide manufactured homes can make them easier to move around if absolutely required. A fully-assembled double-wide home, however, is way too large to safely transport anywhere else, especially without the use of professionals. Find out how much it costs to move a mobile home here.
3. A Lot More Space
One of the main reasons why someone might choose to live in a double-wide is because these offer a lot of space. Having enough space to move around easily is a priority for many people. If they can get a double-wide mobile home and pay rent to the property owner, this can be a great bargain. Learn how to maximize space in a mobile home here.
Lots of Bedrooms and Bathrooms
With so much space, it should be no surprise that many double-wides have several bedrooms and bathrooms as well. These make them ideal choices for large families, especially as we may also expect a proper living area, kitchen, storage space, etc.
Of course, the large spaces and additional facilities translate into higher prices. However, you may be surprised when you look at how much mobile homes cost in your area. Double-wide homes might be out of your budget a little, but learn more about single and double-wide mobile homes for sale here.
4. Several Floor Plans
If you are on the lookout for a double-wide mobile or manufactured home, make sure to check out their floor plans. The plans might vary from one model to another. You may also ask about customizing a manufactured home to suit your routine.
5. Contents and Layouts
We should not think that double-wide mobile homes are simply two single-wides connected to each other. In most double-wide models, the two sections of the home are very different in their layouts. Their contents are also different.
Various Rooms
In double-wide homes, one side might contain the kitchen, a couple of bathrooms, and one bedroom. The other side will have the rest of the bedrooms and bathrooms with a living room. In some double-wide homes, you might even have a sort of porch attached to one side.
6. Not Every Expansion is a Double-Wide
Double-wide homes are not the only models that expand upon the single-wide home. In some mobile home parks and communities, there might even be the option of getting a triple-wide mobile home. These are for people who want even more space than double-wide homes can offer.
In certain situations, there might even be four or more sections connected to make a huge mobile home. However, anything bigger than a double-wide is usually quite rare. If you want one of these, you may have to put in a customized order to get a triple-wide or larger mobile home.
Who Should Invest in a Double-Wide?
Before choosing double-wide and moving in, we have to consider what kind of people actually use this type of home. Many people in the U.S. are still wary about living in a trailer or mobile home. Even though mobile homes are increasing in popularity year over year, like it or not, there is an undeniable stigma that still surrounds mobile and manufactured homes. Still, there are some people that make the most logical decision and choose the best housing for their requirements.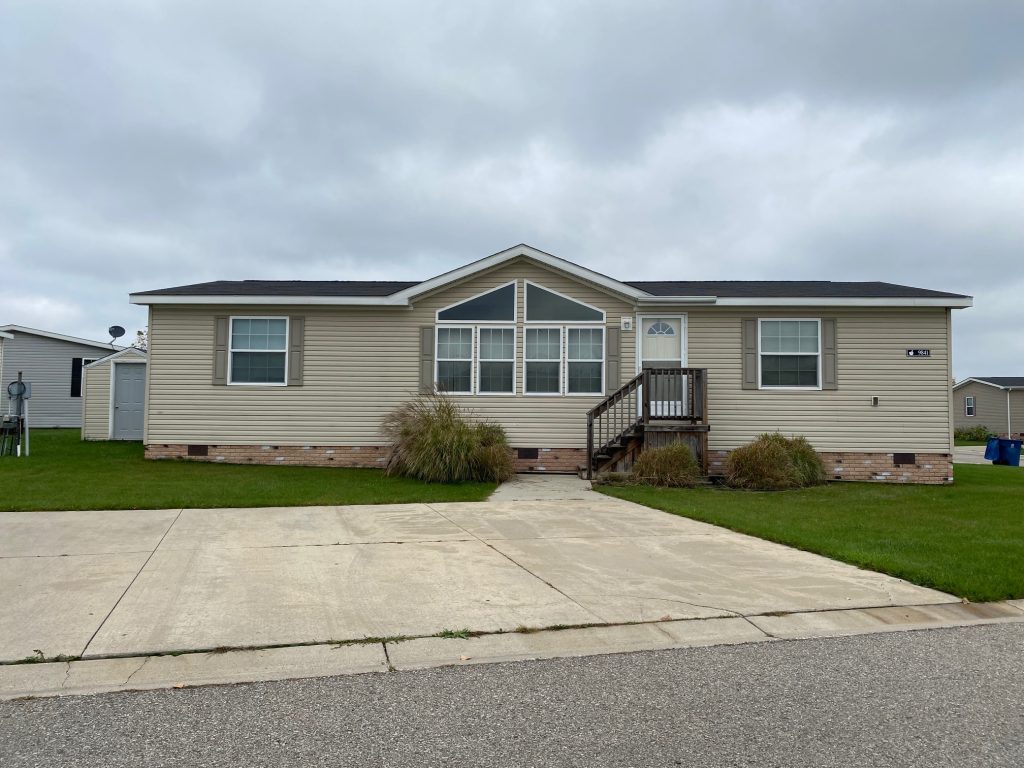 Becoming More Acceptable
The good news is that mobile home living and trailer living is now slowly becoming more common. Some folks might still be in the mindset of getting one's own traditional house and settling down, but many are now open to the idea of living in a manufactured home (see: manufactured homes vs. stick-built).
An Increasingly Popular Choice
Along with the acceptance, double-wide and single-wide mobile homes are now becoming more popular with the American population. A double-wide can really suit groups such as first-time home buyers, college graduates, empty nesters, couples, groups of friends, growing families, and even someone who wants a second home.
The Best of Both Worlds
It might seem cliché to say that double-wide mobile homes are the best of both worlds, but these words really apply in such cases. A double-wide would not cost as much as an apartment, even if the latter is small and cramped (see: mobile home vs. apartment). You save a lot on rent when you purchase the mobile home – the monthly payments actually work to pay off something for you. All-in-all, many folks will agree that it is much better than paying monthly rent and still being no closer to having their own place.
Saving Money
With the money saved from getting a double-wide rather than a traditional house, one can invest in a nice home decor for the mobile home. Since most double-wide homes range from 1,000 to 2,400 square feet, it will take some investment and effort to decorate it all properly.
Check Out All Floor Plans at Once
Even the people who need double-wide mobile homes can vary in their requirements. For instance, some people don't have an issue with sharing a bathroom. They might be content with a layout having just one or two bathrooms. On the other hand, some people might want one bathroom each for every family member. If you know what kind of layout you want, browsing online can be your best friend. Learn what is the best website to find a mobile home here.
A Better Lifestyle
Living in modular and manufactured homes might be acceptable, but having a double-wide manufactured home takes things up a notch. If you are considering the option of mobile homes, do consider the option of double-wides if at all possible. Along with more living space, you may expect more facilities and a more luxurious lifestyle than in a regular manufactured home.
The mobile home managing communities in your desired area will probably have a few double-wide manufactured homes available. It can be a wise decision to check those out soon.
The Takeaway
Double-wide manufactured homes or mobile homes can offer a lot to both individuals and families. With double-wide mobile homes, you get a lot of living space and versatile floor plans for a decent number of people. Whether you earn a living through your own blogs or have a flourishing startup, a double-wide mobile home can provide enough space for all kinds of activities.
Of course, the advantages of a manufactured home are not lost for the many people looking for a place to live these days. If you are one of them, it is time to hustle and check out the mobile home in your desired area right away!