House, abode, casa, pad, dwelling, whatever you choose to call home, it is your castle, and nobody can or should tell you otherwise.
Be it a luxury condominium, studio apartment, 8,000-square foot McMansion, brick townhouse, brownstone, or a single-wide or double-wide at Cedar Springs Mobile Estates, it is where you create memories, take a shower, cook meals, entertain, and lay your head to rest.
No two homes are alike, whether they are in a rural or urban area, a mobile home park, or a tract, homes come in all shapes and sizes, and are built with varied materials.
That said, maybe it is time to shake up your life and stop trekking all over town on Sundays to look at an open house or other real estate properties and consider something different and loaded with amenities — something more affordable, like a single or double-wide mobile home to call "home-sweet-home."
Amenities
Speaking of amenities, if you thought wood floors, spa-like bathrooms, glorious gourmet kitchens for the chef in you, and upgraded cabinets with sparkling granite-like countertops were only to be found in a 3,000-square-foot gated residence smack in the middle of suburbia, you are dead wrong.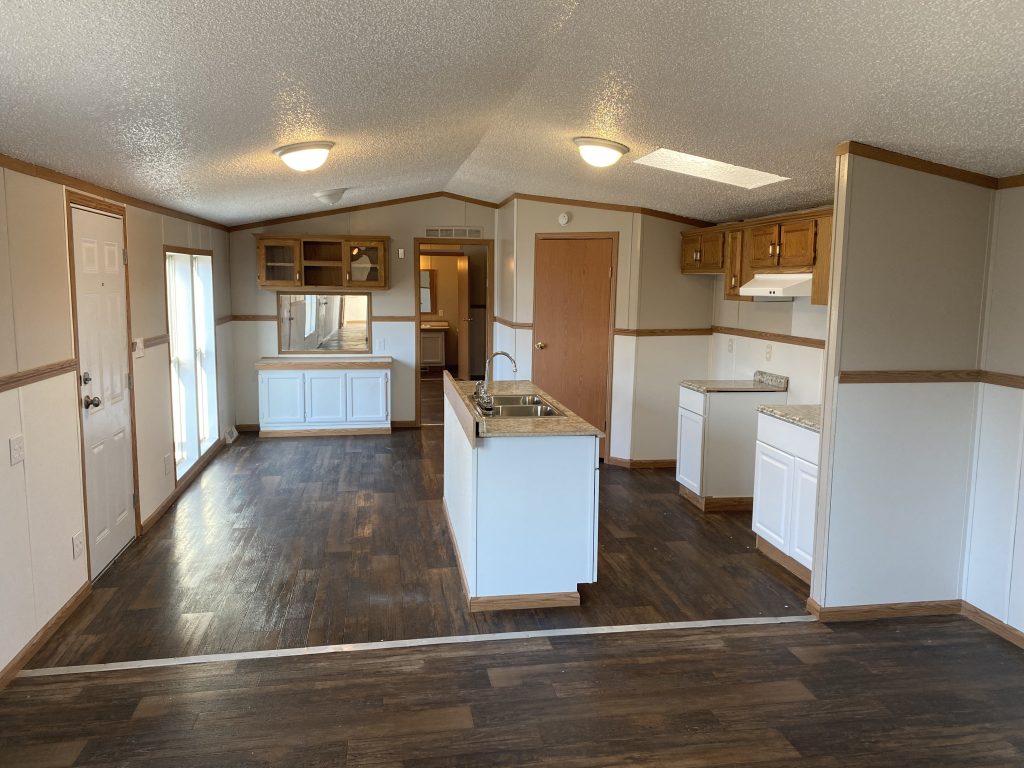 There are some elite and amazing mobile homes and manufactured homes ready and waiting for you with their welcome mats out at the manufactured home community of Cedar Springs Mobile Estates in Cedar Springs, near Grand Rapids, MI.
Yes, Cedar Springs Mobile Estates is located at 400 Susan, Cedar Springs, MI. 49319, and is where you will find your dream home, along with well-groomed landscaping, an attentive management staff, new friends, pretty parks, affordable homes, industry-compliant buildings, as well as green areas for your pets to romp around at.
Goodbye Stigma
Did you know that many present-day manufactured homes, like those located at Cedar Springs Mobile Estates, no longer have the bad stigma associated with the homes that were once termed "trailers" and built before 1976 thanks to the HUD Code?
The HUD Code for mobile homes was developed to ensure manufacturers follow the standards for construction, design, energy-efficiency, safety, and transportation – and it has been providing those requirements for over four decades.
As a result of the code, many mobile homes and mobile trailers, such as single-wides and double-wides, are catching the attention of numerous retirees, those with disabilities who don't want a two or even a three-level home, single families, newly married couples, millennials, and everyone else in between; especially at Cedar Springs Mobile Estates, a prime property in a fantastic location.
So, what is the real difference between double and single-wide mobile homes? There is quite a bit, and it is not at all what you expected. It is a whole lot more and pretty exciting to boot if you are looking for a new beginning in your life.
Do keep on reading more below to learn about single and double-wide mobile homes for sale to help determine which fits you best.
A Place for All
Firstly, whether you are finally downsizing to a mobile home, the offspring have grown up, graduated, and fled the nest, or you are starting a new period in your life, think about something besides a traditional site-built home, such as a manufactured home at Cedar Springs Mobile Estates.
What is a Mobile Home?
You might be envisioning a mobile home, prefab homes, or modular homes, as boxes made of ugly siding.
Not anymore! The modern-day versions are constructed with quality materials, from wood to vinyl, and offer amazing amenities just like suburban homes; and mobile homes are built to endure for years. Learn how long manufactured homes last here.
Next Step
Sold yet on one of these homes?
First, you need to decide what size single-wide or double-wide mobile home you need and how many people will be living in it. Is it you and your spouse? Just you if you're a newly single parent with kids, or are you in your Golden Years and a recent widow or widower?
Regardless of your current situation, mobile homes are ideal for anybody who wants a quality home, but without the worry of a traditional home.
Once you decide who is coming along for the ride, you will need to decide what type is better for you, a single or double-wide.
Single–Wide
Wondering what is a single-wide mobile home? Single-wide manufactured homes are narrower than double-wides, but can still offer plenty of space, nice bedrooms, updated kitchens, modern bathrooms, and other amenities.
If it is you and another person who will be living in the mobile home or prefab home, and you don't need much space, a single-wide manufactured home could be a good fit.
Single-wide mobile homes are typically not connected with hallways (or there may be a very slim one in some cases).
Most mobile homes, like single-wide and double-wide mobile homes, are not stationed to the ground, but rather elevated with risers, like the ones at Cedar Springs Mobile Estates.
Single–Wide Costs
Single-wide homes and manufactured home sizes depend on the maker, and prices can range between $33,941-$66,629. Learn how to buy a new manufactured home here.
Double–Wide
Need more space, and prefer luxuries like a gourmet kitchen, recessed ceilings, textured walls, or a stone fireplace? Then double-wide mobile homes are right up your alley. These mobile homes and manufactured homes are built in two parts and then joined, once transported and placed, to make one double-wide trailer.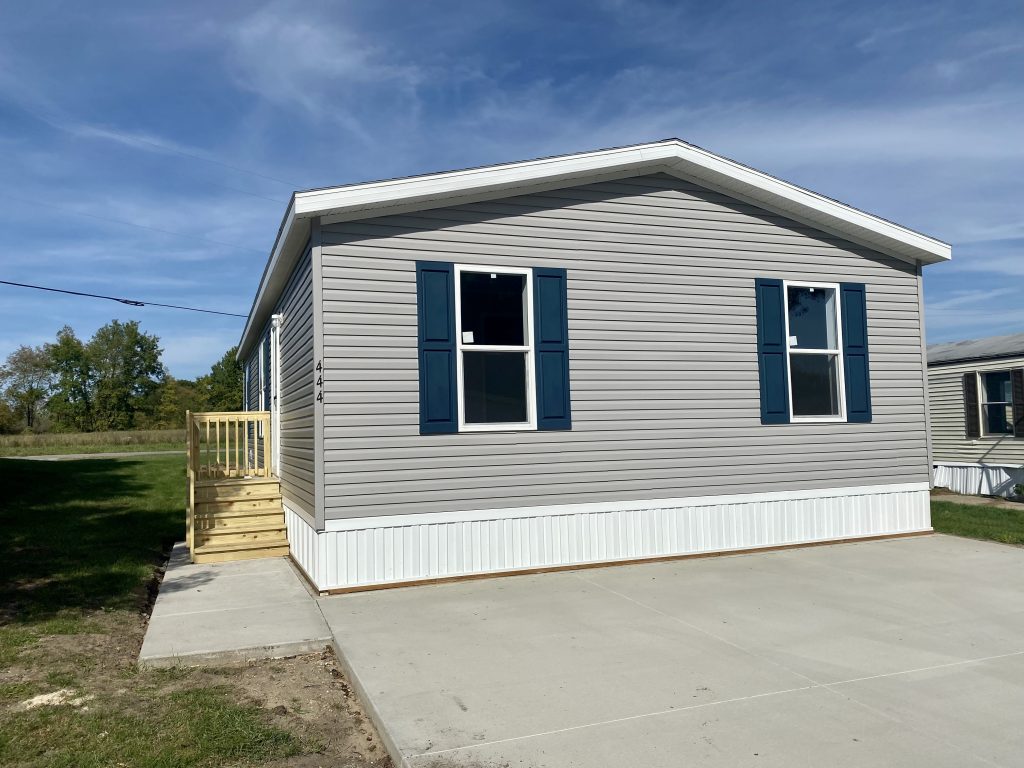 Double–Wide Frills
Double-wide mobile homes, prefab homes, and manufactured homes at Cedar Springs Mobile Estates have more square footage and offer varied floor plans.
A double-wide manufactured home is great for empty nesters and first-time home buyers. A double-wide manufactured home ranges from the mid-900s to almost 2,200 square feet at Cedar Springs Mobile Estates, where there are various mobile homes for sale in Cedar Springs, MI.
Overall, double-wide manufactured homes have numerous amenities, as you will see when looking at these homes for sale at Cedar Springs Mobile Estates.
Also, a double-wide mobile home could provide a good return on your investment if you sell — it is your own mobile home to do whatever you please. Learn more about if a mobile home is a good investment here.
Skip the Realtors
If you need extra space that your current apartment is not providing and you love beautiful amenities, a single or double-wide mobile home awaits you at Cedar Springs Mobile Estates, which is one of the top mobile home parks in Michigan with manufactured homes for sale.
If you are tired of searching real estate properties every weekend for your dream home, check out the homes for sale at Cedar Springs Mobile Estates.
You can own manufactured homes, a prefab home, or modular home sooner than later and skip the realtors. Instead, opting for a single or double-wide manufactured home at the Cedar Springs Mobile Estates community will become your new dream home.
If that is not enough, there is plenty more at Cedar Springs Mobile Estates to spark your interest at the beautiful mobile home park.
Single and Double-Wide Mobile Homes for Sale
At Cedar Springs Mobile Estates, you will discover modular homes for sale with all the bells and whistles you need and want, as well as many other perks.
Our private community is situated on private property and has numerous community attractions to enjoy, like basketball courts, picnic and grilling areas, and many planned resident social events to meet neighbors.
Located within Kent County, Michigan, there are more than 20 townships, nine cities, and five villages to explore. There are also plenty of things to do in Cedar Springs, Michigan, like eateries, cafes, Cedar Springs restaurants, Cedar Springs, MI shopping, cultural events, excellent Cedar Springs schools, healthcare, and more. These are all the more reasons why deciding to take up residence at Cedar Springs Mobile Estates is simply a no-brainer.
Lots of Options
The property has many modular homes, manufactured homes, and prefab home options for everyone's taste. At Cedar Springs Mobile Estates, you can find a mobile home for sale, modular homes for sale, or even mobile homes for rent in Cedar Springs, MI, if you want.
Whatever your desire for a residence is, you will find it at Cedar Springs Mobile Estates, which is about 20 minutes from Grand Rapids, Kent County, MI, and it will be extremely rewarding thanks to the private property's offerings.
Prime Location
Where is Cedar Springs, Michigan you ask? Cedar Springs Mobile Estates is less than one mile from Muskegon off the US-131, and a few minutes from downtown Cedar Springs, MI.
Are You Ready?
Now that you have learned all the ins, outs, and details of Cedar Springs Mobile Estates in Cedar Springs, as well as what modular homes and double-wide trailers are about, isn't it time to visit and see the for sale units?
One thing is for sure, the manufactured home community of Cedar Springs Mobile Estates will be excited to embrace you as one of the family and supply you with an amazing place to grow a garden, toss a ball, or play games with your kids or grandkids, and safely walk your dog.
Go ahead and pay the friendly staff in the Cedar Springs, MI area a visit to begin your new journey where you will meet new friends and neighbors in this lovely community that you will soon call your home, abode, dwelling, pad, or house.