When it comes to mobile homes, there is a lot to take care of. Whether you are planning to purchase a mobile home in the near future or already own one, it is a good idea to know about its various parts. One of the most important parts is ofcourse the roof, specifically the coating materials of mobile home roofs.
The issues of a mobile home or manufactured home are somewhat different than your regular stick-built houses. You have to think about what type of flooring is best for mobile homes, what kind of ventilation system to use, and mobile home maintenance tips to best maintain it for the long run.
The Importance of Focusing on Mobile Home Roof Coating
Mobile home roofs require a bit more care and maintenance than you may think. Yes, those wood subfloors will also need some effort on your part, but your mobile home roof is your literal shelter. Without the proper steps and precautions, the entire roof might cave in or deteriorate quickly over a short period. With that said, there are several options to choose for your mobile home roof coating.
If spending a lot on roof repair or fines after a roof inspection doesn't sound appealing, it's best to do your research right away. Re-installing your mobile home roof may only take a few hours, but it can save you a lot of hassle and cash down the road.
What is the Best Roof Coating for Mobile Homes?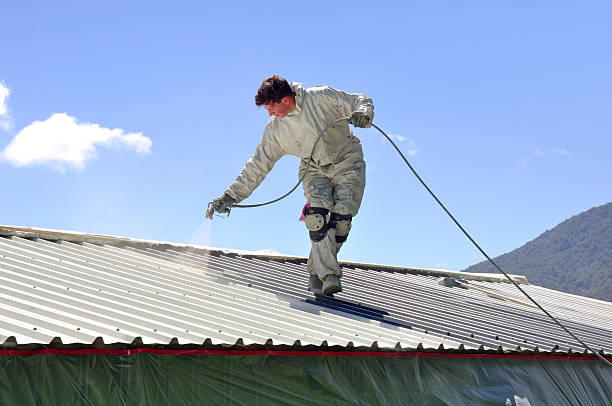 So, what will be the best roof coating for your mobile home roof? Some roofing contractors may claim to do all kinds of jobs; flat roofing, shingle roofs, metal roofs, and so on. However, do they really know about roof coatings for manufactured homes?
If you are ready to find out more about the roofs of mobile homes and wondering how long does a roof last on a manufactured home, you are on the right track. While your mobile home roof might have a few characteristics in common with traditional roofs, there are some essential differences. Mobile homes tend to have roof coatings instead of shingles or asphalt, so this is where you need to start.
Some mobile home roof coatings may be more cost-effective, while others are how to make a mobile home more energy-efficient (energy savings). Since we are talking about the entire surface over your head, let's now discuss the various types of roof coatings and decide which one is best for any manufactured home.
What Exactly are Mobile Home Roof Coatings?
Roof coatings help to protect a mobile home roof. While standard homes may also have them, there are some marked differences.
First of all, a manufactured home roof will have a lower pitch than that of traditional houses. Some of them have flat roofs, which make them more vulnerable to extreme weather, especially heavy rains. The flatness means that excess water can't automatically run off. With the water pooling, you get problems, like dampness, leaks, etc.
Second, you have to consider that mobile homes are not your usual brick and mortar material. The roof coatings have to protect fiber-glass instead of sturdy layered constructions. With age, a mobile home roof might leak and require replacement. While taking note of how to maintain a mobile home, you should take special care when it comes to the roof coatings, as well as the quality of the ceiling materials.
Precautions to Take with Your Mobile Home Roof
Outright replacing or repairing the entire surface of your mobile home roof could be quite difficult and expensive. The good news is that it is not that hard to replace a part of it or apply more roof coating where required.
Nearby tree branches and the wind could also cause some issues with your roof surface. Make sure to check the wind zone ratings for mobile homes before you decide to have a mobile home in any particular area. Here are a few more precautions a mobile home owner can take to minimize the frequency and need of roof coat repairs:
The first step is to clean the manufactured home roof frequently; this will preserve the old coating as long as possible
Take extra care to clean the manufactured home roof after heavy winds or rainfall
Remove any water as soon as you can; consider having extra paneling on the roof seams or at least a high-quality seal coating
Installing a couple of gutters may also help the water to run off instead of pooling on a manufactured home roof and ruining the roof coatings
What Kind of Mobile Home Roof Coatings Can You Apply?
If you want to choose the best roof coating for your mobile home, take a look at each option first. Consider the pros and cons before making any final decision, as this new coating should last a long time and require a decent investment. Here are some of the most common roof coating options now:
Aluminum Coating
Aluminum roof coating is among the cheaper options for any mobile home. This coating includes aluminum fibers, asphalt, and petroleum. It may result in a metal roof, but it is excellent for warmer climates. The surface is reflective, which keeps the mobile home cool on the inside.
This kind of roof coating is also long-lasting and convenient. It can secure your mobile home's roof in about 24 hours.
Silicone Coating
You may also use a roof coating that contains silicone. If you want to fill cracks in your roof cement, silicone is an effective adhesive and coating solution for this purpose. It will also even out any dents and other irregularities.
Silicone lasts a lot longer than many other materials for roof coating, so be sure to consider it seriously. Options like the Kool Seal rubberized silicone roof coating will also prevent water from pooling on your manufactured home.
Acrylic Coating
An acrylic roof coating is great for hot climates, providing extra protection from the sun. It is also good for helping a mobile home's roof contract or expand according to the weather.
If you are leaning towards an acrylic roof coating for your manufactured homes, do look at elastomeric coating. These are proactive coatings that you can apply either inside or outside a building. While some elastomeric coatings are water-based, make sure to use an acrylic-based one for your mobile home. This roof coating is in the form of a latex paint. Once they are dry, they will be transparent, yet flexible and stretchable.
An elastomeric coating is great for protecting your manufactured home from moisture. However, make sure not to use it on any logs or wooden surfaces. If you do, even a little missed spot could let in some moisture and not let it dry. This then leads to mold, decay, and other forms of damage.
Self-Adhesive Coating
The special thing about this coating is that it comes in rolls of films with all the protective material already on them. You do not need any brush to apply it, but it is still quite durable and easy to install. These features make this roof coating especially popular. The films might be of aluminum foil with an asphalt layer or some other combination, but no matter which type you choose, go for something that offers water protection as well as insulation.
How to Apply a Mobile Home Roof Coating
Different materials for your mobile home roof may have different features. You will have to choose by looking at its application method, maintenance requirements, and the area your mobile home is in.
You should know the ins and outs of applying roof coating materials. This might save you a few bucks for the installation. Even if you get some help with the project, it helps to know just what to expect. Let us now have a look at how to apply different kinds of roof coating to your mobile home:
Applying Aluminum Coating
For most manufacturers, this type of coating will fully form around 24 hours after application. This will get you a cost-effective, heat-diverting, and durable roof coating.
When you purchase this coating, make sure to mention that it is for a mobile home. The coating for regular house roofs is different.
Applying Silicone Coating
Silicone provides insulation, which is best for colder climates. Its smooth surface will also reflect sunlight, so it is suitable for the warmer weather as well. In a nutshell, it won't crack in the cold nor melt in the heat.
Silicone coating requires no specific surface preparation like metal primers. It will fill up the cracks and dents, therefore you can just start by following the instructions from the manufacturer.
Applying Acrylic Coating
This kind of coating might require a spray application. You will first have to prepare the surface of the mobile home roof. Fix up any major deterioration, such as large cracks, and consider applying a metal primer with a paint roller.
This kind of coating will usually apply in a similar way to repair paint. You will have to give the roof a few layers so that the coating remains durable and effective.
Applying Self–Adhesive Coating
Applying this kind of coating is not difficult, but you do have to take certain steps. Once you complete these, there is no need to use a brush. All you have to do is stick the coating over the mobile home roof.
The steps for applying self-adhesive coating are important. You should also follow them before applying any other type of coating as well. This will enable you to get the best result possible. Let's have a look at these now.
Steps for DIY Mobile Home Roof Coating Installation
Here are the precautions and steps to take before applying any kind of roof coating to your mobile home:
Check the weather forecasts and don't start the application if it looks like rain
Give yourself enough time to allow for drying time as well
Inspect the roof and clear away any blockages or dirt
Remove the old coating using sandpaper, if required
Conduct any minor repair, such as tightening screws, etc.
Dilute bleach and use it to clear up mildew or other unwanted growths
Apply metal primer over the whole surface using a brush and leave it to dry
Prepare the coating mixture and begin painting the roof seams before moving on to the main area
The Takeaway
A damaged or leaking mobile home roof can render the whole structure unlivable. To stave off expensive damage, make sure that your roof coating is on point. Just in case, make sure to repair the mobile home's roof coating after every two years. This way, you will be able to focus on some simple landscaping ideas for mobile homes and other projects without worrying about the roof.
The best roof coating for any mobile home will depend on the kind of area it is in and what issues it will face. While silicone coatings may be best for both hot and cold weather, aluminum ones may be better for someone who lives in a warm area and is looking to cut costs. Take a good look at your mobile home today and see which option is best for your needs!