Whether you reside in central Florida or Michigan, the best landscaping ideas for mobile homes can increase your manufactured home's value and improve its curb appeal.
Landscaping means that you'll spend more time enjoying your small yard and less time working on it.
Since most mobile home communities include mobile home maintenance tasks, such as grass-cutting, in your rent, you can spend more time giving your modular home low-maintenance landscaping. This makes your mobile home living experience worthwhile.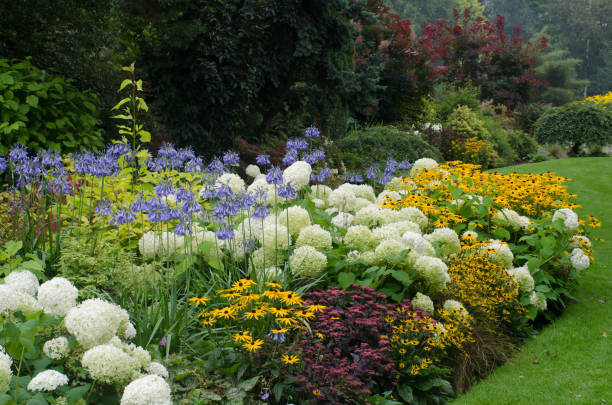 Here, we consider simple landscaping tips to give your manufactured home more colorful and personal touches.
Simple Landscaping Ideas for Mobile Homes
Let's look at a few ideas for landscaping manufactured homes:
Sunny Landscaping Ideas
Sometimes, it's hard to landscape in mobile home communities, compared to private land, since there are rules that you must abide by. You also wouldn't want to spend so much on trees and plants on land that does not belong to you.
With that said, it's possible to use a small budget and still make your mobile home exterior beautiful. We recommend that you landscape the perimeter of the whole property to make it solid.
Employing varying heights will add interest. Lanterns add light with style, while rocks add texture. Ensure you utilize decking and pathways well.
My Mobile Home Makeover has beautiful examples of landscaping ideas for mobile homes.
Shady Landscaping Ideas
If you reside on a shady property, flower beds, grasses, and evergreen shrubs are the best ideas to add texture. Mature trees are a plus too, as long as they're pest-free and healthy.
Your deck is a perfect place to have potted plants. We suggest that you employ shrubs, trees, and plants native to the area.
A flower bed is also very helpful, just ensure that you implement raised garden beds.
Water Feature Ideas
If you install a water feature, you'll add tranquillity, sound, and interest to your yard. However, there is more to it than just digging a hole and adding black plastic down.
Proper filtering, chemicals, and circulation are also required. To appear as though it belongs to your yard, add plants and rocks around it to give a more natural feel.
If you want to install a pond, we recommend installing a larger one for stability. A large pond actually has less maintenance involved. Implementing a smaller pond isn't perfect for circulation and won't create enough room for a natural ecosystem.
After the right combination of animals and plants have made the pond their home, you'll be forced to use fewer chemicals. Ensure you have the pond deep enough for fish to winterize properly too.
Mobile Home Parks
You can still landscape your mobile home even when you live in a mobile home park, but first you need to check the park rules to see whether there are prohibited species.
In most cases, fast-growing plants and species having large root systems aren't allowed since they can damage the foundation or plumbing pipes. You should also avoid invasive plants.
In this case, we recommend slow-growing shrubs and trees. You can also consider perennials that are native to your area.
You can soften the 'boxiness' of your mobile home with natural and exterior architectural elements, like shrubs, flower beds, and trees. With the right plants, you can also add dimension with ease.
Another idea is to employ containers to plant anything you want in them. This allows you full control of the growth and roots.
Hardscapes and Skirting
Having built-ins, such as walkways, patios, and stairs, take the 'mobile' out of a mobile home. If you plan on sticking around for longer, retain the walls to hide skirting around your manufactured home.
Perfect skirting is how to keep a mobile home cool in the summer during extreme temperatures or from over-warming your manufactured home.
Hardscaping includes a built-in fire pit, patio, and an outdoor barbecue. Lantern posts, tiled steps, and ceramic planters are also fantastic touches.
Handy Landscaping Tips
You must understand the soil type you have: alkaline, acidic, or neutral. Different plants thrive in different soil types.
The below tips can help you with mobile home landscaping ideas:
Elements for Beautiful Landscapes
You should use four elements, which include light, texture, color, and height in your landscaping project. Your yard landscaping ideas will be perfect if you incorporate these elements.
Test the Soil
To determine whether your soil is alkaline, mix it with distilled water and add a little vinegar. If the soil fizzes, then it's alkaline.
To determine whether the soil is acidic, mix it with distilled water and add baking soda. If the soil bubbles, then it's acidic.
If there is nothing with both tests, your soil is neutral.
Annuals vs. Perennials
Professional landscapers recommend having perennials for the majority of your mobile home landscaping. However, they also advise you include annuals throughout your beds to change things up and for dramatic effect.
Some annuals are too beautiful not to have. The good thing about annuals is that they're affordable.
Herb Gardens are Ideal for Small Areas
Apart from herbs being beautiful, you can also use them as natural medicine, for cooking, and beauty.
Rain Barrels are Perfect
We recommend that you use a rain barrel in order to achieve drip irrigation. This will save you money when it comes to watering plants.
Marigolds Keep Mosquitoes Away
It's scientifically proven that marigolds keep mosquitoes away. Trim the deck with marigolds or add containers around the lounging areas and doors.
Consider Composting
Composting is among the best landscaping tips you could ever consider. Here, you just need to set aside a small space beside your mobile home.
This is the perfect place to dispose of your landscaping scraps, grass, or anything else natural, such as dirt and bark.
While starting a compost, lay a back tarp over it to kill bacteria and fungus.
Begin with a Plan
Always begin with a drawn out plan using a computer or on a piece of paper. A plan makes it easier for you to figure out where to put things. It also becomes easier to research native plants within your area with a plan.
We recommend having taller plants in the middle or back, and shorter ones in the front. Use a tree or an arbor to add height to your area. For beauty and safety purposes, add solar lights on the pathways. These lights also make a mobile home more energy-efficient.
Use some mulch, too. Mulch helps plants to thrive and keeps moisture in the ground.
Conclusion
With proper landscaping, you'll spend more time enjoying your yard and less time working on it. You should, therefore, invest time in employing low-maintenance landscaping.
Follow the tips we have recommended above to make your landscaping project successful. If possible, seek help from a professional.
We hope you identify the perfect plants and the right spot to place each. This will make your mobile home living experience much more worth it.