Determining the perfect flooring type for your mobile home isn't an easy task. This can be attributed to the many flooring options available for you to select from.
If you want to identify the right flooring for your home, then you're in the right place. As far as mobile home floors are concerned, you don't need to think simple or small. You should give your floor the attention and time it deserves.
Here, we provide tips to help you select the perfect flooring for your mobile home.
What Type of Flooring is Best for Mobile Homes?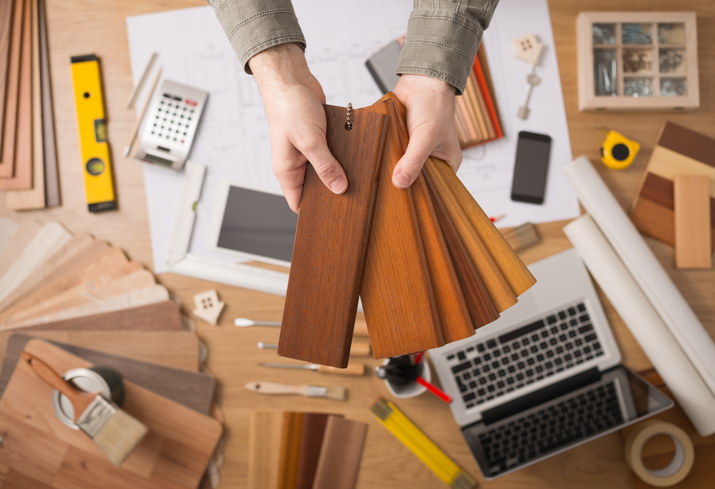 The best flooring offers the best protection and aesthetic appeal at an affordable price. Below are some of the available options we would recommend for a manufactured home:
●     Laminate Flooring
●     Wood Flooring
●     Tile Flooring
●     Linoleum/Vinyl Sheet Flooring
●     Carpet Flooring
Laminate Flooring
Laminate flooring is part of the floating floors category, which also includes engineered wood. It offers a limitless color option for your flooring needs.
A floating floor is perfect for modular homes since it's sub-floor is created with a particle board. It is also cheaper than other available options.
When you install a laminate floor covering, cleaning becomes easy. They are, therefore, perfect for laundry rooms, bathrooms, and kitchens.
While purchasing laminate materials, ensure you focus on their thickness, and expect it to cost you between $2-$10 per sq.ft.
Wood Flooring
Wood presents a variety of options to select from. It presents a highly durable, easy to clean option, and expect this flooring to cost you between $10-$20 per sq.ft.
Even though this option is more expensive than laminate, it creates a more appealing wood grain.
Tile Flooring
Tile is without question one of the most common flooring options for mobile homes. In fact, you can install tile flooring in just about any section of your home. With that said, avoid tile crossing the marriage line in a double-wide mobile home without perfect subflooring.
We recommend tile flooring to mostly be installed in the bathrooms, laundry room, and kitchen areas. Even though the process of installing tiles can be a long and tedious process, it will be worth it.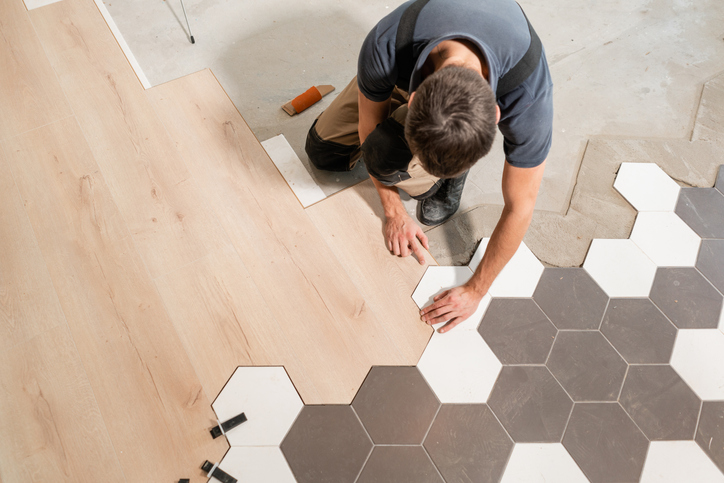 The tile flooring weight can become an issue if you use heavier material. Here, stone tiles are among the heaviest, with synthetic tiles being much lighter.
Below are some tile options worth considering:
●     Ceramic
●     Stone
●     Porcelain
Ceramic Tile Option for Manufactured Homes
These tile options are a composite material of clay and feldspar. You can also find natural clay tiles, also referred to as terra-cotta.
In some cases, white clay is also employed to make ceramic tiles. The tiles are available in matte, glass, and gloss finishes.
Stone Tile Option for Manufactured Homes
The stone tile option is among the toughest options, and can be found in slate, sandstone, granite, marble, and travertine. We recommend this option for high durability, but it is certainly more costly.
Porcelain Tile Option for Manufactured Homes
You can also consider having porcelain tiles made with kaolin. This mineral is responsible for making the tile strong and dense. We recommend employing these tiles in high-traffic areas.
Linoleum/Vinyl Sheet Flooring
Linoleum or vinyl flooring is among the least expensive options you'll ever come across. Linoleum flooring is available in a roll that you can easily stretch out and glue to your floor.
While cutting linoleum, however, you need to be very careful to avoid messing things up. We recommend hiring an expert to ensure it is installed correctly.
This flooring will cost you between $2-$3 per sq. ft., which is far cheaper than tiles, laminate, and even carpets.
You can use linoleum floors/vinyl tiles in your kitchen or bathroom since they're water-resistant.
Carpet Flooring
Carpets happen to be the most common option for manufactured homes. While selecting the best carpet type, we recommend that you put durability into perspective.
You need to include the padding into a carpet's final price while budgeting. It's also important that you involve a professional during installation. You'll get the best flooring deal if you compare the prices and quality from different shops.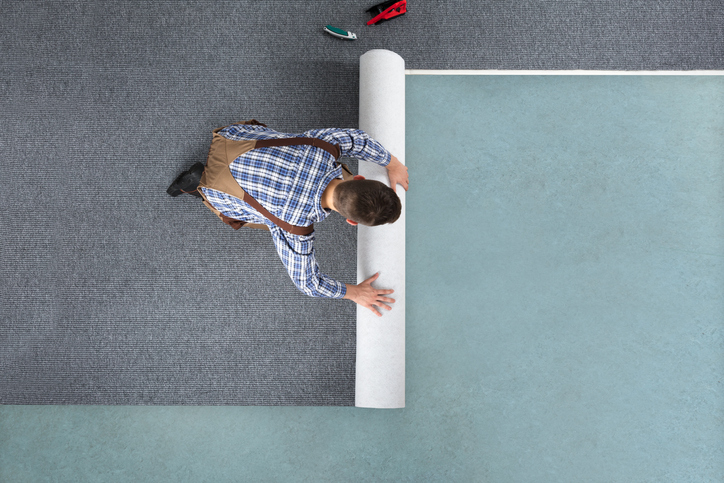 The quality of a carpet should be based on the fiber type used, the fiber density, and how they are twisted on the backing. Don't focus on the carpet thickness while choosing flooring.
For high traffic areas, ensure you apply the most durable carpet floors.
How to Install Flooring in Your Mobile Home
While deciding on your flooring of choice, you need to determine whether you want a DIY project or would like to hire an expert. Let's offer some helpful tips concerning professional and DIY installations:
Hiring Professional Flooring Installers
You'll save both energy and time by hiring an expert to help you with your flooring installations, especially with linoleum, wood, and carpets. We, therefore, recommend using this approach for the best outcomes.
With the installation of carpets, you'll require specialized tools. Some of the tools are expensive, and you might save money by contacting an expert.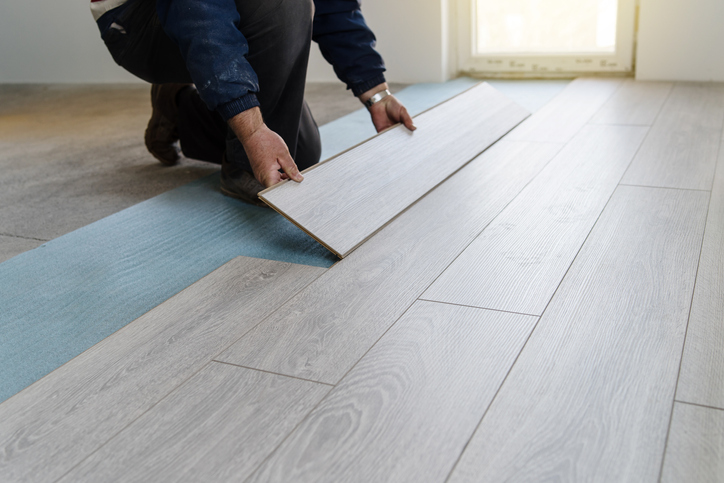 Linoleum and vinyl are also difficult to cut, thus requiring specialized skills. Most professionals understand how to complete the tasks with minimal effort and maximum efficiency.
Tiling of a bathroom needs to be done by an expert. This is because there can be wiring and water involved. You would not want, for instance, to damage the hot water wiring system or select tiles that absorb water.
Do It Yourself (DIY) Option
As stated before, going with an expert to do flooring for you will save you both energy and time. However, going for a DIY installation might save you money. If you are not a seasoned vet, there are tutorials that you can follow online to achieve free installation. We recommend this option if you're operating on a tight budget.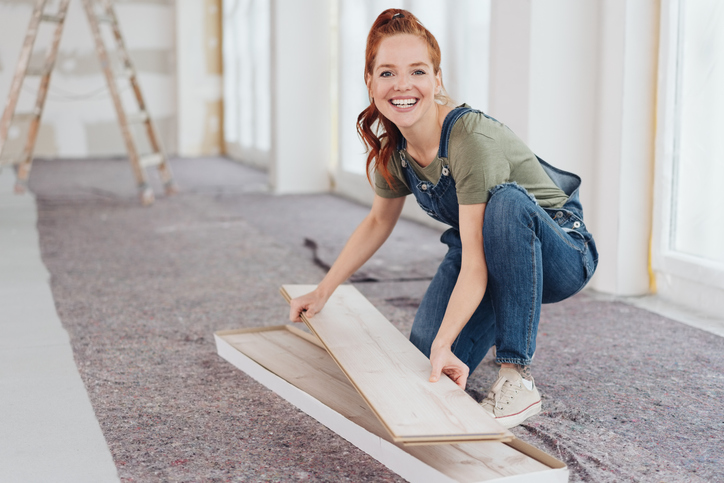 Both vinyl and laminate flooring are the easiest options for DIY. You can install laminate floors using basic tools, and it is also easier to complete.
Flooring Option Considerations
When you want to complete your mobile home flooring project, you need to consider some factors. Even though these considerations might vary depending on the project, budget, and homeowner in question, they are critical to getting the job done.
Let's consider them below:
●     Your Preferred Style
●     Durability of the Flooring
●     The Flooring Cost
●     Flooring Installation Process
Your Preferred Style
Different people prefer different styles. While one person might prefer a cleaner, lighter look, another might want a sturdy and rustic appearance. Everything depends on what you want to have in your mobile home flooring.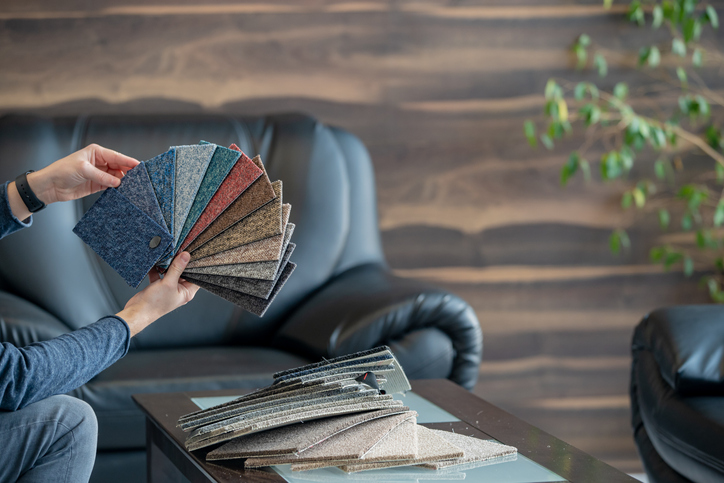 As we have seen above, there are several options to select from to meet your style, including vinyl, laminate, wood, carpet, and tiles. Most of these options are customizable, giving you a chance to select between different patterns and colors. For example, you could choose wood-look laminate flooring.
Durability of the Flooring
Just like stick-built homes, manufactured homes also experience a lot of traffic. The last thing you want is to install a flooring that wears down almost immediately. For this reason, you need to focus on the durability of your flooring material. Here, we recommend tiles or stone as opposed to linoleum.
The Flooring Cost
Regardless of the project you want to undertake or the experience you have, you should always consider the cost before everything else. It's common knowledge that a project's budget will always vary depending on different factors.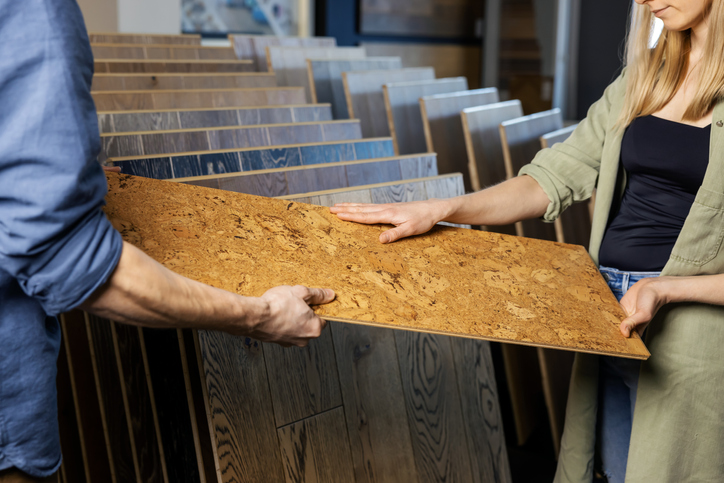 As we have seen above, the cost of the flooring varies depending on the material used. For instance, the linoleum option is cheaper than laminate. Whether you're looking forward to having tiles or wood flooring, select an option that appeals to your needs and is within your budget.
Flooring Installation Process
When it comes to installing flooring in a mobile home, everything boils down to DIY or a competent professional. There are situations where you can do everything by yourself, and others that require professional assistance. For instance, if you're making a partial flooring replacement in your mobile home, you can consider doing the task by yourself. However, we recommend hiring an expert to help you out in cases where a lot more has to be done.
The flooring choice you select will directly impact the ease of installation, and the total time you'll take to complete the project.
You should understand that a DIY project will be cheaper than hiring a professional, however, a professional may do a better job, especially if you have little to no experience.
Flooring Care and Maintenance
Regardless of the flooring type you select, how you maintain a mobile home is critical to avoid costly replacements and keep the floor durable.
Since the different flooring types require unique care, we'll focus on each below:
Carpet Care & Maintenance
Expect your new carpets to start accumulating dirt over time. You should, therefore, vacuum them at least once per week. Be careful with vacuuming since too much of it can damage the carpet tiles.
Clean the carpet daily if you have pets, kids, or many guests in your mobile home. Keep in mind that you might be forced to move some furniture while cleaning the carpet.
Vinyl Care & Maintenance
Always sweep or vacuum your vinyl floor to remove grit, dirt, and other particles. You can then clean the surface with warm water and dish soap.
We discourage waxing these floors. You should also avoid using kerosene, turpentine, and alcohol products since they can cause permanent damage to the surface.
Engineered Hardwood and Tiles Care & Maintenance
You just need to sweep using a broom to remove dust and dirt with tile and engineered hardwood floor. However, for the case of spills, wipe using a nonabrasive cloth.
Avoid using a steam cleaner on wooden floors. Excessive heat and moisture can cause the wood to swell. Keep the window shades drawn as well to avoid wooden floors or tiles from fading due to sunlight exposure.
Final Thought
Selecting the right new floors is critical to your overall mobile home living experience. Luckily there are various options to select from, including tile, carpet, laminate, linoleum, and wood flooring.
With that said, you need to consider the flooring's durability, installation, cost, and your preferred style when deciding on which to choose.
To ensure flooring durability, proper care and maintenance are critical. We hope that you install the best flooring option for you at an affordable cost.