Buying a home traditionally entails purchasing both the structure and the land on which the house sits. However, obtaining such a home is often prohibitively expensive for many American families.
Another option for homeownership is to purchase a townhouse or condominium and avoid the hassle of yard work.
With that said, purchasing a home in a leased-land community has become a popular and less expensive option for many people who want to be homeowners.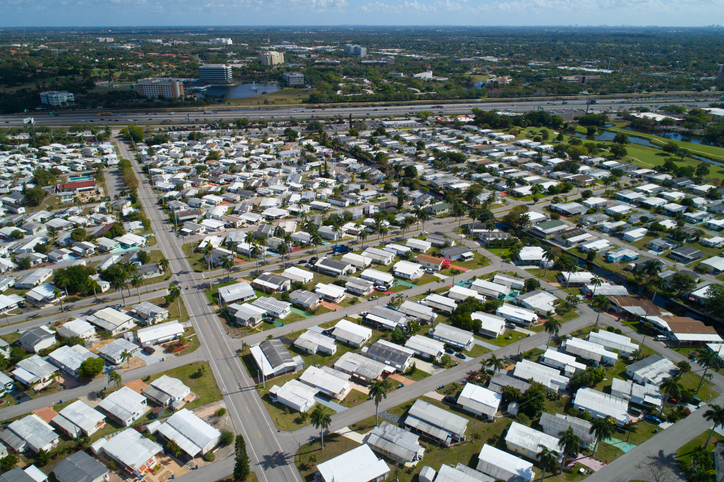 When you buy a home in a leased-land community, you avoid paying the high property tax you would have to pay if you bought a traditional home.
Land-Lease Community
Although there are some drawbacks to living in a land-lease community, there are several advantages to purchasing a home in one too (leased-land).
It's true that this type of housing (leased-land community) lacks the advantages of a traditional site-built house, but it still fulfills the American dream of homeownership.
Leasing land is a concept that has been around for decades, but it has recently gained traction. Let's look at some of the advantages that come with land-lease communities.
First, what exactly is a land-lease community?
What is a Land-Lease Community?
A land–lease community is one in which a home's owner leases the land on which the home is built. This form of homeownership allows people to own their homes without the need to buy the land.
As a result, it provides a cost-effective housing option with a variety of park advantages. Often you'll agree on when the land-lease expires. Once the land-lease expires, you'll give up the use of land or you can renew the agreement.
When you buy a house on leased land, you usually have to take out a mortgage to finance it. Since you typically make such a large down payment, your monthly mortgage payment is usually lower. On the other hand, you will still be charged the monthly fee for the leased land.
A mobile home park is easy to spot. Keywords like "leasehold interest" and "manufactured home" are commonly associated with it, which should give you a hint.
The following are some of the advantages of living in a land-lease community:
Less Cash at Closing
Purchasing a home in a land-lease community is generally less expensive than purchasing a traditional site-built house. When you put pen to paper, you'll need less money to own a home in a land-lease community.
As a result, you'll be able to save money to buy household essentials, like appliances, or even partake in family activities, like a picnic.
Lower Taxes than Traditional Site-Built Housing
When compared to homes in land–lease communities, real estate homes are known for having outrageous property taxes.
Although many people take pride in building a real estate home and settling down with their families, property taxes are one aspect of real estate that many people are unaware of.
As a result, rather than building or purchasing a real estate home, an individual may be better off living in a land-lease community.
If you're on a tight budget, paying high property tax can be a major headache; however, you're not obligated to pay taxes here because you're renting the land rather than owning it.
Furthermore, in some states, such as Michigan, factory-built homes are exempt from annual taxes. Rather, the tax is levied at the time of the purchase of a mobile home.
On-Site Management
You are fully responsible for any maintenance required in a traditional home; however, living in a land-lease community allows you to avoid those kinds of responsibilities, which are costly in the first place.
Frequently, land–lease community owners have a team of dedicated employees available 24 hours a day, seven days a week, to help with any property concerns.
If there are any costs (leased-land), they will be a fraction of what you would have paid for while living in traditional site-built housing.
Benefits of Park Amenities
The good news is that joining a leased-land or land-lease community gives you access to amenities that you wouldn't have access to if you lived in an apartment complex or built a home on your own.
When you pay rent for a lot in a land-lease community (where the house sits), you'll have access to amenities like a playground, swimming pools, a fitness center, golf courses, walking and bike paths, and even private beaches in some leased-land communities.
You Get Value
When you consider the initial investment in comparison to the amenities you'll have access to, as well as the strategic location of most of these land-lease communities, you'll see that you're getting a deal that's hard to beat.
For example, the land-lease community could be closer to your favorite park or within the distance of public transport, just to name a few.
Bring Your Own Manufactured Home
Most land-lease communities will allow you to bring your manufactured home from another location. Some land-lease communities, trailer parks, or manufactured home communities will even go above and beyond to cover the cost of relocating your manufactured home.
Pride of Homeownership
Purchasing a traditional home property can be prohibitively expensive, but manufactured homes in a leased–land community provide an affordable option.
As a result, you can live your dream in a trailer park or manufactured home community, while still reaping the benefits of owning a manufactured home that is comparable to those built on-site.
When buying a traditional home, you'll have to budget for both the house and the land, whereas in land-leased communities, you'll only have to worry about the manufactured home, and the lot will be rented (land-lease fees) from the owner.
Lease payments for the land will be made every month until the lease expires. You may feel the lease payments are like rental payments, but the difference is that you own your home, thus you gain equity, and are not just paying rent with no future reward.
Needed Privacy
When you live in an apartment, it's difficult to enjoy your privacy. A wall frequently separates you and your neighbor, and you can frequently hear noise from the other side. This can be aggravating, especially when you require some solitude
You might feel compelled to confront your neighbor or report them to the property manager, ultimately putting strain on your relationship.
Living in a land-leased community, on the other hand, provides you and your family with much-needed privacy. Unlike apartments, where you hang out on the balcony, you'll often get a lot large enough to have a yard where you can relax.
Residents of a land-leased community are usually subject to a set of rules. As a result, conflicts between loud music and noisy neighbors are uncommon. Furthermore, the distance between you and your next-door neighbor is reasonable, making it unlikely that you will be disturbed.
Sense of Belonging
You get a sense of belonging when you live in a land-lease community. Unlike apartments, where you rarely see your neighbors, you'll enjoy the company of other residents while taking advantage of park amenities at trailer parks or manufactured home communities.
The land-lease community manager will frequently organize events that bring residents together to increase social interaction. Many communities go above and beyond by sponsoring events, making you feel loved and cared for.
Frequently Asked Questions
Land-lease communities are vast, with numerous benefits and drawbacks that force many people to consider whether it is a viable option for them.
Some of the most frequently asked questions about land leased communities are listed below.
Are Pets Accepted in Land-Lease Communities?
The good news is that most land-lease communities welcome pets and consider them part of the family.
Most leased-land communities or mobile home communities welcome pets; however, similar to apartments, they have rules to ensure that those with opposing views are not inconvenienced.
Am I Responsible for Yard Maintenance?
The community owner frequently performs maintenance; they have a team of employees who are always in charge of maintenance. However, it's critical to know what's covered and what isn't in your contract.
As a result, your yard and other park amenities, such as swimming pools, will be taken care of so you don't have to.
As a result, you'll have more time to spend with your family and will be able to travel more frequently because you won't have to worry about maintenance.
Is it More Difficult to Sell in a Land-Lease Community?
Because you don't own the property, selling a manufactured home in a land-lease community can be simple, and the low price will appeal to a wide range of buyers, unlike a traditional home.
What Other Ways Would Professional Property Management Benefit Me?
Professional property management will benefit you in many ways when you join a land-lease community.
For example, they make certain that the maintenance responsibilities are carried out. They also have a responsibility to enforce the park's rules.
Park management is frequently in charge of screening newcomers before they are accepted.
What are the Advantages of Living in an Age-Qualified Community?
Some land-leased communities have an age limit, while others are open to anyone, regardless of age.
Living in an age-qualified community will help you meet people of similar interests and like-minded, in general.
As a result, when looking for a park, you should always conduct thorough research.
Before joining a park with your family, it's a good idea to ask as many questions as you can. Furthermore, it allows you to assess whether the environment is a good match for you.
What are HOA Fees for?
Residents of the HOA community pay homeowners association fees (HOA fees) to help maintain all of the community's properties, social amenities, and common areas.
According to the Community Associations Institute, roughly 85% of residents believe the HOA fee is worth it because they are satisfied with the services.
What Does HOA Fee Cover?
If you've recently purchased a manufactured home in a community, you should know that the fee covers a wide range of services.
You're probably curious how these fees go towards providing amenities such as a swimming pool, gym, and security staff, just to name a few.
The fee you pay is frequently used to fund community services that make your life more enjoyable.
The association is typically made up of homeowners who pay the fees and ensure that the community runs smoothly.
Now that you know what HOA fees are, it's essential to know what they cover when joining a community park.
Maintenance and Repair Costs
As previously stated, the community manager is in charge of the majority of the maintenance duties. However, this does not imply that the services are free; you must pay for them, but they are less expensive than traditional site-built housing.
This often includes landscaping, plumbing, snow removal, air conditioning, heating costs, pest control, and property concerns.
Utilities
You're probably wondering which utilities to consider, so think about the shared building amenities like pools, gyms, and meeting rooms, to name a few. The utility bills for these shared amenities are frequently partially offset by the HOA fees you pay.
Staff
If you happen to run into security personnel or call for plumbing services and they arrive within minutes, know that the fee you pay goes towards paying their salaries.
Insurance
To protect themselves from damages, the association will need to purchase an insurance policy for shared buildings.
For example, if the area is prone to flooding, the homeowners association will be forced to think about protecting the leased property from environmental hazards.
This insurance, however, should not be confused with your homeowner's policy. It only applies to the community building as a whole, not to your residence.
Contingency Funds
Good management will set aside a portion of the HOA fees for unexpected expenses. As a result, any funds set aside for this purpose are commonly referred to as contingency funds.
If a natural disaster occurs, such as flooding, these funds could be critical in assisting the community. This fund can also be used to help with any other emergency.
Reserves
After paying for all the community necessities, the remaining portion is what makes up the reserves.
A professional community will consider setting aside funds to assist the community in the event of an emergency. If one of the shared amenities' items, for example, needs to be repaired or replaced, the reserve fund is used to secure the item or cover any associated costs.
It's important to note that the reserve fund is kept separate from the account used for daily expenses.
Community Association Management
Although most of the board members are volunteers, they frequently enlist the assistance of experts to assist with day-to-day operations.
As such, the portion of your fees will ensure the experts run the daily operation as expected.
Final Thought
The advantages of living on land-lease properties are numerous. Although traditional homes are often out of reach, land leased communities often provide aspiring homeowners with the opportunity to realize their dreams at a lower cost.
Living in a community park gives you a sense of belonging and encourages you to interact with others. While living in the community, you have the opportunity to form an everlasting relationship with your neighbors.
If you don't have enough money to buy land after buying a manufactured home, leasing land might be a good option. You'll be able to save money while achieving the goal of owning a home.