Cedar Springs has several fantastic campgrounds in the area. Determining which campground is the best in the area will depend on your personal camping preferences. Some may prefer RV parks that offer good fishing with a lake annually stocked with fish.
Others may prefer more a modern campground or options of daily or weekend camping.
Campground amenities vary and not every campground will offer the same benefits or experience.
Either way, we feel confident our breakdown below is three of the best campgrounds near Cedar Springs, MI.
The Best Campgrounds in Cedar Springs, MI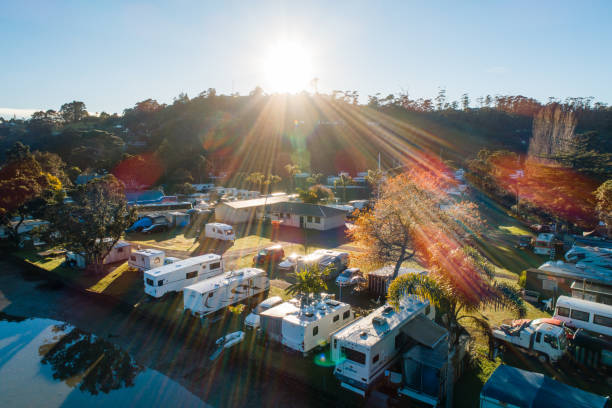 The experience individuals want when it comes to camping or finding great RV parks near Cedar Springs, MI will depend on several different factors.
Some individuals are dedicated to the camping lifestyle. Others may be new to camping and looking for the basics and something as simple as a 1-2 day stay. You may even be looking for RV parks where you will park your RV for the remainder of the camping season.
If you have kids, you may want a campground that offers paddle boat rental. Tons of options are available at different campgrounds near Cedar Springs, MI.
The three campgrounds below are not only the best you can choose, but also within a relatively short travel distance from Cedar Springs, MI (see: where is Cedar Springs, Michigan).
So, without further ado.
1.)   Cedar Springs RV Resort
Cedar Springs RV Resort has tons to offer anyone looking for great RV Parks and amenities.
Location: 13677 White Creek Avenue, Cedar Springs, MI 49319
Overview
●       Free Wi-Fi
●       Recognized as a Top-Rated Good Sam Park Since 2009
●       5 Acre Private Lake
●       Volleyball and Basketball
●       Game Room
●       Camp Store
●       Playground
●       Picnic Tables and Fire Pits
●       Sandy Swimming Beach
●       Paddle Boat Rentals
Cedar Springs RV Resort has also been rated the best RV park in the Grand Rapids, MI area.
Cedar Springs RV Resort is an excellent option if you want a great campground with many nearby attractions as well.
Cedar Springs RV Resort puts you close to great Cedar Springs restaurants and food options and is close enough to visit some of the best golf courses in Cedar Springs, MI.
2.) Duke Creek Campgrounds
Duke Creek Campgrounds is a RV park located only 18 miles North of Grand Rapids and is another heavily favored campground in the Cedar Springs area.
Location: 15190 White Creek Ave NE, Cedar Springs, MI 49319
Overview
●       Cabin Rentals
●       Horseback Riding
●       36 Wooded Acres
●       Heated Swimming Pools
●       Hayrides
●       Free WiFi
●       Sports
●       Playgrounds
●       Planned Calendar Event Activities
Duke Creek Campgrounds is a dog-friendly park and offers affordable rates whether you are planning to bring your own RV or camper or decide that you would rather rent a cabin.
Duke Creek is a campground to try in the Cedar Springs, MI area for any camping enthusiast.
3.) Detach Primitive
Detach Primitive is a great campground to visit any time of the year and rest on 50 acres. Detach Primitive is unique because it offers 10 campsites with their own primitive set-ups, your own picnic table, and a firepit.
Location: 3981 Summit Ct NE, Rockford, MI 49341
Overview
●       Custom Painted 20 Foot Tipis
●       50 Acres of Wooded Land
●       Underground Hobbit Home with Porch
●       Fire Pit
●       Picnic Table
●       Very Secluded
●       Hiking
●       Birdwatching
●       Mountain Biking
●       Sledding and Ice skating
Detach Primitive was created to do exactly what the name suggests; Detach! While it would not be ranked in the best campgrounds for someone who absolutely needs the park to be considered an "RV Park," it is still a unique and a great option.
It is meant to unplug, relax, unwind, and enjoy nature.
Detach Primitive also offers great nearby attractions and places to visit, such as breweries and fishing on the Rogue River.
Our Advice
Camping is hands down one of the best things to do in Cedar Springs, Michigan during the summer and most popular things to do across the Midwest.
Everyone has different desires and preferences in the camping world.
Some may prefer the most secluded and nature-driven campgrounds, while others may prefer something more modern and everyday living.
One thing we know to be true about the Cedar Springs area is that you have no shortage of great campgrounds to choose from.