When the time comes for first–time homebuyers to list what they desire in a home, many only have general requirements and are not fully aware of all the features and amenity options.
Understanding which features means the most will help eliminate mobile homes that won't work for you, and compare the homes that will. Undoubtedly, everyone wants a mobile home that comes with luxurious amenities.
Luxurious community amenities give people the chance to live their dream and comfortable life.
Mobile homebuyers can enjoy a range of amenities, such as pet-friendly neighborhoods to waterfront views.
Mobile Home Amenities
The term manufactured home typically conjures up mental images of rundown trailer parks, complete with nutty neighbors and a colony of stray cats.
Manufactured homes have come a long way from rusty RVs up on blocks. Today's manufactured homes offer quality amenities inside the house, just like a modern traditional home does.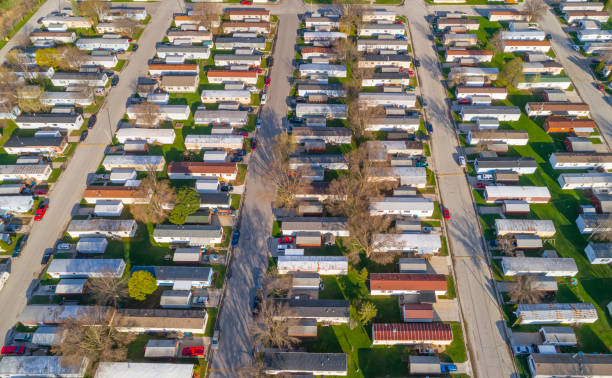 You can hardly tell you are inside a manufactured home, since it strikes a similar resemblance with a site-built home.
When choosing between an apartment, house, or community, many residents weigh the value of the grounds, facilities, services, and even event gatherings against a more solo way of life.
Manufactured home parks have a lot to offer, but what exactly do residents find most appealing about living in them?
This article will look at amenities you, as a homebuyer, should consider when buying a manufactured home.
Pet-Friendly Living
Many apartment complexes might not provide an ideal home for your pet. It's common to find restrictions on the number or types of pets you can keep around the premises. Even in some instances, you will have to pay steep fees for your beloved pets.
Living in a manufactured home community will offer you a pet-friendly environment, without the need to pay steep fees like a lot of apartments for rent that you will find around the city.
The best thing about manufactured home parks is that you will get plenty of space for walks around the neighborhood. Your pet will, therefore, get enough exercise to stay fit and healthy.
If you consider living in a mobile home park, you typically are not limited to the type of pet you want to keep within the community.
Recreational Facilities & Events
Residents in these manufactured home communities get together to build connections with a strong sense of friendship and camaraderie.
Manufactured homes are just more than a series of homes within one location. In community parks, you get to meet friends that become family, unlike in an apartment complex where you hardly interact with the neighbor next door.
Often, manufactured home communities organize events that bring the residents together, in a bid to improve social engagement. Also, these mobile home parks include central common places where residents can gather and enjoy one another's company.
You'll find playgrounds and sports courts in these communities. Such facilities will give your family more room to enjoy the environment, unlike apartment complexes.
Many retirees often downsize to live in mobile home communities since it feels warmer than other forms of housing.
Availability of Critical Infrastructure
In mobile home communities, residents don't have to worry about simple things such as electricity, water, gas, and sewer lines, because the community management provides such amenities. However, you may be asked to pay some fees in return.
The communities also include essential infrastructure, like roads.
The best thing about these manufactured home communities is that they provide maintenance services, a dedicated team that will be at your service, even at midnight. Staff members go through vetting to ensure residents get nothing but high-quality services.
Living in parks gives residents peace of mind when it comes to such infrastructures.
Security Around the Community
Safety is one of the top priorities when looking for your next home. You will want to ensure the location has a low crime rate and is safe for bringing up your children.
Mobile home communities offer a secure living environment and, therefore, residents can move about their business without worrying about safety.
It is ideal to know that some extra security features might cost a couple of dollars. The upside is that you will have a secure home.
When searching for the right mobile home community to join, it is often recommended to research the crime rate around the area before settling in and calling it home. Prior research will avoid wasting time and resources.
High-Quality Pools
Nothing beats a quality pool when it comes to relaxation. The comfort you get from deck chairs during a hot summer day can wipe out your all-day worries.
Manufactured home communities offer luxurious pools that are ideal for large families and get-together parties.
While living in a mobile home community, you don't have to worry about crowding that public pool. You will also avoid the hassle of maintenance, as the qualified staff often takes care of that.
In addition, the shared pool is often cleaned by professionals and, therefore, you shouldn't worry about hygiene.
Why You Should Move to a Mobile Home
Mobile home communities are growing in popularity for all good reasons. If you are looking for a place to call home, a mobile home community will be an ideal location.
Here is why you need to move to a manufactured home:
Affordable Housing
Manufactured homes are cheaper than stick-built homes by almost 20 to 30 percent. According to the Manufactured Housing Institute, over 22 million Americans Live in Mobile Homes.
For example, a single family home is less expensive, has a smaller footprint, has no property taxes, and requires a lower down payment.
Decreased Operating Expense
Unlike traditional site-built homes, you will spend less living in manufactured homes, when it comes to maintenance.
It is typically accepted that the average operating expenses for a mobile home park are usually around 35-40% of the gross income, compared to apartments in the 50-60% expense ratio.
Another reason for the lower operating expense ratio for mobile home parks is that you are not responsible for painting, cleaning carpets, fixing windows, and all the fun jobs of the apartment maintenance personnel.
Today's Mobile Homes are Safe and Quality-Controlled
The term "mobile home" is often associated with a home of poor quality, which is a complete misconception.
Today's homes are built to HUD Code, which is administered by the U.S. Department of Housing and Urban Development.
Safety, among other features, was part of the newly built home, after 1976, when the bill came into effect.
Besides, today's manufactured homes are engineered for wind safety and energy-efficiency, based on the geographic region in which they are sold. Therefore, among other locations, you shouldn't worry about buying a manufactured home if you live in Florida.
Final Thought
A manufactured home is an excellent choice of housing for any family looking for a place to call home. It is affordable and comes along with the needed amenities.
Please note, you should always be keen to consider the type of amenities offered within the mobile home community before joining them.