When you're looking for a dream home in today's world, there are so many options presented to you. For instance, you can either build a stick-built home, or buy a mobile home.
Buying a mobile home is a fantastic alternative to the traditional housing option. Mobile homes have now acquired a higher quality and cost less money than ever before. They have also attracted a high number of home buyers over the years.
If you're seeking a new housing option,let us help you out by weighing the pros and cons of both traditional real estate stick-built homes and mobile homes.
The results and process for selecting one of these options are very different. Therefore, we have written this article to provide an overview of building a house vs. buying a mobile home.
Should I Build a House or Buy a Mobile Home?
Let's look at what building a house and buying a mobile home involve:
House
A house isn't built in a factory, but rather at a specific location. The structure is fixed permanently and can't be relocated or moved.
Houses, therefore, are more durable and have a long life span. Home ownership here also requires the home buyer to own land/property that the house is developed on, as well.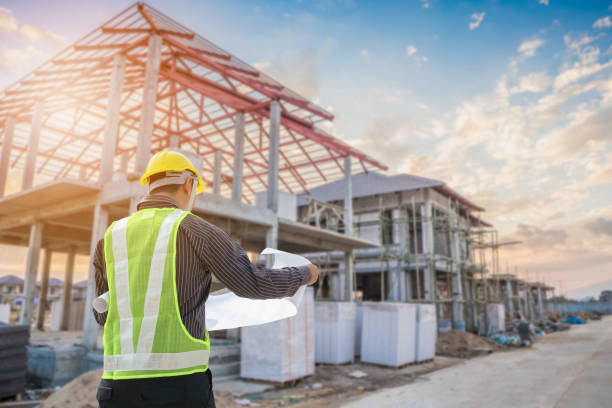 If you want to build a house, you should hire a contractor or builder. It would also be best if you drew up a plan for the home first. You can also decide to purchase an already built house, if you prefer.
Mobile Home
Unlike a traditional housing unit, a mobile home is created in an industry or factory by the manufacturers. They aren't, therefore, developed in a specific location.
They are constructed with a chassis and steel frame, which allows them to be transferred to wherever they need to be. They are always ready to be occupied from the moment you purchase them from the manufacturer.
Mobile homes have a variety of possible buying options. The first option is to buy a parked or used home, along with the property.
You can also buy a manufactured home from the manufacturer. There are even mobile home parks that you can pay a lot rent for the space to place your housing unit on, or you can still buy private land to set the manufactured housing unit on.
Similarities Between the Two
Before we focus on the differences between houses and mobile homes, let's explore their similarities:
Purpose
The reason why you buy a mobile home or build a homestead is always the same.
Manufactured homes and traditional houses can both be ideal places for you to settle with your family, because they can both adapt to suit your needs. The good thing is that you can customize them both to offer you enough room.
Amenities
In most cases, the utilities and amenities you can find in a mobile home can also be found in houses. However, if you buy mobile homes that aren't parked, you'll be forced to hook up things, such as water and power.
Sizes
Houses are developed in different sizes, which are measured in square feet, and the price is proportional to the area of the unit.
Mobile homes also come in several different sizes, and they are designed to help you downsize with ease. Their low cost, convenience, and mobility make them perfect for any lifestyle.
The different classifications of sizes that manufactured homes come in include single-wide, double-wide, and triple-wide.
Differences Between the Two
There are also several differences between building houses and buying a manufactured home.
Here are the major ones:
Financing
You can secure financing with both options. With that said, the process of obtaining financing for each is very different.
In the case of a stick-built house, you'll be getting financing for real property. The loans are long-term, they have tax deductions and have low interest rates.
You can access loans for mobile homes too, but only in cases classified as real property. This is only possible if it's installed permanently on the land that you own, like a modular home.
Otherwise, your mobile home is classified as personal property, a classification for moveable objects, just like a car.
Such loans have high-interest rates and shorter loan terms. However, the deposit you need to initiate the loan is less, when compared to a traditional mortgage.
The loan financing available for a mobile housing unit depends on the specific unit, your credit score, and the financier's policies.
Mobility
One appealing feature of mobile homes is that you can move them from one place to another.
Many people don't like the idea of the permanence of selecting a location to stay.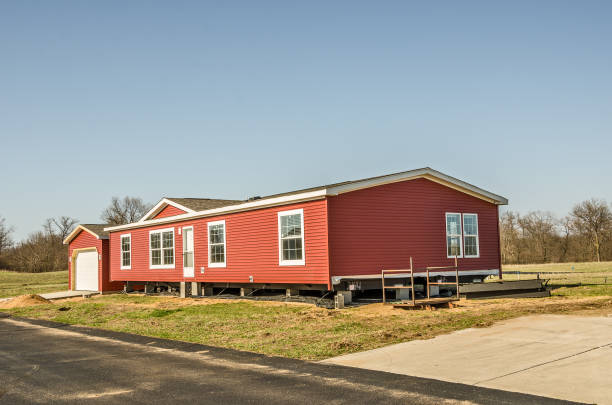 For instance, if you always move from one place to another, buying houses won't be a good idea. Manufactured homes, therefore, serve better in such circumstances.
You'll likely need a setup company to move a mobile home for you. However, houses aren't mobile and are developed permanently in a specific location.
Pros of Buying Mobile Homes
Let's look at the positives of a mobile home:
Price
One of the benefits of opting for a mobile home is its affordable pricing, compared to traditional real estate houses.
For instance, a single-wide unit that averages between 600 to 1,300 square feet goes for between $20,000 to $40,000.
Double-wide units, which are mid-size options measuring 2,000 to 2,500 square feet, go for between $60,000 to $80,000.
If you have a larger family, you can go for triple or multi-wide units, which go for between $100,000 to $200,000, on average.
There is an added benefit of alterations, maintenance, and renovations being very cost-effective as well.
Customization
Some manufacturers can custom design a manufactured home for you. You'll even have the option of selecting between different layouts and appearances.
If you want to make additional changes to your unit, it can be done quickly and in a cost-effective manner.
Construction Time
If you order a mobile home, manufacturers can have it ready within four to six months. If the mobile home is somehow complex or big, it may take a little longer, but not much. No matter what, it's still much quicker than traditional real estate house construction.
The process of buying and installing a manufactured home also takes less time. You'll engage in less complicated legal agreements and negotiations.
The bottom line is, if you're in a hurry, they are the best option for you.
The Lot
Depending on your perspective and needs, this aspect can either be an upside or downside (which is why you will see this listed under the Cons too).
Unlike stick-built homes, you can purchase a mobile home without having the property lot to park it on. The point being, you can park your home anywhere you want.
Cons of Buying Mobile Homes
Moving
Moving a mobile home from the manufacturer to a mobile home park or personal property land isn't as easy as you may think.
You'll be forced to hire a professional mobile home mover for this purpose. The good thing here is that there are several companies to choose from.
With that said, this does mean incurring an extra cost that you might have to factor into the final price of your mobile home. After parking the home, you'll also have to connect to other utilities.
The Lot
If you don't own a piece of land, you'll have to find a space to park your mobile home. This also means incurring extra costs and effort.
Lifetime
Unfortunately, manufactured homes don't last as long as site-built homes. For instance, the older models, that were developed before the 1970s, could last for about 40 years.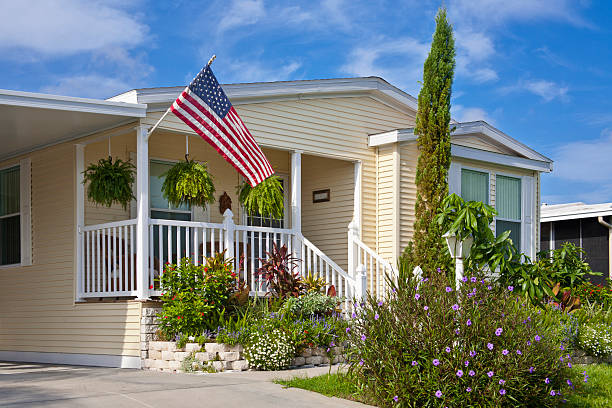 A mobile home today has a life expectancy of about 55 years. They could, however, last longer with proper maintenance and care.
Depreciation
Another disadvantage of a mobile home is that it depreciates over time. This means that the home will keep losing value from the moment you buy it, similar to a car.
In the end, you most likely will not sell the home for a higher price than you bought it. However, depending on the upgrades and location of your home, this isn't always the case.
Pros of Building Houses
Performance
One of the main differences between a manufactured home and houses is their life expectancy. For instance, a stick-built home could last for more than one hundred years.
You can expect a house to last for more time than you'd like to make use of it. In most instances, you won't have to worry about replacing it due to damage or deterioration.
Equity
Stick-built homes don't lose value, as much, over time. They won't depreciate like manufactured homes do.
The houses typically increase in value, depending on the location. Any renovations or additions that you make mean even more value.
If you want to sell the house, expect to sell it at a profit since the land will be sold with it. The property also counts as a permanent asset under your name.
Design
You're more likely to find several more design options with a house than you would in a manufactured home.
Houses come in different sizes and shapes, from rectangular, to more round structures, and traditional squares. There are, therefore, more potential layouts.
Cons of Building Houses
Construction Times
There is no hiding that an on-site home takes longer to design and build, compared to manufactured homes. A house could take eight months, to years, to complete.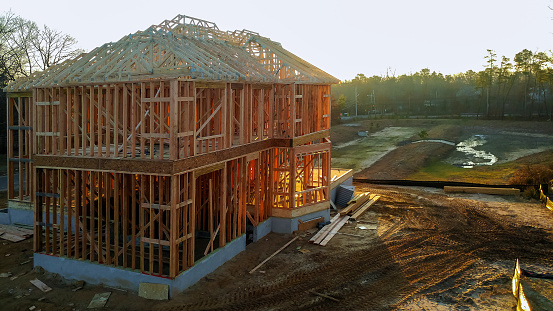 There are even cases of delays due to unavoidable elements, like bad weather. You could also encounter challenges such as labor disputes and issues with ordering building supplies.
However, such issues aren't there if you buy a house that is already built.
Cost
The average cost of a house is drastically higher than a mobile home. It will cost you anywhere from $70 to $200 per square foot, and sometimes even more.
The cost of a house is also less predictable, compared to mobile homes. This all depends on the age, size, and location of the house.
Buying Process
Apart from the construction process taking longer, the buying process is also lengthy when it comes to a site-built home.
The process of house hunting alone could take you a long time. It might involve doing extensive online site searching, driving to the locations of the houses, or, in most cases, both.
When buying a home, you'll typically have to engage in lengthy negotiations with the owner. Once negotiations are done, you'll have to set up a contract, which typically means you'll have to involve a lawyer, which translates to additional expenses.
The Final Verdict
If you weigh the pros and cons carefully, you're likely to come out with the best option for you and your family. However, it would help if you understood that the process of building or buying a house vs. a manufactured home differs significantly.
Therefore, it would be best to do a lot of research before investing in either a house or buying a mobile home. The bottom line is, we hope that you get the perfect home for you and your family.