One of the nice things about being a part of mobile home parks/manufactured home communities is all of the additional living space that comes from renting your own home and being a part of a larger community.
With this additional space, most residents may opt for a pet, or furry friend. Here at Cedar Springs Mobile Estates, we allow pets because we understand that pets are like family, and we want our mobile home park tenants to feel right at home with their pets.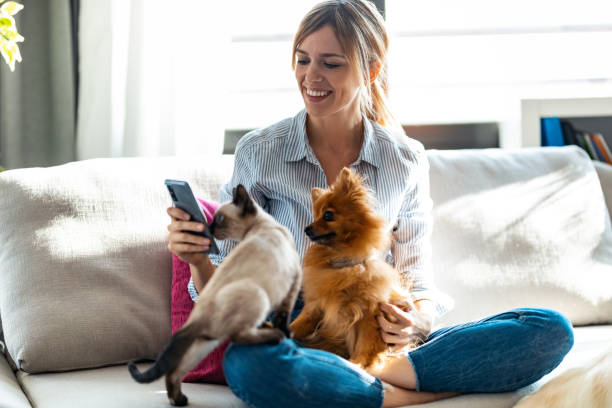 That said, moving into a mobile home community is a little different than, say, moving into an apartment community. Thus, for that very reason, here is a quick overview of Cedar Springs Mobile Estates' Pet Policy.
Mobile Home Park Pet Policy
Overview:
Deposit/Fee
Like most multi-family housing that allow pets, here at Cedar Springs Mobile Estates you can expect to pay a $500 non-refundable security deposit per pet if you are leasing or renting a mobile home.
Though this may seem a little pricey, many other pet-friendly mobile home parks/mobile home communities charge more, and have weight restrictions tied to the deposit. In other words, if you have a 300-pound dog, then you will likely pay more than you would if you had a 70-pound dog.
Note, the $500 pet deposit is only applicable if you are leasing a home at our pet-friendly manufactured home community.
Rent
In terms of monthly pet rent, per our pet policy, there is a $25 fee for each pet, if you are renting or leasing in this manufactured home community.
On the other hand, if you have purchased a home in our pet-friendly manufactured home community, or you simply own your manufactured home, then you are only required to pay a $10 monthly pet fee for each pet.
Note, failure to pay pet rent on a monthly basis, or failure to pay the non-refundable deposits, does not waive subsequent fees.
Additional Fees
Outside of these two pet expenses, for the most part, you shouldn't expect to pay any additional fees or pet-related costs, per our pet policy.
That said, there are certain rules and regulations regarding where your pet can be toileting, which, if violated, may result in possible fines.
Moreover, if you are leasing or renting a mobile home, then you may have additional cleaning costs once you move out or your lease is up.
Limit
Unsurprisingly, per our pet policy, there is a limit on how many pets allowed per manufactured home. Here, you can expect the standard limit of a total of two pets per home.
This limit applies to both renters and mobile homeowners, for several reasons. The most obvious reason being that even if you do own your manufactured home, you still have your pet in a manufactured home community, which means there are other residents that may be affected by their neighbors having more than two pets.
Breed Restrictions
Yeah, another fairly standard pet policy rule, for dogs specifically, is the breed restrictions.
Most mobile home parks/manufactured home communities have restrictions on the kinds of dogs that people are allowed to have. As expected, aggressive breeds are not permitted on the premises or in the home.
Other kinds of dogs that are not allowed include breeds of Akita, Chow, Alaskan Malamute, Doberman Pinschers, Pit Bull Terriers, Rottweilers, Wolf Dog Hybrids and Saint Bernards.
Furthermore, we reserve the right to add to this breed restriction list at any time. Other pets allowed include cats, along with kittens and puppies under the age of one.
Note, breed restrictions do not apply for seeing eye or service dogs (for more information on service animals, see below).
Pet Requirements
In addition to the rules mentioned above, Cedar Springs Mobile Estates has specific pet policy requirements.
For instance, all residents with pets must provide the office with a veterinary statement that the pet is non-aggressive (canine only). Likewise, pet owners must ensure that their pet does not interfere with the comfort and peace of mind of other manufactured home community residents, employees and/or contractors (such disturbances include, but are not limited to, barking).
You must also keep your pet(s) inside your home at all times, unless your pet is on a leash and accompanied by yourself or a family member/co-occupant — otherwise they are not permitted to be outside (no dog houses or tie-outs).
Residents must also ensure their pet/furry friend does not damage the manufactured home community or another resident's property (including sod).
Cedar Springs Mobile Estates residents are also required to curb their pet at the perimeter of the community. Plus, as briefly mentioned, residents are responsible for immediately cleaning up after the pet and properly disposing of all wastes.
Finally, all pets must be compliant with local ordinances (including, but not limited to, licenses and shots).
Note, residents/pet owners are responsible for all actions of their pets. Consequently, if any pet demonstrates aggressive behavior of any kind in the community (toward an individual or another animal), at the discretion of management, the pet may be required to be removed permanently from the manufactured home community, and failure to do so may result in legal action.
Approval Process
Here at Cedar Springs Mobile Estates, the approval process for having a pet is fairly straightforward.
As long as your furry friend meets all the pet policy requirements and is not deemed an aggressive breed, then all that's really left is for you to pay your pet deposit and make timely pet rent payments.
That said, if you have any questions regarding our pet requirements, then please feel free to reach out to the main office or management for more information.
Service Animals
Service pets have their own set of rules and regulations, according to the Fair Housing Act (FHA). Consequently, seeing-eye dogs, or in general, any service pets, are not subject to monthly pet rent, fees, deposits or restrictions.
Pet Amenities
Cedar Springs Mobile Estates does offer several pet amenities or perks, if you will.
For instance, there are nearby pet parks, onsite open green spaces, an abundance of nature trails in the vicinity, plus designated toileting areas for your dog.
Besides these pet perks, Cedar Springs is a nature and animal lovers paradise, so why not explore what the city itself has to offer in the way of pet stores, pet daycares and more.
Learn More
If you would like to learn more about our pet policy, or if you have any questions, then do not hesitate to contact a Cedar Springs Mobile Estates management team member for assistance.
Policy Recap
Here is a quick overview of Cedar Springs Mobile Estates' Pet Policy:
●      Non-Refundable Pet Deposit/Fee: $500 for per pet
●      Monthly Pet Rent: $25 for one pet, $50 for two pets; $10 per pet for mobile homeowners
●      Failure to Clean Up After Toileting Fee/Fine: $50
●      Straightforward Approval Process
●      Breed Restrictions
●      Limit of 2 Pets
●      Pet Requirements: Spayed/Neutered, current MI license, and leash requirement
●      Pet Insurance: Not required; should still have renters or mobile homeowners insurance however
●      Service Animals: Not subject to pet rent, fees, deposits, and restrictions
●      Pet Amenities Available
Take Away
Ultimately, here at Cedar Springs Mobile Estates, we want all our manufactured home community residents to feel welcome and respected — yes, this includes your furry friends and lovable family pets.
Being able to put down roots in a mobile home community can be a new experience at first for you and your pets, but we are confident that in no time at all, you, your family, and your pets will all come to love it here.
So, if you thought moving to an affordable luxury mobile home community was out of the question, because of pet restrictions, now you know it's not.